Scrivener 3.1.4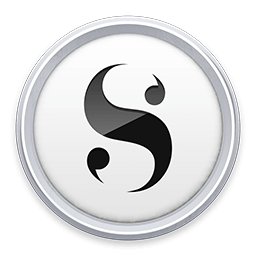 Scrivener is the go-to app for writers of all kinds, used every day by best-selling novelists, screenwriters, non-fiction writers, students, academics, lawyers, journalists, translators and more. Scrivener won't tell you how to write—it simply provides everything you need to start writing and keep writing.
Scrivener is a project management and writing tool for writers of all kinds that stays with you from that first unformed idea all the way through to the first - or even final - draft. Outline and structure your ideas; take notes; storyboard your masterpiece using a powerful virtual corkboard; view research while you write; track themes using keywords; dynamically combine multiple scenes into a single text. Scrivener has already been enthusiastically adopted by best-selling novelists and novices alike.
What's New:
Version 3.1.4:
Compatibility
Updated for macOS 10.15 Catalina compatibility. All users who intend to upgrade their OS are strongly encouraged to apply this upgrade.
Changes
Clicking the "X" button on a comment to remove it now scrolls to the location in the text where the comment was located.
"Update Document Links to Use Target Titles" in Edit > Text Tidying now removes links to documents that no longer exist.
Find by Formatting can now search in the URLs of links.
Removed script summary and note font options from Compile for FDX since Final Draft now ignores these settings.
Updated the abbreviated title placeholder in Compile metadata to show "Use Title", as a more accurate indicator if the field's function.
When "Base page view size on" is set to "Compile settings", the page size now ignores the Compile settings and uses the File > Page Setup settings for Compile formats that do not support page settings.
Updated a number of Compile formats.
Page break characters are now stripped out of the text when compiling to ebook or HTML formats, to avoid HTML errors.
Bug Fixes
Fixed bug with PDF cover images that could cause them to be cropped incorrectly.
Worked around an Apple issue whereby file links dragged in would use an arcane private Apple ID scheme rather than the file path.
Fixed bug whereby pressing up/down buttons on corkboard arranged by label when there was no selection would throw an exception.
Fixed bug that could cause a crash with unfound bookmarks.
Fixed bug whereby shadow artefacts could be left in page layout view until resized when switching the "Base page view size on" preference.
Fixed bug whereby Opt-clicking on the "open collection" arrow in the collections header, which loads all documents set to "Include in Compile" into the editor, would erroneously include a representation of the collection itself in the corkboard or outliner.
Fixed a bug whereby certain toolbar items could have text drawn over them on Catalina.
Worked around an OS bug whereby the bold and italic menu items would not work on Catalina.
Worked around an OS bug whereby the UI elements of the main window may not resize correctly on Catalina.
Fixed an issue whereby epubcheck would report a warning for sections with no explicit title in Scrivener.
Fixed a bug whereby an exception could be thrown when entering composition mode, causing buttons in the control strip to go missing, if the screen size had changed since first launching composition mode.
Fixed bug whereby newly-created styles would include Inspector comments until the project was closed and reopened.
Screenshots:
Title:

Scrivener 3.1.4

Developer:

Literature & Latte Ltd

Compatibility:

OS X 10.12 or later, 64-bit processor

Language:

English

Includes:

K'ed by TNT

Size:

107.54 MB

visit official website
NitroFlare:
DOWNLOAD FILE

Previous Versions