DaVinci Resolve Studio 17.3.0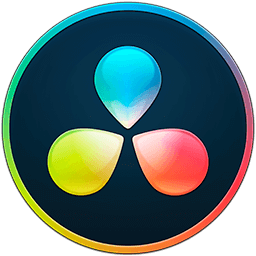 DaVinci Resolve Studio 17 is the world's only solution that combines professional 8K editing, color correction, visual effects and audio post production all in one software tool! You can instantly move between editing, color, effects, and audio with a single click. DaVinci Resolve Studio is also the only solution designed for multi user collaboration so editors, assistants, colorists, VFX artists and sound designers can all work live on the same project at the same time! Whether you're an individual artist, or part of a large collaborative team, it's easy to see why DaVinci Resolve is the standard for high end post production and finishing on more Hollywood feature films, television shows and commercials than any other software.

Introducing the Cut Page!
Designed specifically for editors working on high end fast turn around work such as television commercials and even news cutting, the cut page is all about speed. It's an alternate edit page with a streamlined interface and revolutionary new tools that will help you work faster than ever. The cut page lets you import, edit, trim, add transitions, titles, automatically match color, mix audio and more. Whether you're delivering for broadcast or for YouTube, the cut page has everything you need to get the job done, all in one place. Plus, the regular edit page is still available so you can switch between edit and cut pages to change editing style right in the middle of a job.

New Editing Features in DaVinci Resolve Studio 16:
DaVinci Resolve includes everything professional editors need to cut blockbuster films, television shows, and commercials. It's perfect for both offline and online editing. The high performance playback engine makes editing and trimming incredibly fast, even for processor intensive formats such as H.264 and RAW.

New Fusion VFX Features in DaVinci Resolve Studio 16:
With over 250 built in tools, Fusion VFX's advanced 3D compositing engine and node based workflow let you quickly connect effects and tools together in a flow chart style, making it easy to create cinematic feature film quality visual effects and broadcast motion graphics right inside of DaVinci Resolve!

New Color Features in DaVinci Resolve 16:
DaVinci Resolve's legendary color tools let you manipulate color in breathtaking ways to get results that are simply impossible on other systems. That's why DaVinci Resolve has been used on more feature films and television shows than any other grading system! You get powerful primary and secondary tools, curves, tracking, stabilization and more!

New Fairlight Features in DaVinci Resolve 16:
With Fairlight in DaVinci Resolve, audio is no longer an afterthought in post production! You get a completely integrated and powerful digital audio workstation with full mixer, EQ and dynamics processing, sample level audio editing, ADR tools, sound library support, FairlightFX audio plugins and more!

New Collaboration Features in DaVinci Resolve 16:
Featuring a universal timeline, powerful database driven design, bin and clip locking, built in chat, timeline comparison tools and more, DaVinci Resolve Studio is the world's only post production solution that lets different artists all work together on the same project at the same time!

DaVinci Resolve Studio
Upgrade to DaVinci Resolve Studio for even more creative tools and options! You get a huge set of indispensable ResolveFX and FairlightFX plugins, along with support for 4K, 8K and higher resolution projects at frame rates up to 120 frames per second. You also get the new DaVinci Neural Engine which enables features such as facial recognition, speed warp retiming, automatic color balancing and automatic color matching. DaVinci Resolve Studio also adds film grain tools, advanced noise reduction, blur and mist effects, HDR grading, 10bit H.264 support, 3D immersive audio, stereoscopic 3D support, multi user collaboration tools and more!

DaVinci Neural Engine
The new DaVinci Neural Engine uses state of the art deep neural networks and learning, along with artificial intelligence to power new features such as speed warp motion estimation for retiming, super scale for up-scaling footage, auto color and color matching, facial recognition and more! The DaVinci Neural Engine is entirely cross-platform and uses the latest GPU innovations for AI and deep learning to provide unparalleled performance and quality. The DaVinci Neural Engine provides simple tools to solve complex, repetitive and time consuming problems. For example, it enables facial recognition to automatically sort and organize clips into bins based on people in the shot!

New and Improved ResolveFX
DaVinci Resolve Studio 16 features major improvements to existing ResolveFX, along with several new plugins that editors and colorists will love! You get new ResolveFX plugins for adding vignettes, drop shadows, removing objects, adding analog noise and damage, chromatic aberration, stylizing video and more! There are also improvements to the scanline, beauty, face refinement, blanking fill, warper, dead pixel fixer and colorspace transformation plugins. Plus, you can now view and edit ResolveFX keyframes from the timeline curve editor on the Edit page or from the keyframe panel on the Color page!

Legendary DaVinci Quality
DaVinci Resolve's Emmy™ award-winning image processing technology features deep 32-bit float processing combined with unique, patented YRGB color science that processes luminance independent of color. This allows you to adjust the luminance of video without rebalancing the color of your highlights, midtones, or shadows! The massive internal color space is perfect for the latest HDR and wide color gamut workflows.

Blackmagic RAW
Blackmagic RAW is a new and modern codec that gives you stunning image quality and blazing fast performance in an intelligent new file format. Featuring advanced de-mosaic technology and a revolutionary intelligent design, Blackmagic RAW gives you both the quality and benefits of RAW with the speed, ease of use and file sizes of traditional video formats.

Hardware Control Panels
When you have a client looking over your shoulder you need to work fast. DaVinci Resolve control panels are designed to give you fluid, hands-on control over multiple parameters at the same time, allowing you to create looks that are simply impossible with a standard mouse! All controls are logically placed near your natural hand positions and are made out of the highest quality materials. You get smooth, high resolution weighted trackballs, along with precision engineered knobs and dials that feature the perfect amount of resistance so you can accurately adjust any setting. DaVinci Resolve control panels let you instinctively touch every part of the image!

Fairlight Professional Consoles
Fairlight mixing consoles provide high quality controls for nearly every parameter and feature in the software. Unique user interfaces and dynamic configuration changes provide fast to use buttons and controls that are optimized for the task at hand allowing you to work faster with Fairlight audio than any other tool in the world. With the modular design you can start with a larger console frame than you need and add more modules to meet the growing needs of your facility.

Minimum system requirements
Mac 10.15 Catalina.
8 GB of system memory. 16 GB when using Fusion.
Blackmagic Design Desktop Video 12.0 or later.
Integrated GPU or discrete GPU with at least 2 GB of VRAM.
GPU which supports Metal or OpenCL 1.2.
* The MacOS installer is a universal binary so is suitable for M1 and Intel based Macs.


What's New:
What's new in DaVinci Resolve Studio 17.3.0:
Apple Silicon Performance
Up to 3x faster new processing engine enabling 8K edit and grading.
Fairlight
Improved thru–latency and adjustable processing and input buffers.
Improved export clips dialog with naming, metadata and format control.
Edit selections in the timeline can now be nudged.
In–Out ranges can be cleared and navigated to in the timeline.
Timeline clips can be selected from the Fairlight edit index.
Improved context–based defaults when adding new audio tracks.
Improved Fairlight timeline ruler resolution.
Gain curves show tooltip values when selected.
Changing clip gain under an edit selection now adds bounded keyframes.
Timeline clip names and gain curves can now be hidden.
New timeline scroll options during playback – fixed, page and none.
Buses can be reordered by dragging in the track index.
Bus delay compensation can now be bypassed in the track index.
Multiple selected tracks can now be deleted from context menu.
New audio I/O preference options with support for separate I/O selections.
Support for a wider range of Windows native audio devices.
Support for multichannel I/O on Windows using Steinberg ASIO.
Native Linux audio recording support using ALSA inputs.
Improved mixdown support for LRC, 5.0 and 7.0 track formats.
Improved edit, nudge and fade behavior for linked clips.
Modify track and mixer parameters on all or selected tracks with modifiers.
Pan, EQ and dynamics control dialogs accessible from Fairlight consoles.
Color
User configurable default grid size for Color Warper.
User configurable default zone preset for HDR color controls.
Active playheads can be switched by clicking on the split screen viewer.
New anamorphic aperture controls for Resolve FX Aperture Diffraction.
New shapes and finer mosaic control for Resolve FX Mosaic Blur.
New rotation controls for Resolve FX Keyer garbage mattes.
New sat and gamma controls and faster performance for Resolve FX Glow.
Cut
List views in the media pool can be sorted from column selection.
New badge to easily identify still clips on the timeline.
Improved sync bin to ignore still images placed on top in the timeline.
Edit
Edits from subclips can now be match–framed to original media.
Shape and iris transitions can be rotated from the inspector.
Play around selection now works with transition selections.
Newly added subtitles retain playhead position to allow text preview.
Compound clip instances in the timeline can be renamed.
Fusion compositions can be renamed from the inspector.
Options to name and use full clip extents when creating a subclip.
Timelines and clips in smart bins can be duplicated from context menu.
Improved context menus with quick actions for tabbed timelines.
Option to retain timeline viewer overlays during playback.
Media pool marker lists can be expanded using cursor keys.
New badge to easily identify still clips on the timeline.
Improved offset tooltips and thumbnails for mouse drags in the timeline.
Fusion
DRFX bundles can be double–clicked to install on Windows and Linux.
Support for viewing the node type by holding Ctrl/Cmd–Shift–E.
Codecs and Deliver
Support for audio encoding in the encoder plugin SDK.
Optimized H.265 encodes for speed on Apple Silicon systems.
Hardware accelerated AVC Intra decodes for on Apple Silicon.
Support for decoding and encoding JPEG–HT .JPH image sequences.
Support for decoding 12–bit DPX formats.
Support for decoding AV1 clips on Mac OS and Linux.
Hardware accelerated AV1 decodes in Nvidia on Linux.
Hardware accelerated H.265 10–bit encode in AMD graphics on Windows.
Hardware accelerated H.264 4:4:4 8–bit encodes in NVIDIA on Windows.
Improved H.264 and H.265 decode performance in Intel on Windows.
Support for decoding MKV clips with VP9 video codecs.
Support for DFXP sidecar export options for DCP renders.
Improved decode performance for MKV clips with AAC and AC3 audio.
Support for encoding ISDCF compliant audio channels for DCP packages.
Support for embedding MPEG2 bitstream captions in XDCAM clips.
General
Improved startup speeds for disk databases with many projects.
Support for simplified database creation and connection process.
AAF imports now support translation of simple nested clips.
New Resolve FX Motion Blur in DaVinci Resolve Studio.
New Resolve FX Frame Replace in DaVinci Resolve Studio.
JKL playback with stop and go to last position now works correctly.
Timelines can be located in media pool from smart bin context menu.
Media, inspector and other panels can be scrolled using middle click.
Scripting API support for Gallery, Gallery Album and GalleryStill objects.
Scripting API support for adding video or audio–only clips to the timeline.
Addressed PostgreSQL installation issues on some Windows systems.
General performance and stability improvements.
Screenshots:
Title:

DaVinci Resolve Studio 17.3.0

Developer:

Blackmagic Design

Compatibility:

macOS 10.15 or later

Language:

Multilangual

Includes:

K

Size:

2.78 GB

visit official website
NitroFlare:
DOWNLOAD FILE

Previous Versions