DaVinci Resolve Studio 17.4.1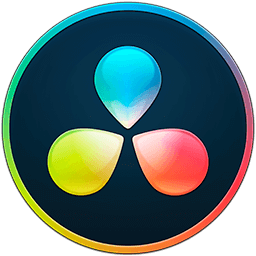 DaVinci Resolve Studio 17 is the world's only solution that combines professional 8K editing, color correction, visual effects and audio post production all in one software tool! You can instantly move between editing, color, effects, and audio with a single click. DaVinci Resolve Studio is also the only solution designed for multi user collaboration so editors, assistants, colorists, VFX artists and sound designers can all work live on the same project at the same time! Whether you're an individual artist, or part of a large collaborative team, it's easy to see why DaVinci Resolve is the standard for high end post production and finishing on more Hollywood feature films, television shows and commercials than any other software.

Introducing the Cut Page!
Designed specifically for editors working on high end fast turn around work such as television commercials and even news cutting, the cut page is all about speed. It's an alternate edit page with a streamlined interface and revolutionary new tools that will help you work faster than ever. The cut page lets you import, edit, trim, add transitions, titles, automatically match color, mix audio and more. Whether you're delivering for broadcast or for YouTube, the cut page has everything you need to get the job done, all in one place. Plus, the regular edit page is still available so you can switch between edit and cut pages to change editing style right in the middle of a job.

New Editing Features in DaVinci Resolve Studio 16:
DaVinci Resolve includes everything professional editors need to cut blockbuster films, television shows, and commercials. It's perfect for both offline and online editing. The high performance playback engine makes editing and trimming incredibly fast, even for processor intensive formats such as H.264 and RAW.

New Fusion VFX Features in DaVinci Resolve Studio 16:
With over 250 built in tools, Fusion VFX's advanced 3D compositing engine and node based workflow let you quickly connect effects and tools together in a flow chart style, making it easy to create cinematic feature film quality visual effects and broadcast motion graphics right inside of DaVinci Resolve!

New Color Features in DaVinci Resolve 16:
DaVinci Resolve's legendary color tools let you manipulate color in breathtaking ways to get results that are simply impossible on other systems. That's why DaVinci Resolve has been used on more feature films and television shows than any other grading system! You get powerful primary and secondary tools, curves, tracking, stabilization and more!

New Fairlight Features in DaVinci Resolve 16:
With Fairlight in DaVinci Resolve, audio is no longer an afterthought in post production! You get a completely integrated and powerful digital audio workstation with full mixer, EQ and dynamics processing, sample level audio editing, ADR tools, sound library support, FairlightFX audio plugins and more!

New Collaboration Features in DaVinci Resolve 16:
Featuring a universal timeline, powerful database driven design, bin and clip locking, built in chat, timeline comparison tools and more, DaVinci Resolve Studio is the world's only post production solution that lets different artists all work together on the same project at the same time!

DaVinci Resolve Studio
Upgrade to DaVinci Resolve Studio for even more creative tools and options! You get a huge set of indispensable ResolveFX and FairlightFX plugins, along with support for 4K, 8K and higher resolution projects at frame rates up to 120 frames per second. You also get the new DaVinci Neural Engine which enables features such as facial recognition, speed warp retiming, automatic color balancing and automatic color matching. DaVinci Resolve Studio also adds film grain tools, advanced noise reduction, blur and mist effects, HDR grading, 10bit H.264 support, 3D immersive audio, stereoscopic 3D support, multi user collaboration tools and more!

DaVinci Neural Engine
The new DaVinci Neural Engine uses state of the art deep neural networks and learning, along with artificial intelligence to power new features such as speed warp motion estimation for retiming, super scale for up-scaling footage, auto color and color matching, facial recognition and more! The DaVinci Neural Engine is entirely cross-platform and uses the latest GPU innovations for AI and deep learning to provide unparalleled performance and quality. The DaVinci Neural Engine provides simple tools to solve complex, repetitive and time consuming problems. For example, it enables facial recognition to automatically sort and organize clips into bins based on people in the shot!

New and Improved ResolveFX
DaVinci Resolve Studio 16 features major improvements to existing ResolveFX, along with several new plugins that editors and colorists will love! You get new ResolveFX plugins for adding vignettes, drop shadows, removing objects, adding analog noise and damage, chromatic aberration, stylizing video and more! There are also improvements to the scanline, beauty, face refinement, blanking fill, warper, dead pixel fixer and colorspace transformation plugins. Plus, you can now view and edit ResolveFX keyframes from the timeline curve editor on the Edit page or from the keyframe panel on the Color page!

Legendary DaVinci Quality
DaVinci Resolve's Emmy™ award-winning image processing technology features deep 32-bit float processing combined with unique, patented YRGB color science that processes luminance independent of color. This allows you to adjust the luminance of video without rebalancing the color of your highlights, midtones, or shadows! The massive internal color space is perfect for the latest HDR and wide color gamut workflows.

Blackmagic RAW
Blackmagic RAW is a new and modern codec that gives you stunning image quality and blazing fast performance in an intelligent new file format. Featuring advanced de-mosaic technology and a revolutionary intelligent design, Blackmagic RAW gives you both the quality and benefits of RAW with the speed, ease of use and file sizes of traditional video formats.

Hardware Control Panels
When you have a client looking over your shoulder you need to work fast. DaVinci Resolve control panels are designed to give you fluid, hands-on control over multiple parameters at the same time, allowing you to create looks that are simply impossible with a standard mouse! All controls are logically placed near your natural hand positions and are made out of the highest quality materials. You get smooth, high resolution weighted trackballs, along with precision engineered knobs and dials that feature the perfect amount of resistance so you can accurately adjust any setting. DaVinci Resolve control panels let you instinctively touch every part of the image!

Fairlight Professional Consoles
Fairlight mixing consoles provide high quality controls for nearly every parameter and feature in the software. Unique user interfaces and dynamic configuration changes provide fast to use buttons and controls that are optimized for the task at hand allowing you to work faster with Fairlight audio than any other tool in the world. With the modular design you can start with a larger console frame than you need and add more modules to meet the growing needs of your facility.

Minimum system requirements
Mac 10.15 Catalina.
8 GB of system memory. 16 GB when using Fusion.
Blackmagic Design Desktop Video 12.0 or later.
Integrated GPU or discrete GPU with at least 2 GB of VRAM.
GPU which supports Metal or OpenCL 1.2.
* The MacOS installer is a universal binary so is suitable for M1 and Intel based Macs.


What's New:
Version 17.4:
Key Features
Hardware accelerated Apple ProRes on Apple M1 Pro and M1 Max.
Faster DaVinci Neural Engine performance on Mac OS Monterey.
Native HDR viewers and 120 Hz playback on supported MacBook Pros.
Native Dropbox and Dropbox Replay integration with render presets.
Sync markers, comments, annotations with Dropbox and Dropbox Replay.
Export timeline markers as YouTube video or QuickTime chapters.
Steinberg VST3 support with access to even more audio effects.
Simplified auto color management settings with SDR and HDR selection.
Improved 3D keyer and matte finesse controls.
New Resolve FX including film halation and custom mixers.
Text+ support for combined glyphs, right to left text and vertical layouts.
Subtitles can auto resize backgrounds and decompose to parent timeline.
Apple M1 Pro and M1 Max
Hardware accelerated Apple ProRes on Apple M1 Pro and M1 Max.
Faster DaVinci Neural Engine performance on Mac OS Monterey.
Smoother 120 Hz UI and playback on M1 Pro and M1 Max MacBook Pros.
Native HDR viewers on M1 Pro and M1 Max MacBook Pros.
Native full screen mode on Mac OS.
Dropbox
Dropbox login within DaVinci Resolve preferences.
Render presets for Dropbox and Dropbox Replay with background uploads.
Sync comments and annotations with Dropbox Replay in Studio.
Sync markers and comments with Dropbox in Studio.
Edit
Subtitle and caption backgrounds now auto-resize to fit text content.
Subtitle tracks in nested timelines now decompose to the main timeline.
Adding a new subtitle caption now auto-focuses on the text area.
Simple titles and subtitles are faster on Apple Silicon systems.
Improved ease in and out functionality for position curves in the timeline.
Options to include effects and grades for render in place operations.
Switch multicam angles in the edit page with the speed editor.
Ability to mark selection for timeline gaps.
Edit asymmetric audio transitions created in the Fairlight page.
Trim video and audio transitions asymmetrically using cmd/ctrl.
Fine audio clip gain adjustments using shift
mouse drag.
Support for pasting retime attributes on audio clips.
Option to limit audio sync to the first timecode match.
Preview composite modes by hovering over each mode in the inspector.
Ability to set per-clip deinterlace quality in the inspector.
New square iris transition.
Support for custom aspect ratio controls for shape transitions.
Improved overlays for Fusion tools in the viewer.
Improved undo support for Fusion effects and Text
in the inspector.
Support for folder based organization of effect templates.
New customizable key actions to go to previous/next timeline tabs.
Ability to close timeline tabs with middle click.
Preview generators and titles from the effects panel in the cut viewer.
Color
Support for an automatic mode for color managed projects.
Support for ACES 1.3, gamut compression and new CSC transforms.
New 3D Keyer with new modes, better selection/stroke logic, live feedback.
Improved HSL and luma keyers with updated matte finesse controls.
Track forward and back with a single action in trackers and magic masks.
Node tooltips now indicate LUT and effect type present.
Dragging new links to layer and key mixers auto-creates node inputs.
Dragging color nodes over key links creates key-to-RGB connections.
Added individual primary and secondary tool icons for faster switching.
Clip filters for timeline clips with Dolby Vision analysis or trim.
Disabled clips are now shown as gray in the timeline.
Support for applying camera LUTs and CDLs to ARRI MXF ProRes clips.
The printer light state is now persisted across application restart.
Navigating to markers in the timeline now auto scrolls to center marker.
Screenshots:
Title:

DaVinci Resolve Studio 17.4.1

Developer:

Blackmagic Design

Compatibility:

macOS 10.15 or later

Language:

Multilangual

Includes:

K

Size:

2.8 GB

visit official website
NitroFlare:
DOWNLOAD FILE
Previous Versions