Ulysses 22.1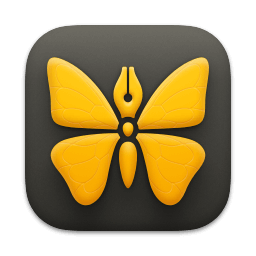 Ulysses is your one-stop writing environment for Mac, iPhone and iPad. Its pleasant, focused writing experience, combined with effective document management, seamless sync, and flexible export, make Ulysses the first choice for writers of all kinds.
A Text Production Powerhouse
Ulysses' markup-based, distraction-free editor lets you focus on your most important task: Write, edit, and write some more. Formatting is kept for later, so you can completely immerse yourself in the text. Ulysses' uniquely streamlined toolset covers the entire writing process, and its clean and simple interface will boost your productivity. From first to final draft, from prologue to closing chapter – Ulysses keeps you in the flow, so you can get stuff done.
All Your Texts, All the Time
Everything you'll ever write is stored in Ulysses' unified library. You can manage projects of all kinds and sizes, be it novels, diaries or study notes – they are always saved, and automatically in sync. And since Ulysses offers feature parity across macOS and iOS, it doesn't matter where you are or when inspiration hits: All its tools, and all your texts, are always at your fingertips.
Create eBooks, DOCX, PDFs and HTML
Ulysses' export is flexible enough to cover any writer's needs: Transform your text into beautiful PDFs, Word documents or eBooks. Or export HTML code, ready to be used anywhere on the web. You can even choose between a variety of pre-made formatting styles for all kinds of purposes, or create your own and share it with other users.
Publish to WordPress, Ghost & Medium
Do you blog? Ulysses' offers best-in-class publishing to WordPress, Ghost, and Medium. You can post to WordPress and Ghost from right within the app – complete with images, tags, categories etc. Publishing to Medium works just as easy, and all three offer a built-in preview to proof-read before submission.
What's New:
Version 22
The "Blogger's Delight" Release
New:
There is a new publishing integration: You can now upload posts to your Micro.blog account from within Ulysses.
WordPress publishing gained the option to update previously published posts.
You can now display headings in the editor in a larger size.
The new default theme D22 demonstrates this new setting and lets you easily distinguish your headings.
You can now color-customize your group icons.
We revamped the look & feel of several panels, e.g., you can now type to filter in the markup and the navigation panel.
Changes, Improvements & Fixes:
We changed the following shortcuts: ⌘9 now opens the markup panel, ⇧⌘D takes you to Favorites.
Added the system font "New York" to font selection.
The Quick Export panel now closes automatically after export has finished.
Typewriter Mode was reworked to fit better with large images and headings.
The WordPress preview was updated to the new Twenty Twenty-One theme.
Improved the compatibility with gallery plugins under WordPress 5.
When publishing HTML posts to WordPress, the syntax for code blocks is now set correctly.
Improved performance when switching between Ulysses and other apps.
Improved VoiceOver support in various parts of the app.
Fixed a couple of bugs that could cause display errors when editing block quotes or bookmarks.
Numerous small bug fixes and improvements.
Screenshots:
Title:

Ulysses 22.1

Developer:

Ulysses GmbH & Co. KG

Compatibility:

macOS 10.14.4 or later, 64-bit processor

Language:

Multilingual

Includes:

K'ed by HCiSO

Size:

28.09 MB

View in Mac App Store
NitroFlare:
DOWNLOAD FILE

Previous Versions