RapidWeaver 6.2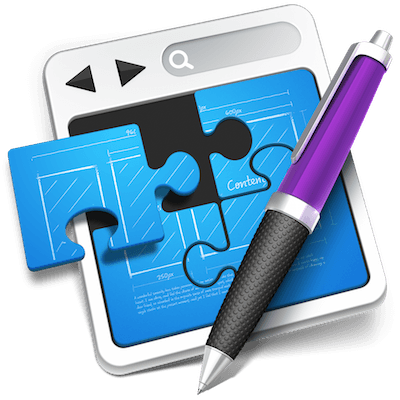 Web Design Software for Mac
RapidWeaver is the all-in-one app that enables you to build the website you've always wanted. Whether it's an online store, stunning photo gallery or blog, RapidWeaver provides you with the know-how to quickly publish websites that even pros are proud of.
Amazingly Powerful, Infinitely Expandable
RapidWeaver is the leading Mac web design app, and has been ever since its launch over ten years ago. Each release is designed to make your website better, and we've carefully ensured that RapidWeaver has all the tools you need to create the perfect website. Best of all, RapidWeaver allows your site to grow as you build it and is expandable with hundreds of third-party addons available.
Code-Free Creation
There's no need to know any code - RapidWeaver generates it all for you, based on the content you add to your website. If you need to add some code (maybe a Twitter button), just paste it in and RapidWeaver automatically places it alongside your existing content.
Stunning Designs
RapidWeaver 6 comes with 5 brand-new themes, built especially for this release by some of the Addon community's finest developers: Nick Cates Design, Elixir Graphics, Brandon Lee Themes, Yuzool Themes & OneLittleDesigner. They're fully-responsive, and take advantages of new theme features in RapidWeaver 6 such as Split Navigation.
Content First
RapidWeaver is a different type of web design app - one that allows you to focus on the most important aspect of any website: your content. With drag-and-drop creation for photo galleries, online stores, blogs, personal websites and more you can count on RapidWeaver to help you build a stunning website in no time.
Supercharged Publishing
Smart Publishing has been completely re-worked to make uploading your changes even quicker. Thanks to simultaneous multi-file publishing, and a host of other clever tricks, publishing in RapidWeaver 6 is up to 3 times faster than previous versions. If your host supports FTP, SFTP or FTPS (new in RapidWeaver 6) you're good to go - and if you need hosting, Little Oak has a special deal for RapidWeaver users!
WHAT'S NEW
General
A huge number of optimisations to make navigating your project, previewing pages and making theme changes quicker. RapidWeaver 6.2 is up to twice as fast as previous versions!

Fixes a problem that caused the site name instead of the project file name to appear at the top of the project window.

Fixes a problem where a third-party plugin update could cause RapidWeaver to crash.

Fixes a problem where RapidWeaver would ungracefully handle ASCII characters in site names.

Fixes a problem where changes to a page's Metatags would not be saved if you closed the editor whilst still editing.

Fixes a problem where an accessibility label in the Snippets window would appear on top of the Add Snippet button.

Fixes a problem where RapidWeaver could crash when generating a page using PHP.

Fixes a problem where RapidWeaver would crash when tidying up temporary files.

Themes
Performance improvements when handling Theme Variations - RapidWeaver now caches theme variations, instead of loading them each time the Variations area appears.

Fixes a problem where an empty Theme Style file could cause RapidWeaver to crash.

Fixes a problem where Theme Variations may reset after creating a custom Theme Style.

Optimised images in all built-in themes. On average, we've made the images 20% smaller, meaning your site will load even quicker!

Fixes a problem where Theme Variation colours would not correctly refresh.

Resources
Fixes a problem where, after publishing, the "Changed" flag on a Resource would not be correctly cleared until the Resource was clicked on.

Publishing
Fixes a problem that caused password changes to not be recognised by the Publishing window.

Fixes a problem that prevented Public Key authentication being fully enabled in the Bookmarks Manager.

Fixes a problem where multiple FTP bookmarks with the same name wouldn't be shown in RapidWeaver.

File Sharing Plugin
Fixes a problem where a missing file on the File Sharing page could cause RapidWeaver to crash.

Photo Album Plugin
Fixes problems with the Photo Album where the Slideshow would not start, and in some cases not load images.

Screenshots
Title:

RapidWeaver

Developer:

Realmac Software Limited

Compatibility:

OS X 10.9 or later

Language:

English

Includes:

KG

Size:

162.23 MB

visit official website
NitroFlare:
DOWNLOAD FILE