Commander One PRO 1.6.2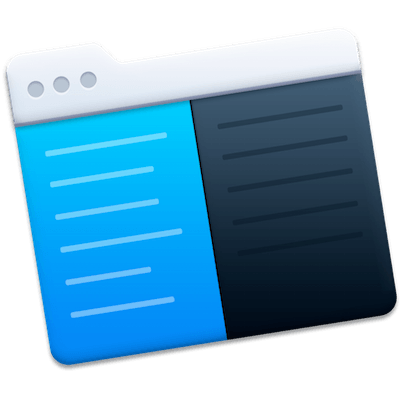 Commander One is also an FTP and WebDav client, a fast one! It allows working with many types of archives and search through them. You can mount various Cloud services like Dropbox, Google Drive and OneDrive in Commander One for quick and easy access to your online files.
FTP Manager:
Access remote servers via FTP, SFTP or FTPS;

Two panels are for sure more efficient than one;

Keep an eye on file operations with convenient queueing;

Change files permissions.

WebDAV support
Map as many WebDAV connections as you need at the same time in Commander One.

Work directly with your files stored on the server, as if they are stored in a local folder on your Mac.

Transfer files from one WebDAV server to another, without downloading them to your Mac.

Amazon S3 Connections
Access and work with files of Amazon S3 account;

Link your Amazon S3 account fully or only specific buckets.

Work with Clouds
Integrate as many Dropbox folders into Commander One as needed;

Mount your online Dropbox without installing it on your Mac and copying your data there;

Share Dropbox links right from Commander One;

Connect Dropbox Business account to get fast and easy access to your work files;

Mount your Google Drive account and work with your online files;

Manage your Google Drive files and folders in Commander One without saving them on Mac;

Mount Microsoft OneDrive account and access your online files from Commander One as any local ones.

Mount MTP devices:
You can easily mount your MTP devices and access their contents - just connect your device to Mac and it will be available as a mounted drive in Commander One.
Compress and Extract:
Extract and compress 7zip packages, or work with 7zip archives as regular folders: view, add, or remove files without extracting;

Extract files from RAR packages, search archive contents, copy files from RAR without even extracting;

Gain full access to TAR packages (TBZ, TGZ, Tar.Z, tar.lzma and tar.xz) including compress, extract, open as a folder and search archive contents;

Work with .ipa, .apk, .jar, .ear, .war files as with regular folders.

WHAT'S NEW
Version 1.6.2:
Added: full compatibility with macOS 10.12 Sierra

Added: support for OneDrive for Business accounts.

Added: iOS 10 support.

Added: the ability to lock tabs.

Added: the ability to configure hotkeys for:

switching between tabs;

selecting and unselecting items;

opening a file;

selecting a file and checking its size.

Added: more criteria for sorting and display as columns in the Full mode: date added, date created, date last opened, permissions.

Added: the ability to choose the default text editor (used when you select a file and press F4).

Added: the Korean and Japanese localizations.

Improved: clipboard handling (now files can not only be copied, but also moved using the ⌘C / ⌥⌘V shortcuts, as in Finder).

Improved: the size and modification date of the current file is now displayed in the Brief and Thumbs modes.

Fixed: Inability to use some hotkeys (e.g. Enter/Return) upon updating from version 1.5 to version 1.6

Lots of other minor fixes and improvements (thank you guys for your continued feedback!).

Screenshots