SoundSource 5.0.3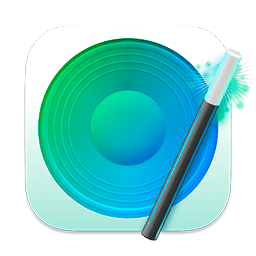 SounceSource lets you adjust your input, output, and sound-effects devices and volume settings in mere moments, right from the menu bar. Enable soft play-thru of input devices to your desired output, so you can hear sound coming in through any microphone or other source. With SoundSource, you get fast access to your Mac's most important audio settings.
Instant Audio-Device Switching - With just two clicks, you can switch the audio devices your Mac is using for input, output, and even sound effects.
Fast Volume Control - SoundSource provides easy access to the volume controls for your audio devices as well.
Audio Play-Thru, Too - SoundSource's Play-Thru window makes it easy to monitor the audio coming from any input device.
Comprehensive - SoundSource gives you one place to go for all Mac's most important audio controls.
At Your Fingertips - With SoundSource running in your menu bar, your audio controls are always available.
Lightweight - When you don't need SoundSource, it stays out of your way
What's New:
Version 5.0.3:
Support for Dock-less Audio Apps - SoundSource can again properly adjust audio from Dock-less (menu bar only) audio apps, such as Triode and Vox. This fixes a regression in version 5.
Proper Support for Special Sources - SoundSource will once again properly handle audio from the "Special Sources" found in the "Add Favorites" menu, including Siri and Text to Speech.
Full-Screen Video Issues Resolved - A conflict which could occur when playing full-screen video has been resolved.
Sound Effects Device Corrections - Several corrections have been made related to the Sound Effects device. SoundSource now properly handles Sound Effects volumes when it's applying a software volume adjustment, as well as tracking and setting the device correctly in all situations.
Assorted Crashes Fixed - Several rare crashes have been fixed, including one which could cause the application to crash on launch.
Myriad Accessibility Improvements - We've made many improvements to accessibility, based on user feedback (Thank you!). Several VoiceOver changes should make the application easier to navigate in particular, and the menu bar icon now correctly reports output volume in its tool tip and VoiceOver readout.
Typing the letter "f" now works as expected in the "Add Effects" menu's Search field, no longer conflicting with Cmd-F.
The Input and Sound Effects devices no longer erroneously offer reset options when right-clicking.
SoundSource now better handles system with no input devices (such as Macs Mini), no longer incorrectly showing an icon or sample rate.
Several small interface tweaks have been made. Most notably, SoundSource now animates between Standard and Compact views, rather than just fading. As well, the menu bar icons have been adjusted to slightly improve their visual alignment, and make Mute more visible. The slider in "Balance" has been moved down, to ride at the proper height. The guide lines in the 10-Band Equalizer are now correctly behind the sliders, not on top of them.
Screenshots:
Title:

SoundSource 5.0.3

Developer:

Rogue Amoeba Software, Inc.

Compatibility:

macOS 10.12 or later, 64-bit processor

Language:

English

Includes:

Serial

Size:

13.89 MB

visit official website
NitroFlare:
DOWNLOAD FILE