SoundSource 5.6.3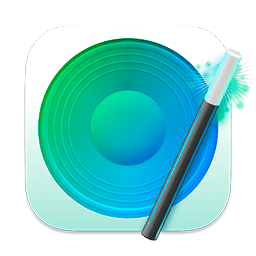 SounceSource lets you adjust your input, output, and sound-effects devices and volume settings in mere moments, right from the menu bar. Enable soft play-thru of input devices to your desired output, so you can hear sound coming in through any microphone or other source. With SoundSource, you get fast access to your Mac's most important audio settings.
Fast Access to System Devices
Control the settings for your Mac's Output, Input, and Sound Effects audio devices right from your menu bar.
Per-Application Audio Control
Change the volume of any app relative to others, and send individual apps to different audio outputs.
Add Effects
Make any audio sound great, with powerful built-in effects, as well as advanced Audio Unit support.
Fundamental Features
Per-App Volume Control
Adjust volume levels for each of your applications, all in one place. Make one app louder or softer than others, or even mute it entirely.
Per-App Output Redirection
Control exactly where audio plays. Route music from one app to your best speakers, while everything else is heard via your Mac's built-in output.
Per-App Audio Effects
Use the built-in 10-band equalizer and support for Audio Units to sweeten the sound of individual apps.
System Audio Settings
Quickly adjust volume and input levels, balance, and even sample rate for your system's Output, Input, and Sound Effects devices.
System-Wide Audio Effects
Apply effects to sweeten the sound of all audio on your system, with the built-in 10-band equalizer and support for advanced Audio Unit plugins.
Super Volume Keys
HDMI devices, DisplayPort audio outputs, and more fail to support the volume keys found on Mac keyboards. SoundSource makes those keys work with any outputs you have.
Menu Bar Access
SoundSource lives in your menu bar, for one-click access to all your audio controls. You can also bring it up with a configurable global keyboard shortcut.
Floating Access
Making frequent adjustments? Pin SoundSource's main window, and it will float on your screen for instant access.
Headphone EQ
The new Headphone EQ effect provides the very best sound from thousands of different models of headphones.
Magic Boost 2
The new Magic Boost 2 does even more to provide rich, full sound from even the tiniest speakers.
Compact View
SoundSource's main window is streamlined, but to truly minimize how much space it uses, the Compact view has you covered.
Menu Bar Meters
Add optional meters for your output device, input device, and/or active applications, so you can see and control audio even more easily.
What's New:
Version 5.6.3:
Further Improvements in ACE 11.9.6
The Audio Capture Engine (ACE) has been updated to 11.9.6, with small improvements for even more reliable audio capture.
Audio Unit plugins will no longer unexpectedly reset SoundSource's audio processing latency (configured in the "Audio" tab of SoundSource's Settings) to "Automatic".
Performance after closing plugin windows has been improved.
A rare crash which could occur when metering audio while the system's "coreaudiod" was restarted has been fixed.
The celebratory sound effect heard when unlocking SoundSource will now correctly play through the Mac's configured "Sound Effects" device. After all, sound effects play through a separately configured output in MacOS.
Screenshots:
Title:

SoundSource 5.6.3

Developer:

Rogue Amoeba Software, Inc.

Compatibility:

macOS 10.14 or later

Language:

English

Includes:

K'ed by TNT

Size:

31.07 MB

visit official website
NitroFlare:
DOWNLOAD FILE