EagleFiler 1.8.14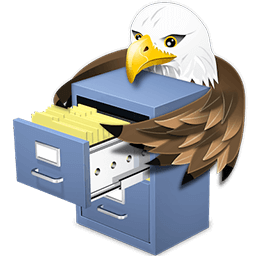 EagleFiler makes managing your information easy. It lets you archive and search mail, Web pages, PDF files, word processing documents, images, and more. Use it to collect information from a variety of sources. Browse different types of files using a standard three-pane interface. Organize them into folders and annotate them with tags and notes, or leave everything in one folder and pin-point the information you need using the live search. Since EagleFiler stores its library in Finder format, you can use it in concert with the other tools in your Mac ecosystem.
EagleFiler in a nutshell:
With a single keypress, import Web pages, mail messages, or any file on your Mac.
EagleFiler stores them in an open format: regular files and folders that are fully accessible to your other applications.
Optionally: encrypt the files, add tags, notes, color-coded labels, and other metadata.
Browse by folder or by tag, or use the live search to find the information you need (faster than Spotlight).
View, edit, or create documents directly in EagleFiler's streamlined interface, or double-click to edit using another application.
EagleFiler is a digital filing cabinet, a research assistant, and a snippet collector. You can use it to write a journal, track all the files for a project or job, save your favorite Web articles, store financial statements, run a paperless office, plan a trip, collect your course notes, archive your e-mail correspondence, search mailing list archives, research a purchase, remember recipes to cook or books to read, store scientific papers, gather legal case notes, or assemble a scrapbook. It's the most flexible tool on your Mac.
What's New:
Version 1.8.14:
EagleFiler now shows a more detailed Kind for text files, e.g. Markdown document or Ruby Source instead of Text File.
Improved importing from various Web sites, including the New York Times and Discourse forums, where sometimes the content would be truncated or overlayed.
Worked around file errors caused by APFS's strict handling of Unicode characters, e.g. not allowing emoji that were added in later versions of macOS. This could cause an import to fail when creating a new file based on a Web page or other user-generated content or when importing a file that had been saved on HFS+ or a newer version of APFS. EagleFiler will now escape any unsuitable characters so that the import can proceed without error.
When importing from a Web view as plain text via drag and drop or the system service, EagleFiler will now save the source URL.
When capturing from Apple Mail, the error messages about special mailboxes and IMAP path prefixes are more helpful.
Added accessibility labels for the New Record toolbar buttons so that they work better with VoiceOver.
EagleFiler is now localized in Russian.
The To Import folder can now be replaced by an alias if you want to relocate it to another location (e.g. to work around a ScanSnap path length limitation).
Improved recognition of bookmark files that are missing their filename extension.
The Apple Mail importer is better able to reassemble messages in cases where Mail has saved duplicate copies of an attachment file in the same folder.
The OCR With PDFpen script now removes the "NeedsOCR" tag after applying OCR.
Improved the following sections of the manual:

Export…
Importing iMessages
Importing Mail From Apple Mail
Source List

Worked around an issue that could cause RStudio files to have generic icons.
Worked around a problem where EagleFiler would try to open a database file before it had been fully downloaded from iCloud Drive.
Update to version 1.4.3 of the SkimNotes framework.
Fixed a bug importing Apple Mail attachments where the attachment name in the message and the file on disk had different Unicode normalizations.
Fixed a bug where capturing from Safari failed if jаvascript was disabled.
Fixed a bug where the Trash button in the Errors window could be enabled when no errors were selected.
Fixed a bug where entering invalid Unicode could lead to database errors.
Fixed a bug where adding a lone - to an indexed search query could prevent it from finding any matches.
Screenshots:
Title:

EagleFiler 1.8.14

Developer:

C-Command Software, LLC.

Compatibility:

OS X 10.9 or later, 64-bit processor

Language:

English

Includes:

K'ed by HCiSO

Size:

25.81 MB

visit official website
NitroFlare:
DOWNLOAD FILE

Previous Versions