EagleFiler 1.8.7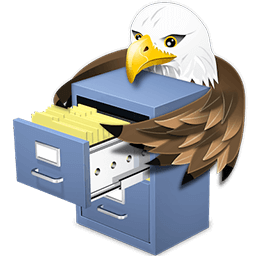 EagleFiler makes managing your information easy. It lets you archive and search mail, Web pages, PDF files, word processing documents, images, and more. Use it to collect information from a variety of sources. Browse different types of files using a standard three-pane interface. Organize them into folders and annotate them with tags and notes, or leave everything in one folder and pin-point the information you need using the live search. Since EagleFiler stores its library in Finder format, you can use it in concert with the other tools in your Mac ecosystem.
EagleFiler in a nutshell:
With a single keypress, import Web pages, mail messages, or any file on your Mac.
EagleFiler stores them in an open format: regular files and folders that are fully accessible to your other applications.
Optionally: encrypt the files, add tags, notes, color-coded labels, and other metadata.
Browse by folder or by tag, or use the live search to find the information you need (faster than Spotlight).
View, edit, or create documents directly in EagleFiler's streamlined interface, or double-click to edit using another application.
EagleFiler is a digital filing cabinet, a research assistant, and a snippet collector. You can use it to write a journal, track all the files for a project or job, save your favorite Web articles, store financial statements, run a paperless office, plan a trip, collect your course notes, archive your e-mail correspondence, search mailing list archives, research a purchase, remember recipes to cook or books to read, store scientific papers, gather legal case notes, or assemble a scrapbook. It's the most flexible tool on your Mac.
What's New:
Version 1.8.7:
You can now import to EagleFiler using the Share button in Apple News.
The keyboard shortcuts for the EagleFiler: Import and EagleFiler: Import With Options services are now Command-Shift-1 and Command-Option-Shift-1 because the old shortcuts using the number 5 conflict with the new Screenshot and recording options command in macOS 10.14.
When capturing from Microsoft Outlook or Entourage, EagleFiler now preserves the message's to-do completed status as a tag.
EagleFiler is better at reading malformed mbox files.
Displaying AudioNote files is faster.
When importing mail, if EagleFiler skips a message because it's a duplicate or marked as deleted, it will add a note to the mailbox explaining this, so that you don't wonder why the message count is different from what you saw in your mail program.
When closing a library that has active operations in the Activity window, EagleFiler is better at waiting until they have been canceled, so it's less likely that you'll get the alert sheet about not being able to close the library because it's busy.
Improved indexing performance by skipping certain file types that could be slow and didn't need to be indexed, anyway.
EagleFiler now integrates with Hook.
Updated the How can I put my library on my iPhone? section of the manual.
The import text and import plain text script commands now let you create an empty document, e.g. if you want a blank file to send to another app for editing or to record some metadata.
Improved the Tag PDFs that Need OCR script.
Worked around a bug in macOS 10.14 that prevented EagleFiler from using Spotlight importer plug-ins, leading to Excel, OmniOutliner, and other document types not being indexed.
Worked around a Spotlight change in macOS 10.14.4 that prevented indexing from working.
Worked around bugs in third-party Spotlight importers that returned the wrong type of data.
Worked around a Quick Look bug that could cause hangs when clicking to view a record.
Worked around an issue where macOS would offer to Quick Look a link in an e-mail, but doing so would cause an internal error.
Worked around a change in macOS 10.14 to restore the highlight ring when dragging and dropping onto the records list.
Importing an ENEX file that references a missing attachment no longer causes an internal error.
Tried to work around a macOS bug that could cause a crash when closing a library.
When capturing from Microsoft Entourage, EagleFiler now picks a default folder name rather than failing if Entourage reports an error getting the folder name.
EagleFiler now skips over damaged metadata files instead of halting the import with an error.
EagleFiler now logs to Console if a file triggers slowness in a Spotlight importer, to help track down problem files and importers.
Fixed the colors in the quick entry text view when using Dark Mode.
Fixed an internal error when parsing an invalid e-mail date that could lead to a mailbox not being imported.
Fixed a bug where some MIME text was not decoded properly.
Fixed a bug where importing from MailTags 6 didn't work.
Fixed a bug where the capture key didn't work with MarsEdit 4.
Updated to Xcode 10.2.
Screenshots:
Title:

EagleFiler 1.8.7

Developer:

C-Command Software, LLC.

Compatibility:

OS X 10.7 or later, 64-bit processor

Language:

English

Includes:

K'ed by TNT

Size:

26.7 MB

visit official website
NitroFlare:
DOWNLOAD FILE
Previous Versions