Parallels Desktop Business Edition v18.1.0.53311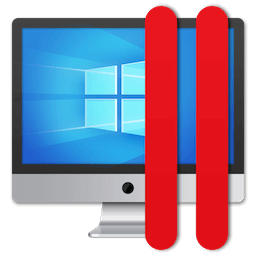 Parallels Desktop 18 is one of the oldest and most popular applications for virtualization on macOS. There are quite a few options out there for Mac users who want to run other operating systems on their Apple devices, but none are quite as intuitive and novice-friendly as Parallels.
This app allows you to Run Windows, various flavors of Linux, ChromeOS, Android, and many other operating systems in virtual machines, and it makes setting up and configuring these VMs incredibly straightforward. Much of the process is automated, and the virtualized OSes integrate well with macOS.
Anyone can start up a virtual machine with Parallels
It really is that simple. Compared to alternatives like VirtualBox or VMware, it is much easier to create a virtual machine and install an OS. For instance, if you want a Windows 10 VM, the startup wizard guides you through the entire process. It only takes a few clicks and absolutely no technical knowledge.
If you skip the initial Win10 wizard, Parallels still has an installation assistant that can help you set up Windows, Linux, and many other operating systems. The Windows 10 Test and Development environments are available for free, as are numerous Linux flavors and Android, and you can even install macOS from the recovery partition or convert a Boot Camp installation to a VM.
Excellent integration with macOS
Aside from installing Windows via Boot Camp, which isn't likely to be supported on Apple Silicon, Parallels offers possibly the most seamless experience when running another operating system on your Mac.
MacBook Pro users can add Windows apps to the Touch Bar, Office integration lets documents in Safari open in their native Windows apps, and full support is available for Retina displays for the best visual experience.
Sharing files between your Mac and Windows VM could not be easier, as files on the desktop are instantly accessible from either OS, no matter where they were created.
If you want to take things one step further, just enable Coherence Mode. Once it is active, all applications in your Windows VM will appear in separate windows directly on your Mac's desktop, almost as if they were running natively on macOS.
Not just for beginners
Of course, Parallels Desktop is available in multiple editions, with the Pro and Business variants geared towards professionals and enterprises respectively. While the Standard edition includes most features, it limits the amount of RAM and virtual CPUs you can use for each VM and lacks some advanced deployment and management tools.
These include integration with Docker, Vagrant, and Microsoft Visual Studio, among others, VM transferring and deployment capabilities, debugging tools, and centralized administration and management.
Probably the best virtualization application for macOS
Whether you're just starting out or you have a lot of experience with running VMs, nothing can beat the streamlined experience you get with Parallels, and it doesn't lose out to its competitors when it comes to the number of available features either.
With Boot Camp seemingly doomed on Apple Silicon, Parallels will likely be one of the few virtualization options available for M1 Mac users.
What's New:
Version 18.0.3:
This update for Parallels Desktop 18 for Mac 18.1.0 (53311) addresses overall stability and security issues, and includes the following fixes and improvements: 
macOS Ventura 13 
Fixed an issue with VM activity indicators being incorrectly positioned.
Fixed an issue with the Windows start menu not opening correctly in Coherence mode with Stage Manager enabled. 
Fixed an issue when moving a Windows application window brings the underlying window to the front when in Coherence view mode with Stage Manager enabled. 
Fixed an issue with VM crashing if the 'Share Bluetooth devices with Windows' option is enabled. 
Windows 11 
Fixed an issue with Windows Update KB5012170 failing to install in certain situations. 
Fixed an issue with Windows 11 express installation failing if the Mac user name contains international symbols. 
Fixed an issue where external volumes couldn't be ejected from macOS while Windows is running. 
Fixed multiple graphics and stability issues with various 3D applications and games, including but not limited to World of Warships, Eve Online, Optuma, ANSYS Workbench 2021, Micromine, NS-1, BobCad-Cam, ACCA Edificius. 
Linux 
Added support for CentOS Linux 9 Stream (ARM) on Mac computers with Apple M-series chips. 
Fixed Parallels Tools installation issue in Red Hat Enterprise Linux 9. 
Fixed an issue with Fedora 36 having an incorrect time zone. 
Other 
Fixed an issue with the Parallels Desktop menu bar icon leaving a blank space if disabled in preferences. 
Parallels Desktop 18 for Mac Pro Edition only 
On macOS Ventura 13, assign up to 128GB of RAM to a virtual machine on a Mac Studio computer with Apple M1 Ultra chip. 
Parallels Desktop 18 for Mac Business Edition only 
Added support for migrating Business users to a new per-user license (SSO/SAML). 
Deprecation of legacy Windows OS support 
As Microsoft stopped supporting driver signing for legacy Windows OS versions, it is not possible for us anymore to support Windows OS versions 2000, XP, Vista, 7, 8, and 8.1. Moreover, these Windows versions no longer receive maintenance or security updates. 
For these reasons, this product update includes the final version of Parallels Tools for legacy Windows OS versions. Parallels Tools enable a smooth experience with Windows on a Mac, and include: 
Automatic Windows installation 
Coherence view mode 
Graphic and gaming acceleration 
Sharing and integration features. 
While legacy Windows OS versions will continue to work in future Parallels Desktop updates with the current Parallels Tools version for as long as possible, they will no longer receive any updates or fixes. Parallels recommends switching to Windows 11 for a secure and smooth Windows experience on a Mac in the long term.  
Screenshots:
Title:

Parallels Desktop Business Edition v18.1.0.53311

Developer:

Parallels Holdings Ltd.

Compatibility:

macOS 10.14.6 or later

Language:

Multilingual

Includes:

K

Size:

313.21 MB

visit official website
NitroFlare:
DOWNLOAD FILE