TinkerTool System 7.88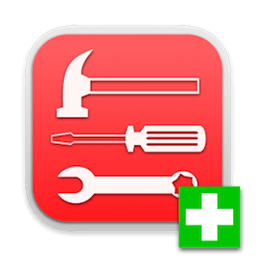 TinkerTool System is a collection of system utility features helping you in performing advanced administration tasks on Apple Macintosh computers. The application makes use of a self-adapting user interface which automatically adjusts to the computer model and to the version of macOS you are running. All options available in the current situation are accessible via "panes", very similar to the techniques you already know from the System Preferences application. The features are controlled via a single window which allows you to use the application as a general toolbox and First Aid assistant.

This includes:
built-in maintenance features of macOS, usually not visible on the graphical user interface,
extended file operations, not available in the macOS Finder,
the possibility to access advanced system settings which are not visible in System Preferences,
genuine and unique features of TinkerTool System, designed to resolve typical real-world problems of administrators and to fix the effects of certain defects ("bugs") in the operating system,
an emergency tool to troubleshoot and repair macOS in cases where the graphical user interface is no longer starting correctly or the user account of the system administrator has been damaged,
functions to collect advanced information about the hardware, operating system, and applications.
Together with its sister program TinkerTool which is available at no charge, TinkerTool System is a perfect substitute for the following types of system utilities:
Finder enhancers,
Cache and font cache cleaners,
Scripts to create bootable system installer and recovery disks,
Tools to access hidden preference settings,
Applications to make objects invisible in the Finder,
Log file browsers,
Application uninstallers,
Single User Mode troubleshooting tools,
Spell-checker dictionary editors,
and many others.
What's New:
Version 7.88 (Build 220614)
Added preliminary support for future versions of macOS.
Added new feature to resolve a known issue with the software update feature of macOS Big Sur. It is now possible to reset Apple's software updater in cases where the user interface of System Preferences shows an endless wait status when the user tries to search for the latest security updates.
Added new feature to automatically update the volume exclusion tables when a volume of a secondary installation of macOS was listed, but an update of that operating system replaced the previous system volume by a new one. After user confirmation, updated volume IDs will be added and previous ones removed.
Added new preference setting for switching between panes via arrow keys or buttons. Users of TinkerTool System can now select whether the arrows should navigate between adjacent panes (previous behavior) or within the selection history (matching the behavior of System Preferences).
The pane to support additional hardware settings of portable Macs with "always-on" architecture can now also be used on the 8th and 9th generation of Intel-based MacBook Air models.
Fixed a problem with the selection of control panes when pane navigation via menu was used within the same runtime session in which TinkerTool was embedded.
Fixed an issue with the layout of embedded TinkerTool panes or switching between panes of very different heights.
Screenshots:
Title:

TinkerTool System 7.88

Developer:

Marcel Bresink

Compatibility:

macOS 11.00 or later 64-bit

Language:

English

Includes:

K'ed by HCiSO

Size:

27.65 MB

visit official website
NitroFlare:
DOWNLOAD FILE
Previous Versions