TinkerTool System 7.12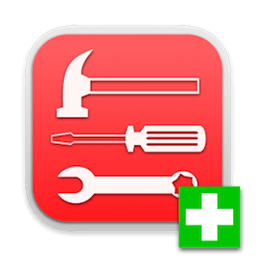 TinkerTool System is a collection of system utility features helping you in performing advanced administration tasks on Apple Macintosh computers. The application makes use of a self-adapting user interface which automatically adjusts to the computer model and to the version of macOS you are running. All options available in the current situation are accessible via "panes", very similar to the techniques you already know from the System Preferences application. The features are controlled via a single window which allows you to use the application as a general toolbox and First Aid assistant.
This includes:
built-in maintenance features of macOS, usually not visible on the graphical user interface,
extended file operations, not available in the macOS Finder,
the possibility to access advanced system settings which are not visible in System Preferences,
genuine and unique features of TinkerTool System, designed to resolve typical real-world problems of administrators and to fix the effects of certain defects ("bugs") in the operating system,
an emergency tool to troubleshoot and repair macOS in cases where the graphical user interface is no longer starting correctly or the user account of the system administrator has been damaged,
functions to collect advanced information about the hardware, operating system, and applications.
Together with its sister program TinkerTool which is available at no charge, TinkerTool System is a perfect substitute for the following types of system utilities:
Finder enhancers,
Cache and font cache cleaners,
Scripts to create bootable system installer and recovery disks,
Tools to access hidden preference settings,
Applications to make objects invisible in the Finder,
Log file browsers,
Application uninstallers,
Single User Mode troubleshooting tools,
Spell-checker dictionary editors,
and many others.
What's New:
Version 7.12 (Build 210208)
Added new feature to repair user accounts that are affected by a bug in macOS 11.2 that causes all user interface elements for connecting to network computers to fail. TinkerTool System can validate and fix active local user accounts where the Network folder of the Finder, login panels for servers, AirDrop, Handoff, and Instant Hotspot are missing.
Added new internal feature to allow normal users to check, remove and re-apply Access Control Lists for file system objects they own. This makes it possible that non-administrative users regain permission to deactivate, reactivate, or delete their personal caches if the cache folders use Apple's recommended default permission settings.
TinkerTool System no longer relies on Time Machine itself to detect whether Time Machine is configured for a network-based backup target. Because current versions of macOS 11 are too unreliable to perform Time Machine maintenance features on network servers, TinkerTool System now completely hides all its Time Machine features when it detects such a configuration.
The detail display for the current settings of System Integrity Protection has been updated for the latest macOS versions.
User guidance when changing the selection of startup jobs to repair when the repair operation is already running has been improved.
Version 7.0
Added full support for macOS 11.0 Big Sur. macOS 11 is the minimum OS version for using TinkerTool System 7.
Added new feature to remove invalid keychain entries of type "accountsKeychainExport" created by Xcode.
Added new feature to show the Apple order number and enclosure type number for Macs with Apple processors.
The Network Utility which was discontinued in Big Sur is reinstated by a new pane in TinkerTool System and supports modernized features:

Added new feature to show network interfaces, addresses and statistics.
Added new feature to show the routing table, protocol statistics, multicast information, and socket connections.
Added new feature for ping diagnostics over IPv4 and IPv6.
Added new feature to determine addresses or host names for IPv4 and IPv6.
Added new feature to trace network packet routes.
Added new feature to query whois databases.
Added new feature to query the "finger" information service for network users (RFC 1288).
Added new feature to scan open IPv4 ports.

VoiceOver is now fully supported in the ttsfrm emergency tool.
Indicating the S.M.A.R.T. status in ttsfrm is now additionally supported for SSDs with NVMe interfaces.
When testing fans, the fan speeds are now always indicated with rounded numbers, even when using Mac models where Apple is measuring rotational speeds with decimal places.
Hundreds of other small changes and adjustments for macOS 11.
The following features have been removed because they are no longer part of macOS Big Sur, no longer make sense, or have been superseded by new macOS features: repeating system optimization, deactivation of caches while the system is running, rebuilding the driver cache, rebuilding the XPC cache, resizing DMG image files, showing the list of blocked kernel drivers, automatically suggesting components when removing software, disabling automounting of disks outside a login session, control of the option to support captive networks, additional display of HiDPI resolutions, disabling the option-ROM security feature for the Startup Manager, disabling 32-bit software, screen saver control for the login screen.
Screenshots:
Title:

TinkerTool System 7.12

Developer:

Marcel Bresink

Compatibility:

macOS 11.00 or later 64-bit

Language:

English

Includes:

K'ed by TNT

Size:

24.95 MB

visit official website
NitroFlare:
DOWNLOAD FILE

Previous Versions