Soundiron Circle Bells v2.0 KONTAKT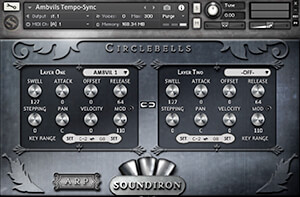 The Circle Bells library was recorded with a rare and unique instrument called "Blossom Bells", created by local SF Bay Area metal working artisan Pete Engelhart. This hand-welded tuned percussion instrument features six steel conical bells tuned to different keys and spread out in a fan arrangement. Each bell has a deeply rich, warm and sonorous tone with a long sustain and crystalline clarity. We recorded them with soft mallets, hard picks and viola bow with both single-strikes/staccatos and rolls/sustains for each articulation. Its distinctive sound evokes the feel of a steel Marimbaphone or Celeste when played with mallets and a glass armonica when bowed, yet its character and undulating resonance defies any direct comparison to any other instrument.
The bells range in size from 2" to 3 1/2" in diameter and each about 10" long. Each note can sustain for up to 10 seconds or more and carries a deep blend of beautiful overtones. We recorded each one up close in wide stereo. It's divided into three articulation sections: bows, mallets and picks. We used a viola bow to produce sustains and staccatos. We used a soft cloth mallet to play single notes and sustaining rolls and a hard pick to play single tapes, scrapes and sustaining effects. All articulations feature extensive round robin variation and deep dynamic velocity layering.
CONTENTS:
Cloth mallet strikes: an average of 12 velocity layers with our standard 10 round-robins
Cloth mallet rolls: modwheel controlled loops with 3+ velocity layers and 2+ round robins with release triggers
Twin metal guitar pick strikes: an average of 12 velocity layers and 10x round-robin
Twin metal guitar pick scratch effects: 8 layers and 8 round robins per layer
Twin metal guitar pick scratch "rolls": modwheel controlled loops with 3+ velocity layers and 2+ round robins with release triggers
Bowing sustains on all bells (fundamental notes and harmonics): 2+ velocity layers and 2+ round robin with release triggers
Bowing staccatos on all bells (fundamental notes and harmonics): 2+ velocity layers and 2+ round robin
Custom sculptable ambient drones, created using only the circle bells as source material
Screenshots:
Title:

Soundiron Circle Bells v2.0 KONTAKT

Developer:

Soundiro

Compatibility:

Kontakt version 5.1.0 (or later)

Language:

English

Size:

3.16 GB

visit official website
NitroFlare:
DOWNLOAD FILE