Native Instruments KOMPLETE 12 Instruments & Effects (25.05.2020)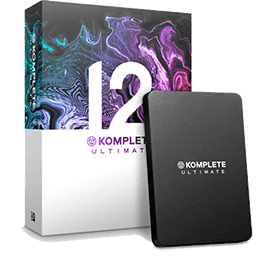 Komplete 12 Ultimate delivers the entire range of 65 Komplete Instruments and Effects in one package – premium sonic tools with unrivalled power for production, composition, live performance, and sound design. Get Kontakt 6, Reaktor 5, and Guitar Rig 5 Pro, plus the monosynth Monark and the re-designed BATTERY 4. You'll also get Scarbee Rickenbacker Bass, Action Strings, Session Hоrns, Abbey Road Vintage Drummer, and Damage for truly limitless possibilities. And the Reverb Classics, Premium Tube Series, and Solid Mix Series deliver a complete studio effects suite. From initial idea to finished production, Komplete 12 is all you need.
Komplete Instrument and Effects deliver peerless integration with Maschine Studio, Maschine, and Maschine Mikro. Find all Komplete Instruments and Effects (or any other VST or AU plug-in) in the new tag-based attribute browser and exponentially expand your production possibilities with total hands-on control.
Browse your entire instrument library directly from Maschine Studio's beautiful hi-res color screens, then start tweaking and automating sounds and performances directly on the hardware – an immediate, expressive way to play Komplete 12.
Native Instruments KOMPLETE 12:UtiliteInstruments
Absynth 5 v5.3.1
Battery 4 v4.1.6
Battery 4 Factory Library v1.1.0
FM8 v1.4.1 
Komplete Kontrol v2.3.0
Kontakt v6.2.2
Maschine 2 v2.10.1
Maschine 2 Factory Library v1.3.4
Massive v1.5.5
Massive X v1.3.0
Massive X Factory Library v1.3.0
Reaktor 6 v6.3.1
Pulse v1.0.0
Rush v1.0.0
Scene v1.0.0
Instruments for Reaktor 6
Blocks Base v1.0.1
Blocks Primes v1.0.1
Flesh v1.0.0
Form v1.1.2
Kontour v1.0.0
Mikro Prism v1.1.0
Molekular v1.0.0
Monark v1.3.1
Polyplex v1.1.0
Razor v1.7.0
Reaktor Blocks v1.3.0
Reaktor Blocks Wired v1.0.2
Reaktor Factory Library v1.1.0
Reaktor Factory Selection R2 v1.0.1
Reaktor Prism v1.6.0
Reaktor Spark R2 v1.4.0
Rounds v1.2.0
Skanner XT v1.3.0
Super 8 v1.0.0
The Finger R2 v1.3.0
The Mouth v1.3.0
TRK-01 Bass v1.0.0
TRK-01 Kick v1.0.1
TRK-01 v1.1.1
FX
Driver v1.3.1
Bite v1.0.1
Dirt v1.0.1
Freak v1.0.1
Choral v1.0.0
Flair v1.0.1
Phasis v1.0.1
Guitar Rig 5 v5.2.2
Rammfire v2.0.0
Raum v1.0.0
Reflektor v2.0.0
Traktor's 12 v2.0.0
Enhanced EQ v1.3.1
Passive EQ v1.3.1
Vari Comp v1.3.1
Replika v1.3.2
Replika XT v1.0.3
RC 24 v1.3.1
RC 48 v1.3.1
Solid Bus Comp v1.3.1
Solid Dynamics v1.3.1
Solid EQ v1.3.1
Supercharger GT v1.3.1
Supercharger v1.3.1
Transient Master v1.3.1
VC 2A v1.3.1
VC 76 v1.3.1
VC 160 v1.3.1
What's New:
May 25, 2020
Massive X v1.3.0
Massive X Factory Library v1.3.0
Pulse v1.0.0
Rush v1.0.0
Scene v1.0.0
Ignition Code
Anima Ascent
Pharlight
Maschine 2 v2.10.1
Screenshots:
Title:

Native Instruments KOMPLETE 12 Instruments & Effects (25.05.2020)

Developer:

Native Instruments

Compatibility:

OS X 10.11 or later, 64-bit processor

Language:

English

Includes:

K

Size:

16.35 GB

visit official website
NitroFlare:
DOWNLOAD FILE

Previous Versions