VitaminBW 2.0.2 for Adobe Photoshop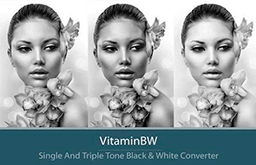 VitaminBW 2 is a two-step conversion process that first creates a smooth black and white version and then applies an algorithm to make your image pop with rich and brilliant tonal gradations. "Triple Tone" option with one click, serves you on a silver tray three different tonal versions, all in a single Photoshop document to choose the best or blend two or more. VitaminBW will dramatically change your approach to black & white conversion.
Live Preview
VitaminBW 2, thanks to the new super fast engine, adds a live preview. You will be able to compare different settings in a while.
Flexible Output
You can now get the black and white layer flattened or layered in a stack, exactly as VitaminBW 1, for an advanced and flexible tonal editing.
Gamma Control
Gamma is a powerful new tool that controls luminosity before the image boost. More options are the Repeat function and the auto pre-filtering.
32bit Plugin
Version 1 was a script. Version 2 is a plug-in that uses its internal engine working at 32bit stretching the local histogram much better.
New Features:VitaminBW is a two steps black and white conversion
The plugin first converts a color file in a smooth, high-quality black and white, then boosts its contrast and local contrast. We call this second step, "Vitaminize." You can get the final result as a single layer or as a folder containing the two layers to allow you to mask the boost layer or reduce its intensity playing with opacity.
Pre-filtering. Color filters re-allocate the tonal values
Tonal contrast is crucial for a good black and white. A contrasted color file may be flat as often grayscale renders different colors in similar tones of gray. Color filters fix this issues re-allocating the tones. With Vitamin BW this operation is easy and quick.
Contrast modes and the powerful Gamma slider
Instead of the default conversion, you can try "Boost" to obtain a stronger contrast, and local contrast effect. Even more powerful and flexible is the Gamma slider. that changes the luminosity is BEFORE the contrast boost, so the final result will be entirely different than lightening or darkening the file at the end of the process. In practice the gamma option lets you customize your black white without limits.
New color hues
VitaminBW 2 adds new presets to the classic Cool, Warm and Mixed tones. Platinum, Selenium, Sepia and Blue. Some of them come in two series. Classic, brighter with cleaner highlights and "Cotton" with a smoother effect that simulates the cotton papers prints.
Triple Tone. Three different tonal versions to choose from
Triple Tone is an exclusivity of VitaminBW. It introduces non-expert users to advanced tonal editing techniques but also quickly becomes a "must have" tool for any Pro. Triple Tone creates a multi-layer file with three entirely different tonal versions. The two top layers have an inactive black layer mask. The three versions are "No Filter," Blue and Orange. The three layers are available as flattened layers or with all steps separated for a full editability.
Screenshots: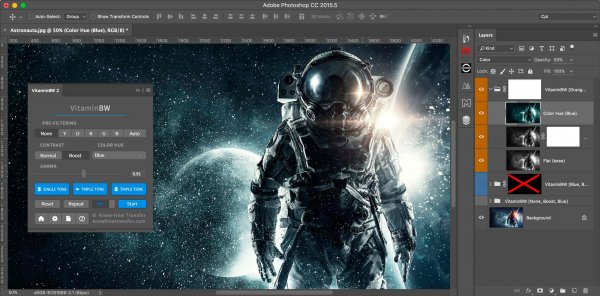 Title:

VitaminBW 2.0.2 for Adobe Photoshop

Developer:

Know How Transfer

Compatibility:

OS X 10.7 or later, 64-bit processor

Language:

English

Includes:

Pre-K'ed

Size:

47.44 MB

visit official website
NitroFlare:
DOWNLOAD FILE