Raya Pro 2.0 & InstaMask 1.0 fix - panel for Adobe Photoshop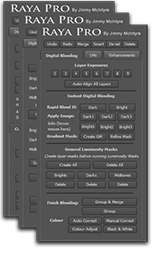 Raya Pro is a plug-in for your Photoshop, after installation of which you will have an additional panel in the program, you can see it in the screenshots. It will allow you to mix the layers as comfortably as possible and work with them, you will have all the necessary tools at your fingertips.
InstaMask is a new powerful brightness masking panel for Photoshop, which allows us to create advanced masks in the easiest way. Mixing the exposure - it's never been easier.
InstaMask will make the luminosity masks and mixing of the exposure. InstaMask will allow you to create and make any mask according to your needs in just a few clicks. The panel works only in Photoshop CC.
All Raya Pro Features
16 Bit Precision Masks
Easy Filters
Instant Digital Blending Method 1: Rapid Blend If
Instant Digital Blending Method 2: Apply Image
Instant Digital Blending Method 3: Gradient Masks
Instant Digital Blending Method 4: GMs + Apply Image
Instant Digital Blending Method 5: Range Masks
Layer Up To 9 Exposures With One Click
Auto-Align All Layers
Create & Delete General Luminosity Masks
Select Luminosity Masks With One Click, Without Going To The Channels Palette
Subtract Any Luminosity Mask From A Selection With One Click
Unique Mask Preview: See What Is Included In A Mask By Viewing A Pink Overlay – Everything That Is Pink Is Included In Your Mask
View Black & White Mask With One Click
Colour Zones
Frequency Separation (16 bit & 8 bit)
Use a Simple Slider To Create & Shape Luminosity Masks For a Perfect Selection
Use 4 Of Jimmy's Shadow Luminosity Masks Presets With One Click, To Make Accurate Shadow Selections Without Intersecting Channels
CC 2014 & CC 2015 Users Benefit From The New Range Mask Function, Created By Jimmy McIntyre – They Make Extremely Accurate Luminosity Masks
Easy One-Click Buttons, Like Delete, Make Smart Object, and Deselect, That Will Speed Up Your Workflow
Merge All Files Non-Destructively
Auto-Colour Correct Button
Manual Colour Correct Button
Easy Adjust Any Colours In Your Image
Easy Filters For Instant Improvements
Frequency Separation
Contrast Zones
Turn Your Photo Black & White
4 Orton Effects
2 Dodge & Burn Options
2 Detail Enhancers
Clean Chromatic Aberration
Reveal Sensor Dust
Easy Vignettes
Create Autumn Colours
Make Your Image Glow
Make Your Sunset/Sunrise Glow
6 Custom Buttons: You Decide Their Function!
Perfect Sharpening & Web Preparation, Which Leaves Your Images Sharp, With The Ideal Colour Profile And Size
Targeted Contrast
Make Targeted Colours More Vivid/Desaturated
Apply A Precise Mask To Any Layer To Make Your Image Cleaner
Noise Removal
Fake HDR
Full Size Sharpening
Contrast Punch
Screenshots:
Title:

Raya Pro 2.0 & InstaMask 1.0 fix - panel for Adobe Photoshop

Developer:

Jimmy McIntyre Software & Development LTD

Compatibility:

Photoshop CS5, CS6, All CC (inc. CC 2017) • OS X / Windows

Language:

English

Includes:

Pre-K'ed

Size:

177.85 MB

visit official website
NitroFlare:
DOWNLOAD FILE

PromoVideo

Installation