Raya Pro 3.0 - panel for Adobe Photoshop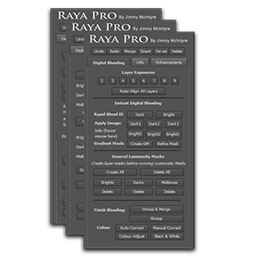 The panel that makes Photoshop and Digital Blending simple. Raya Pro is one of the finest panels for Photoshop. It makes digital blending extremely easy – just a click of a button and the blending is done. 
Features of Raya Pro 3:Blend Exposures With Ease
Works in ALL Languages
Instant Digital Blending
Techniques
16 Bit Luminosity Masks Made Easy
Jimmy's Presets:
3 Beautiful Sharpening Tools
Beautiful Images With A Few Clicks
4 Magical Orton Effects
Dodge & Burn With Ease
Enhance Incredible Details
Awesome Filters
Clean CA
Frequency Separation
Easy Vignettes
Speed Up & Simplify Your WorkflowDecide Their Function!
Make Your Images Perfect For The Web
Beautiful Golden Hour Glow
Amazing Sharpening Technique
All Raya Pro Features:
Auto Exposure blending for complete beginners
48 different 16 Bit Luminosity Masks
16 Bit Precision Masks
Easy Filters
Instant Digital Blending Method 1: Rapid Blend If
Instant Digital Blending Method 2: Apply Image
Instant Digital Blending Method 3: Gradient Masks
Instant Digital Blending Method 4: GMs + Apply Image
Instant Digital Blending Method 5: Range Masks
Layer Any Exposures With One Click
Auto-Align All Layers
Select Luminosity Masks With One Click, Without Going To The Channels Palette
Subtract Any Luminosity Mask From A Selection With One Click
View Black & White Mask With One Click
Colour Zones
Saturation Masks
Sharpening Without Edging
Frequency Separation (16 bit & 8 bit)
Use a Simple Slider To Create & Shape Luminosity Masks For a Perfect Selection
Use 4 Of Jimmy's Shadow Luminosity Masks Presets With One Click, To Make Accurate Shadow Selections Without Intersecting Channels
CC 2014 & CC 2015 Users Benefit From The New Range Mask Function, Created By Jimmy McIntyre – They Make Extremely Accurate Luminosity Masks
Easy One-Click Buttons, Like Delete, Make Smart Object, and Deselect, That Will Speed Up Your Workflow
Merge All Files Non-Destructively
3 Auto-Colour Correct Buttons
Manual Colour Correct Button
Easy Adjust Any Colours In Your Image
Easy Filters For Instant Improvements
Contrast Zones
Turn Your Photo Black & White
4 Orton Effects
Many Dodge & Burn Options
Detail Enhancers
Clean Chromatic Aberration
Easy Vignettes
Create Autumn Colours
Make Your Image Glow
Make Your Sunset/Sunrise Glow
6 Custom Buttons: You Decide Their Function!
Perfect Sharpening & Web Preparation, Which Leaves Your Images Sharp, With The Ideal Colour Profile And Size
Targeted Contrast
Make Targeted Colours More Vivid/Desaturated
Apply A Precise Mask To Any Layer To Make Your Image Cleaner
Noise Removal
Fake HDR
Full Size Sharpening
Contrast Punch
Screenshots:
Title:

Raya Pro 3.0 - panel for Adobe Photoshop

Developer:

Jimmy McIntyre Software & Development LTD

Compatibility:

Photoshop CS6, and all versions of CC (including CC 2018)

Language:

English

Includes:

Pre-K'ed

Size:

99.64 MB

visit official website
NitroFlare:
DOWNLOAD FILE