Scapple 1.4.2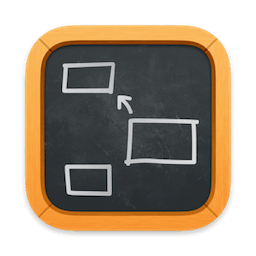 Scapple is the software equivalent of how I work out my rough ideas on paper. (If I didn't hate the word "brainstorming" so much, I'd probably call it brainstorming software.) When I'm in the early stages of any project, whether that's a writing project or a software project, I tend to throw a bunch of ideas down on a big piece of paper, spacing out as-yet unrelated ideas, clustering related notes, and drawing connections between them, trying to work out how everything fits together.

In short, then, Scapple is a tool for getting early ideas down as quickly as possible and making connections between them. The main advantage of doing this in Scapple instead of on paper is that you don't run out of paper (the Scapple canvas expands to fit as many notes as you want to create), you can move notes around to make room for new ideas and connections, it's easy to delete and edit notes, and it's easy to export your notes into other applications when you know what you want to do with them.

I'm well aware that there's already a plethora of mind-mapping software out there. Where Scapple is slightly different from most is that it doesn't force you to make any connections, and it doesn't expect you to start out with one central idea and branch everything else off that. Instead, you are free to write anywhere on the virtual paper and individual notes can be a short or as long as you like. Creating and removing connections is as easy as dragging one note onto another. Most importantly, because its purpose is to allow you to get ideas down and make connections between them quickly, Scapple is dead simple to use. Although I'm currently writing a full manual for it, the QuickStart Guide a little further down should contain everything you need to dig in and get using Scapple.
What's New:
Version 1.4.2:
macOS 13 "Ventura" Compatibility
Override SVG drag and drop in macOS 13 to use previous behaviour of substituting a file link for the image. SVG support in macOS seems to be in an early and buggy state, so we will revisit adding native support for SVG images on the board at a future date.
Testing has been done against the updated text editing frameworks introduced in macOS 13.
Fixed an issue where the selection colour for notes was always black, regardless of system setting.
Enhancements
Support for handling unrecognised image types has been added. In such cases, a placeholder will be substituted for the image, using the same size and position, preserving the original image data in the file. This will mainly be of impact to cross-platform users who would like to take advantage of scalable SVG graphics on Windows.
An additional shortcut has been added for Quick Zoom (=), mainly for keyboards that lack a physical (Z) key.
Option-Scroll for zooming in and out on the canvas will follow system preferences for scrolling.
RTF and RTFD export no longer includes superfluous empty lines around optional separators.
Bug Fixes
Unrecognised image types will no longer be lost when editing boards that contain them.
Fixed bug whereby notes consisting of a single emoji character would cause a crash.
Fixed an issue where, for darker background boards, dynamically displaying foreground elements in white would cause the note text to be set to white. This would mean that printing or switching to a light background would cause the notes be unreadable or invisible.
Note: this fix only impacts new notes; notes created on dark boards in the previous version will need to have their text colour cleared by hand.
Fixed image filename bug which would cause RTFD export to either crash or produce RTFD files without visible images.
Improved connection label recognition, which was previously ignoring some labels coming from boards created on Windows.
Replace All no longer replaces the entire note text when multiple notes were changed by it.
Finder QuickLook plugin fixed, which will also fixes cases of Scapple files not showing their preview when imported into a Scrivener project binder, or in the Bookmark preview pane when linked to files.
Note: you may need to restart your system after installing the update if you do not see previews immediately.
Update the Internet Policy JSON file, used by Little Snitch, to include a description of the AWS connection, when downloading an update to the software.
Fixed a problem with Print and PDF export where determining black or white foreground elements was based on the board background colour rather than the print rendering.
Fixed problem where splitting a connection with a new note would delete the label on the connection.
Fixed issue on M1 machines whereby the text alignment buttons for new notes in preferences, and in some cases in the inspector, would trigger the wrong state when clicked.
Screenshots:
Title:

Scapple 1.4.2

Developer:

Literature & Latte Ltd

Compatibility:

macOS 10.15 or later

Language:

English

Includes:

K'ed by HCiSO

Size:

12.28 MB

visit official website
NitroFlare:
DOWNLOAD FILE
Previous Versions