OmniGraffle Pro 7.20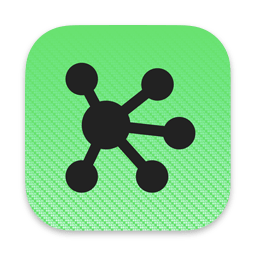 OmniGraffle Pro helps you draw beautiful diagrams, family trees, flow charts, org charts, layouts, and (mathematically speaking) any other directed or non-directed graphs. We've had people use Graffle to plan plotlines for a story, make an overview of an operating system, show the evolution of computers, and even show how diseases can spread in a closed population. If you want to organize your thoughts, your projects, or even your friends graphically, using boxes and lines, OmniGraffle is your tool.

OmiGraffle Professional has all of the great features in 6.0, plus a powerful toolset for advanced document creation and editing options. For the pro user who's looking for an in-depth diagramming application that's still priced below the competition, you've come to the right place.

What's in Pro:
Visio import/export: Open Microsoft Visio® documents (VSD or VDX) directly in OmniGraffle, as well as Visio stencils (VSS) and templates (VST). Export to Visio XML documents (VDX).
Shared layers: Easily update common elements that you'd like to display on multiple canvases. Layers can now be toggled between a normal and a Shared layer.
New controls specify which edge or center of an object is reflected in the Geometry Inspector. You can set the X and Y coordinates of a selected vertex point.
Shape combinations: Easily create new shapes using combinations of existing shapes (with support for union, intersection, and subtraction). Combined shapes can now be uncombined into their component shapes.
Resolution-independent Display Scale: When zoom is at 100%, match an Apple point, PostScript point, or screen pixel.
Photoshop export has returned, and supports the export of OmniGraffle layers to Photoshop layers.
Tables: Group shapes using tables, making it easy to add new rows or columns of your template shape.
What's New in 7
Point Editor Tool
Infinite Canvas
Artboards & Artboard Layers PRO
Convert Text to Shapes PRO
Convert Line to Shape PRO
Keyboard Shortcut Sets
Basic SVG Import
The New Export Panel
The Unified Sidebar
What's New:
Version 7.20
Omni Automation: New Omni Automation API and improvements. For details, see the Omni Automation Release Notes (available in the API Reference under the Automation menu).
Stability: Fixed a situation leading to an infinite loop when duplicating objects by dragging.
SVG: Font styles are retained when exporting to SVG.
iCloud Drive: Added entitlement to allow the Mac app to trigger creation of the OmniGraffle iCloud Drive folder when necessary.
Fixed some issues which could cause the app to lose track of an active subscription, requiring a fresh Omni Account sign-in each time the subscription is renewed. Signing in to an Omni Account should now keep you signed in until you explicitly sign out, remove the app, or change your account password.
Screenshots:
Title:

OmniGraffle Pro 7.20

Developer:

The Omni Group

Compatibility:

macOS 11.0 or later

Language:

Multilangual

Includes:

Serial

Size:

63.55 MB

visit official website
NitroFlare:
DOWNLOAD FILE
Previous Versions