GoodNotes 5.6.2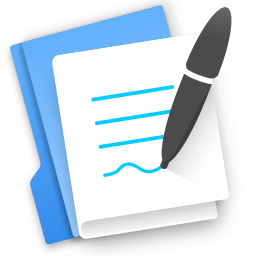 Transform your Mac into smart digital paper and a powerful document management system.
Use the same features from GoodNotes' iPad version on your Mac and work with your documents where you want and when you want.
CREATE, IMPORT, AND EDIT DOCUMENTS ON YOUR MAC
Create digital notebooks and type text with your keyboard or write and draw with the mouse/trackpad or the Apple Pencil using Sidecar on your iPad
Import PDF and images to annotate them in GoodNotes
Add documents from your Mac to existing GoodNotes notebooks via drag and drop
PAPERLESS DOCUMENT MANAGEMENT
Organize your documents in folders and create unlimited subfolders
Mark your most important documents, pages, and folders as Favorites to access them quickly
Create custom outlines for easier navigation through your documents
Instant export of documents or pages as PDF via drag and drop
ALL YOUR NOTES ALWAYS WITH YOU
Sync your latest changes to your iPad, iPhone, and other Macs using iCloud
Prepare documents on your Mac and pick them up on another device to continuously work on them
ESCAPE THE LIMITS OF ANALOG PAPER
Move, resize, and rotate your handwriting or change colors
Draw perfect shapes and lines with the Shapes Tool
powerful & smart eraser tool: Choose to erase the entire stroke or only parts of it. Set it to "Erase Highlighter Only" to leave the ink intact
Navigate through imported PDFs with existing hyperlinks
What's New:
Version 5.6.2:
This build includes several bug fixes and performance improvements as well as a new experimental feature: Flash Cards.
Study With Flash Cards
GoodNotes lets you create flash cards that you can study with the "Spaced Repetition" learning technique.
To create a flash card, add a new page using the "Flash Card" paper template
Flash card paper is currently only available in the size "GoodNotes Standard Size" and can be found in the Essentials template group all the way on the right side
Add the question on the top half and the answer on the bottom half. Tip: Use images, text, and handwriting to create great-looking and information-rich flash cards.
To study all flash cards in a document ("the flash card deck"), click on the ... menu and then on "Study Flash Cards"
click on the screen to reveal the answer and then choose how easy it was to remember the answer.
GoodNotes will suggest your next study date based on your learning progress and the selected difficulty of the cards. The more you study, the more accurate these suggestions will become. E.g.: You will see "hard" cards more often and sooner than "easy" cards.
You can reset your entire learning progress for the current deck in the settings in the flash card studying screen. Note that this is not reversible and the entire progress for this deck is lost as if you would have never studied it before.
Other fixes & improvements
added a dialogue for when there are incompatible sync versions installed that isn't blocking you from using GoodNotes
Fixed crashes related to the new shape feature
Fixed the multi-selection gesture for the library and page
Screenshots:
Title:

GoodNotes 5.6.2

Developer:

Time Base Technology Limited

Compatibility:

macOS 10.15 or later, 64-bit processor

Language:

Multilingual

Includes:

K'ed by HCiSO

Size:

160.92 MB

View in Mac App Store
NitroFlare:
DOWNLOAD FILE

Previous Versions