OnlySwitch 2.4.3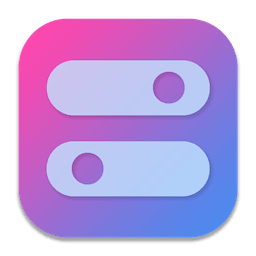 There are a bunch of macOS functions that aren't particularly easy to toggle on or off, and some can't be disabled at all.
OnlySwitch aims to make a few switches more accessible and add a couple that aren't available in the first place. It also provides some extra features, such as an Xcode derived data cleaner and radio player.
Useful switches in your menu bar
The app itself is pretty simple. It adds an icon to the menu bar, which you can use to access a collection of switches. Among others, you can hide the MacBook Pro notch, hide desktop icons, enable Night Shift, show hidden files, and toggle auto-hiding the Dock and menu bar.
If some of these switches aren't necessary, you can disable them from the app's preferences. A few aren't even enabled by default, so be sure to check them out in case you find some of them useful.
Hide the notch, listen to radio stations, and more
Of course, everyone's needs are different, and some of the app's features are definitely not for everyone. If you have a 2021 MacBook Pro, with its characteristic notch, OnlySwitch allows you to blend it with the rest of the menu bar, and it even supports dynamic wallpapers.
If you like listening to online radio, the app even has an integrated player. You can add your own stations and select your preferred one from the settings. The player is accessible and can be controlled from the menu bar.
If you're a developer, a quick shortcut for clearing Xcode derived data might also prove useful.
Helpful switches in a customizable menu
Apple certainly makes some things less accessible than we would like, and apps like OnlySwitch seek to remedy that. Considering that it's completely free and open-source, there's no reason not to grab it if any of its switches sound useful.
What's New:
Version 2.4.3:
New features:
Evolution Gallery. Everyone can contribute Evolution to OnlySwitch
There are 5 new Evolutions included in Gallery: Stage Manager(Ventura), Update Software, Hide Desktop Widget(Sonoma), Hide Desktop Icons(Sonoma) and Clamshell
Improvement:
Localisation for Evolution
Bugfix:
Commands of the old Evolution type weren't erased after changed
Screenshots:
Title:

OnlySwitch 2.4.3

Developer:

Jacklandrin

Compatibility:

macOS 12.0 or later

Language:

Multilingual

Size:

27.36 MB

visit official website
NitroFlare:
DOWNLOAD FILE