Audio Hijack 4.0.4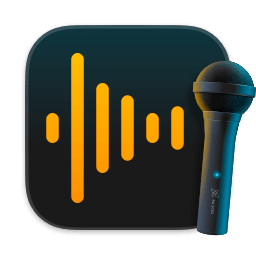 If you can hear it, you can record it - Record any application's audio, including VoIP calls from Skype, web streams from Safari, and much more. Save audio from hardware devices like microphones and mixers as well. You can even record all the audio heard on your Mac at once! If you can hear it, Audio Hijack can record it.
Application Audio
Set any application as your source in Audio Hijack, then hit the record button to save its audio!
Device Audio
Audio Hijack can also capture and record audio from microphones, mixers, and other input devices.
All System Audio
Use the System Audio source to capture all the audio heard on your Mac at once.
More Great Features
Record to All Major Formats
Record to the world's most popular audio formats, including MP3 and AAC, or save in perfect-fidelity AIFF, WAV, ALAC or FLAC.
Reusable Sessions
Once you've configured a Session to your liking, you can re-use it over and over. With one click, you'll be recording exactly as desired.
Easy File Organization
Find all of your recordings sorted by Session in the Recordings tab, where you can quickly pass files to an audio editor, add them to iTunes, or share them.
Timed Recordings
Use the Schedule tab to set up timed recordings for when you're not around. Your audio will be waiting for you when you return.
Silence Monitoring
When silence is detected, Audio Hijack can automatically stop recording, split to a new file, or remove audio.
Bulletproof Recording
Bulletproof recording means that even if the power goes out or your computer crashes, you'll never lose a recording.
A Thoughtful Interface
Audio Hijack's intuitive audio grid provides a terrific pipeline-style view of exactly how your audio flows, so you can easily understand it.
Gorgeous Audio Effects
The included audio effects are easy to use and easy on the eyes. Their functionality is now accessible to all.
Time Shift Your Audio
Now you can pause, delay, and rewind live audio on your Mac. It's perfect for transcribing audio and more!
What's New:
Audio Hijack 4.0.4
Improvements in ACE 11.8.3
The Audio Capture Engine (ACE) has been updated to 11.8.3, with many improvements for even more reliable audio capture. This includes a workaround for issues with FaceTime volume when using the built-in microphone, as well as an improvement in dealing with poorly implemented
Audio Units. Tracking of audio device sample clocks also now works better when the device is providing erroneous information. CPU usage has been reduced in many common audio flows, clock synchronization across devices has been improved, and persistent device tracking has been improved.
Substantial improvements have been made to the performance of the "Recordings" list found in each session, to make things work better when a session contains many recordings.
Left (L) and Right (R) labels have been added to the block face for "VU Meters".
Several visual improvemnts have been made for better legibility throughout the app. This includes making active Recorder blocks easier to read, and greatly improving the coloring of selected wires when using manual connections in Light mode.
Automatic sample rate selection for the "Application" and "System Audio" Input blocks have been improved, with better performance and less resampling.
Automatic sample rate selection for the "Application" and "System Audio" Input blocks have been improved, with better performance and less resampling.
Corrections have been made to the "Live Stream" block, to provide better colors in the automatically generated video, and to show a more useful preview even when not broadcasting.
Fixes have been made to prevent rare issues with the Run/Stop button in the "Sessions List" window.
An issue where the Recording Inspector could fail to show the genre selector has been corrected.
An issue where upsampling of certain low sample rates could sometimes produce audio artifacts has been resolved.
To avoid a rare issue where recordings could be corrupted, Audio Hijack now prevents editing of tags during playback and waveform creation.
The user interface now indicates when the app is finalizing .m4a files, both in the Recordings tab and when quitting the application.
The Recording Inspector now better shows in-progress recordings.
The edit button for renaming blocks now properly moves its position related to the title.
Renaming a session will now cause the "Session List" window to re-sort.
The "Denoise" block now properly shows previously learned noises when a session reloads.
A graphical glitch which could occur when dragging plugin windows has been fixed.
An issue where a highlighted recording in the "Recordings" list might not be the recording which reacts to playback shortcuts has been corrected.
Further improvements are planned for the future.
Assorted improvements have been made to make timers function more reliably.
Multiple fixes and improvements have been made for block popovers, to ensure they behave optimally.
Adjustments have been made to allow the "Quit and Relaunch for Debugging" option to be accessed even on unsupported operating systems, making it possible to activate the "Check for test releases" hidden preference.
The icon shown in the "Recorder" popover when Audio Hijack is "Ready to Record" has been updated and improved.
The "Session Start" automation now correctly runs when a timer starts a session. For actions which should run only when a timer fires (and not when a session is started manually), use the "Timer Start" automation.
Once a session is closed, re-attaching any detached popovers will make the session window reappear.
When the full version of Audio Hijack has been unlocked, the "License" window now subtly shows the application's version number.
Fussy typography improvements have been made to the "Release Notes" window shown at the first launch of a new version, which you might be looking at right now!
A new hidden preference has been added, enabling Audio Hijack's Dock icon to be hidden. Please note that this may behave in sub-optimal ways.
This option may be removed in the future.
Software Update checks now occur only after the Welcome Window has been closed.
Screenshots:
Title:

Audio Hijack 4.0.4

Developer:

Rogue Amoeba Software

Compatibility:

macOS 10.14 or later

Language:

English

Includes:

K'ed by HCiSO

Size:

32.58 MB

visit official website
NitroFlare:
DOWNLOAD FILE
Previous Versions