Audio Hijack 4.1.2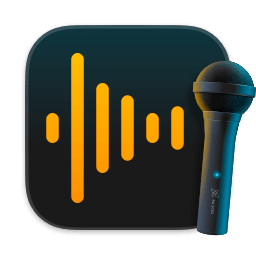 If you can hear it, you can record it - Record any application's audio, including VoIP calls from Skype, web streams from Safari, and much more. Save audio from hardware devices like microphones and mixers as well. You can even record all the audio heard on your Mac at once! If you can hear it, Audio Hijack can record it.
Application Audio
Set any application as your source in Audio Hijack, then hit the record button to save its audio!
Device Audio
Audio Hijack can also capture and record audio from microphones, mixers, and other input devices.
All System Audio
Use the System Audio source to capture all the audio heard on your Mac at once.
More Great Features
Record to All Major Formats
Record to the world's most popular audio formats, including MP3 and AAC, or save in perfect-fidelity AIFF, WAV, ALAC or FLAC.
Reusable Sessions
Once you've configured a Session to your liking, you can re-use it over and over. With one click, you'll be recording exactly as desired.
Easy File Organization
Find all of your recordings sorted by Session in the Recordings tab, where you can quickly pass files to an audio editor, add them to iTunes, or share them.
Timed Recordings
Use the Schedule tab to set up timed recordings for when you're not around. Your audio will be waiting for you when you return.
Silence Monitoring
When silence is detected, Audio Hijack can automatically stop recording, split to a new file, or remove audio.
Bulletproof Recording
Bulletproof recording means that even if the power goes out or your computer crashes, you'll never lose a recording.
A Thoughtful Interface
Audio Hijack's intuitive audio grid provides a terrific pipeline-style view of exactly how your audio flows, so you can easily understand it.
Gorgeous Audio Effects
The included audio effects are easy to use and easy on the eyes. Their functionality is now accessible to all.
Time Shift Your Audio
Now you can pause, delay, and rewind live audio on your Mac. It's perfect for transcribing audio and more!
What's New:
Audio Hijack 4.1.2
A crash which could occur when using the waveform visualizer with the "Live Stream" block has been fixed.
Highlighted sliders no longer erroneously accept typed number input.
Potential high CPU usage when an external screen is detached has been corrected, and animation on ProMotion and other higher refresh rate screens has been optimized.
The "Mixer" block once again correctly displays the icon for "System Audio", fixing a display bug regression in v4.1.0.
VoiceOver updates and improvements have been made to several parts of the app, including multiple "Advanced" sections, the "Recorder" block, the "System Audio" block, and columns in the "Session List". As well, editing a file name no longer incorrectly leads to ticking sounds when using VoiceOver
Work has been done to avoid an issue where new ACE installations could incorrectly show an "Almost Ready" screen after restarting.
Screenshots:
Title:

Audio Hijack 4.1.2

Developer:

Rogue Amoeba Software

Compatibility:

macOS 10.14 or later

Language:

English

Includes:

Serial

Size:

34.71 MB

visit official website
NitroFlare:
DOWNLOAD FILE
Previous Versions