Audio Hijack 4.0.3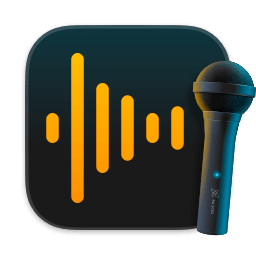 If you can hear it, you can record it - Record any application's audio, including VoIP calls from Skype, web streams from Safari, and much more. Save audio from hardware devices like microphones and mixers as well. You can even record all the audio heard on your Mac at once! If you can hear it, Audio Hijack can record it.
Application Audio
Set any application as your source in Audio Hijack, then hit the record button to save its audio!
Device Audio
Audio Hijack can also capture and record audio from microphones, mixers, and other input devices.
All System Audio
Use the System Audio source to capture all the audio heard on your Mac at once.
More Great Features
Record to All Major Formats
Record to the world's most popular audio formats, including MP3 and AAC, or save in perfect-fidelity AIFF, WAV, ALAC or FLAC.
Reusable Sessions
Once you've configured a Session to your liking, you can re-use it over and over. With one click, you'll be recording exactly as desired.
Easy File Organization
Find all of your recordings sorted by Session in the Recordings tab, where you can quickly pass files to an audio editor, add them to iTunes, or share them.
Timed Recordings
Use the Schedule tab to set up timed recordings for when you're not around. Your audio will be waiting for you when you return.
Silence Monitoring
When silence is detected, Audio Hijack can automatically stop recording, split to a new file, or remove audio.
Bulletproof Recording
Bulletproof recording means that even if the power goes out or your computer crashes, you'll never lose a recording.
A Thoughtful Interface
Audio Hijack's intuitive audio grid provides a terrific pipeline-style view of exactly how your audio flows, so you can easily understand it.
Gorgeous Audio Effects
The included audio effects are easy to use and easy on the eyes. Their functionality is now accessible to all.
Time Shift Your Audio
Now you can pause, delay, and rewind live audio on your Mac. It's perfect for transcribing audio and more!
What's New:
Audio Hijack 4.0.3
Scripting: New "Open Recording in Editor" Script
Use the new "Open Recording in Editor" built-in script to pass audio files to the audio editor specified in Audio Hijack's preferences.
Smarter Templates
Templates are now more intelligent in picking applications. This includes selecting the system's default browser and default call app, as well as picking third-party VoIP and music apps if present.
If Fission is present on the system, Audio Hijack will use it as its editor, if no other editor is set.
A new article for VoiceOver users has been added to our Knowledge Base. This article provides a useful overview of using Audio Hijack 4 with VoiceOver. It can be accessed at https://rogueamoeba.com/support/knowledgebase/?showArticle=VoiceOver-AH4. Further, the Session List window now includes a button (available only via VoiceOver) to guide users to this article.
The Input Switch no longer incorrectly takes 3+ connections in manual connections mode.
Background rows in both the Session List window and the global window now correctly alternate colors at all times.
Using Undo to remove a block after adding it now works better. Further improvements are still pending.
Deleting a recording that's currently playing now correctly stops playback.
The "Info" tab now better shrinks when a session is reduced toward its minimum height, specifically by reducing the height of the "Notes" field.
An issue where the "Latency" slider could behave strangely has been corrected.
The AUAudioFilePlayer Audio Unit has been special-cased, to continue playing audio even when the popover is closed.
A graphical glitch which could occur when dragging plugin windows has been fixed.
An incompatibility with the views supplied by v3 Audio Units has been fixed, and these plugins will now respond to mouse events as expected.
A rare issue where Audio Unit effects could incorrectly switch to a Generic view when switching Spaces has now been corrected.
Audio Hijack now better handles recordings where a paused Recorder has its "Split" button pressed.
Pipeline bubbles, as seen with the "Ducking", "Input Switch", and "Mixer" blocks, now show a more helpful appearance when their block is switched off.
Title case in the Recorder block's messages has been corrected.
Pinned block popovers now stay on screen, even if their session is closed.
Audio Hijack now offers a "Safe Start" option. Hold Shift at launch to prevent any windows from opening, and stop auto-run sessions from running.
The "Audio Unit Effects" section of the Blocks library has been updated to no longer show Instruments effects by default. For those users who wish to have those Audio Units included, a "Show Audio Unit Instruments" hidden preference has been added to the Debugging window (accessible via the "Quit and Relaunch to Debugging" menu option, accessed by pressing the option key while in the "Help" menu). This preference will be automatically enabled for existing users who are using Instruments in Audio Hijack.
Session errors now explicitly mention, by name, the session in which the error occurred.
Help tags for popover controls have been updated, and now correctly reflect state.
The "Input Device" block is now more intelligent about shortening the word "Microphone" down to "Mic", to save space.
Debug logging for scripting has been improved, to enable us to provide better support with scripting issues.
Audio Hijack's "License" window now subtly shows the application's version number.
Tweaks have been made to the "General" and "File Limits" tabs in the "Recorder" block, to synchronize their height and prevent unnecessary resizing.
A small change has been made to app launch, to prevent auto-launch or timer start sessions starting before startup is finalised/windows are shown and reduce the chance of issues.
Fussy typography improvements have been made to the mailing list sign-up window which is displayed on the fifth launch for new users.
Screenshots:
Title:

Audio Hijack 4.0.3

Developer:

Rogue Amoeba Software

Compatibility:

macOS 10.14 or later

Language:

English

Includes:

K'ed by TNT

Size:

31.98 MB

visit official website
NitroFlare:
DOWNLOAD FILE
Previous Versions