Notebooks 2.3.3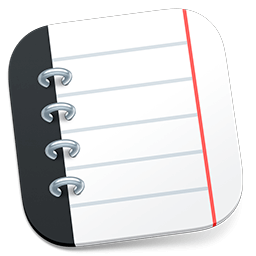 Notebooks allows you to create as many books as you need to write, store and structure your details of life, and it will quickly become the one and only repository for all journals, ideas, notes, drafts, stories and diaries but also for your projects, task lists, documents, files and everything else you want to keep close at hand.
Use Notebooks to create carefully formatted documents with styles and embedded photos, or to quickly write plain text notes. Convert between these formats any time, and if you want to use Markdown, Notebooks knows how to handle that as well. It is a perfect, distraction free writing environment.
Notebooks stores and displays almost any type of document: plain text and formatted text, PDF, web pages, MS Office documents, photos, videos, music and much more. Everything you want to keep organized can go directly into Notebooks. 
Notebooks also keeps your task lists and allows you to tick off your to-dos as you complete them. Divide your projects into nested sub projects, which makes them easier to handle, and cross-reference into your reference library, which, of course, is in Notebooks, too. 
Notebooks can share its files with the mobile versions of Notebooks on the iPad and iPhone, which allows you to conveniently work on your documents from your desktop, but also on your iPad, iPhone or iPod touch when you are on your way. The synchronization between the devices currently supports Dropbox and many WebDAV servers (with Dropbox currently being the most convenient option).
Notebooks stores all your documents as regular files on your computer's hard drive, so you can always access them through Finder to open and edit with other applications, too.
So whether you need to write something down or look something up, you need to have Notebooks on your Mac.
What's New:
Version 2.3.3
This update resolves an issues regarding to pasting text into a formatted document.
Version 2.3.1
This update fixes several issues and introduces a few improvements:
Pasting images or screenshots into formatted documents works as expected again.
When creating or editing links to documents in formatted documents (cmd-K), hitting the Tab key shows suggestions and supports auto completion.
Notebooks tries to create more legible links when pasting a URL into a formatted document.
"Soft Return" or "shift return" is available for formatted documents. Inside a list, soft return creates a newline but not a new bullet, in a paragraph, soft return creates a new line but not a new paragraph.
Correctly detect and embed "hard coded" fonts in CSS styles sheets.
The default Markdown converter supports both definition list styles again (one of them was broken after the latest update) and no longer strips embedded style definitions.
You can keep Notebooks from formatting the first line of a Markdown document as title by starting the document with an empty line.
"Compile Documents" more carefully collects images that shall be embedded in the final result.
"Create PDF" for a book more reliably embeds images.
There is a new setting to hide the completion date in task lists.
Correct an issue when displaying email messages.
Make sure that clicking the Home button selects Notebooks' top level in the outline (Mac App Store version).
Interface refinements.
Screenshots:
Title:

Notebooks 2.3.3

Developer:

Alfons Schmid

Compatibility:

OS X 10.11 or later, 64-bit processor

Language:

English

Includes:

K'ed by TNT

Size:

17.59 MB

visit official website
NitroFlare:
DOWNLOAD FILE

Previous Versions