ChronoSync 4.8.6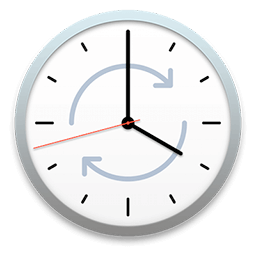 ChronoSync is the professional choice for periodic backups, bootable drive clones and folder synchronizations. Target any device or folder visible in Finder such as a volume, thumb drive, NAS, disk image, server or (with ChronoAgent) another Mac! ChronoSync replaces your backup utility, drive clone utility, and folder sync utility with a single, powerful application. Get push notifications of your syncs sent to your phone with ChronoMonitor. Add InterConneX (free for iOS) and use ChronoSync to push files and folders to your iDevice!
Fully customizable toolbar
All settings are stored in separate files that can be edited at any time
Synchronization in two directions
drafting rules to filter the files by various attributes
Compare files before sync
Run a test to verify the results of synchronization before performing operations
history of synchronization, which can be printed or saved to a file
Automatic synchronization on a schedule
Use AppleScripts to automate synchronization.
What's New:
Version 4.8.5:
Enhancements:
Added logic to all of the assistants that ensures the 'Tasks' folder exists before proceeding to name & generate a task document.
Introduced a minor tweak to how detailed file information is displayed to prevent queueing up a bunch of display requests for the same item.
ChronoSync now disables the keychain UI to (theoretically) eliminate the "ChronoSync wants to use the ChronoAgentLocalKeychain" dialog from appearing.
Enhanced error logging for keychain API errors to help when debugging keychain access issues.
Implemented a completely different method of determining if ChronoAgentLocal is running and ready to receive connections.
Implemented a feature whereby holding the OPTION key down while switching to the Advanced tab of any Connection Profile Editor reveals the 'Diagnostic logging' option, provided the connection profile supports it.
ChronoSync now intelligently disables the "Archive replaced files" option if it is not currently ON and the destination file manager doesn't support archiving as well as chooses the appropriate deletion method.
Added workaround logic to better deal with file managers that may not properly aggregate packages.
Added logic to deal with the possibility of exceptions being thrown when a filename has a malformed UTF-16 name.
Hardened the log entry logic to better handle subtle corruption at the expense of losing a log entry.
Added exception handlers to deal with unexpected exceptions that may occur at certain points within the file deletion and file copy operations.
Reworked how the copy buffer size is negotiated between targets.
Implemented a new, 'System-to-Server' Readiness Error that will prevent a task from running if it targets the boot volume as the source and a file server as the destination.
Made a change to the Container Synchronizer that should allow it to abort much quicker.
ChronoSync now only simulates user activity on scheduled runs when the wake-to-sync preference setting is enabled to prevent unwanted screen wakes.
The Validator will now retry after content mismatches to eliminate a lot of 'false negatives' on cloud-based validations.
ChronoSync now posts more detailed error codes to the log for certain validation errors.
ChronoSync now posts error messages to the console log if a file system error occurs when refreshing an item's attributes.
Tweaked the formula for calculating maxConcurrentOperationCount so that fewer operation threads are spawned for cloud connections.
Enhanced the retry delay logic to better respond to aborts during the delay.
Added diagnostics that get generated when the Bootable Backup or Disk Image Assistant fails to save the generated document.
Updated tooltips.
Bug Fixes:
Fixed a CRITICAL bug introduced in v4.8.4 whereby hard links recreated on the destination of a sync would all reference the same exact object.
Added logic that will force all multi-hard linked files to be synchronized on the next full run so that the new hard-link logic can correctly recreate them on the destination. If a sync has not been run since Nov 27th, 2017, the fix doesn't need to be applied since that is the earliest date that the the bug could have appeared.
Fixed a bug whereby if a user abort occurred at precisely the wrong time, it was possible that the item(s) being scanned at the time of the abort would be force-synchronized even if they didn't need to be copied.
Fixed a bug whereby if an open Container Task Document job was invoked from the Scheduled Tasks Manager window, there was a chance that aborting the run would lead to a hang.
Fixed a bug that could cause crashes if scheduling/clearing power manager wake events returns an unexpected error.
Fixed a bug that could cause a deadlock if scheduler jobs were being run with their sync/container task document windows open.
Fixed a bug whereby if the user chose a custom grace interval but not a max interval, the grace interval was allowed to exceed the default max interval of 300 seconds. We now assert a max interval of 3x the grace interval in such circumstances.
Fixed a bug whereby you could not open the Synchronizer Log window when running a Validation.
Fixed a bug when aborting Amazon S3 connections.
Fixed a bug whereby a never-saved task document that is 'saved as default' would become the default document rather than remaining unsaved.
Fixed a bug whereby a never-saved task document that is saved as a Template would become the template document rather than remaining unsaved.
Fixed a bug that would cause the Bootable Backup Assistant to spin indefinitely if saving the generated document failed.
Fixed a bug whereby selecting a bookmark in the Log window was stealing focus from the log list.
Screenshots:
Title:

ChronoSync 4.8.6 & ChronoAgent 1.8.0

Developer:

Econ Technologies, Inc

Compatibility:

OS X 10.10 or later

Language:

English

Includes:

K'ed by The Shark

Size:

69.84 MB

visit official website
NitroFlare:
DOWNLOAD FILE
OLD: