ChronoSync 4.9.0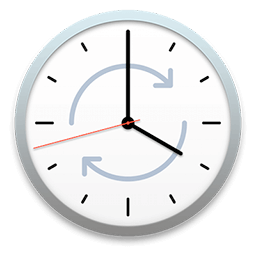 ChronoSync is the professional choice for periodic backups, bootable drive clones and folder synchronizations. Target any device or folder visible in Finder such as a volume, thumb drive, NAS, disk image, server or (with ChronoAgent) another Mac! ChronoSync replaces your backup utility, drive clone utility, and folder sync utility with a single, powerful application. Get push notifications of your syncs sent to your phone with ChronoMonitor. Add InterConneX (free for iOS) and use ChronoSync to push files and folders to your iDevice!
Fully customizable toolbar
All settings are stored in separate files that can be edited at any time
Synchronization in two directions
drafting rules to filter the files by various attributes
Compare files before sync
Run a test to verify the results of synchronization before performing operations
history of synchronization, which can be printed or saved to a file
Automatic synchronization on a schedule
Use AppleScripts to automate synchronization.
What's New:
Version 4.8.7:
Changes & Enhancements:
Added support for path-style URLs in the Amazon S3 Connection.
Added intelligence to the Amazon S3 connection setup process so that the "Path-style URLs" setting is automatically enabled during a "Test" connection if the remote server requires it.
Constructed URLS no longer escape the '/' character when appending the object key in the Amazon S3 Connection.
We now include the 'Date' header when constructing the string that is used to sign any request to Amazon S3 connections.
Improved the responsiveness when trying to abort agent-based tasks after a connection is abruptly broken.
Changed the behavior of "Open Other..." so that it defaults to the current location of the "Task Documents" folder as specified in the "ChronoSync->Preferences->General" panel.
Added logic to prevent sync-on-launch and sync-on-quit jobs from running when ChronoSync is launched and quit via scheduled task execution.
Limited requests for some unneeded volume data which results in slightly more efficient operations on HFS+ volumes in certain instances.
Volume mount checks now occur within their own autorelease pool.
The file format accessory view is now only displayed on Save if the current document is NOT a v4 document format.
Fixed various minor auto-layout problems, tooltips and spelling errors throughout the App.
Update Online Help.
Bug Fixes:
Fixed a potential crash if a log window was left open while the parent document window was closed by the user.
Fixed a bug whereby auto-exclusion of root folder items was not properly occurring.
Fixed a bug whereby the "Optimizing" message during a bootable backup would not be displayed under certain circumstances.
Fixed a minor bug whereby the wrong Resource Fork handling mode was set briefly after connection with the remote file manager is established.
Fixed a bug whereby the diagnostic setting was not being automatically applied to previously created task documents.
Fixed a bug whereby pasting a rule into a group would not set the rule's parent properly, eventually resulting in an exception being raised.
Fixed a bug whereby opening a task document on the Archive panel would result in no archive path being displayed.
Fixed a bug whereby the Google Cloud service object was not being deallocated after a connection was closed.
Fixed a potential problem where an occasional exception while browsing files on an 'Admin Access' connection was being thrown.
Fixed a bug whereby the online help was not being linked from the B2 Connection Profile editor.
Fixed a bug whereby the test for nested folders in the Multi-Folder Assistant could easily be tricked by partially matching folder names e.g. "/Test Folder 2/Subfolder" would be flagged as a child of "/Test Folder".
Fixed a bug whereby the custom folder selector wasn't being displayed when downloading an update.
Screenshots:
Title:

ChronoSync 4.9.0 & ChronoAgent 1.9.0

Developer:

Econ Technologies, Inc

Compatibility:

OS X 10.10 or later

Language:

English

Includes:

K'ed by The Shark

Size:

91.14 MB

visit official website
NitroFlare:
DOWNLOAD FILE
Previous Versions