Tri-BACKUP Pro 9.1.7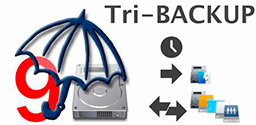 Tri-BACKUP is a backup utility that automatically saves your data (from a single folder to an entire disk), synchronize folders, and creates and maintains bootable copy of your disk. Save your data is of paramount importance if you consider that your data has some significance. A computer or a disk can fail, data can be accidentally destroyed, a computer can be stolen or destroyed in a fire.
Whether personal or professional, some data is irreplaceable and will never be possible to reconstruct if lost: photos of a particular event, documents created by you, etc..
- Copy your disk: Create a bootable copy of your disk updated regularly and automatically. You can restart from the copy at any time and retrieve all your data and applications in your usual environment.
This function is also useful to change your startup disk or to duplicate an environment on multiple machines.
- Clean Mac: Put your Mac in good condition by using a clean copy of your startup disk.You can directly restart from the clean copy or restore your internal disk.
- Save your dаta: Tri-BACKUP automatically and regularly copies your files to one or more internal or external drives, on another machine, network, FTP server, etc.
You can multiply your backups to increase the security of your data.
- Data recovery: If you lose your data, backups will be much more effective than any data recovery software. Think backup with Tri-BACKUP.
- Transfers your data : Synchronize multiple machines, share files and group documents from multiple users, across a local network or through external drives, and you can even use systems like Dropbox updated by Tri-BACKUP.
- Automate your backups : Let your backups run automatically in the background without disturbing you or slow down the use of your machine.
Programmed actions can be triggered at the time and frequency of your choice, or automatically executed when a disk is connected, or when you quit an application.
- Compare and control: With the immediate actions of Tri-BACKUP, you compare the contents of two folders and you can control exactly what needs to be copied, synchronized or deleted.
Main features
Multiple modes: copy, backup, synchronization, deletion, compression, comparison, etc..
Multiple backup modes: Evolutive (which keeps multiple versions of each document), Mirror (identical copy), Incremental partial Disc Copy, etc..
"Programmed Actions" running in the background, with automatic execution.
Management of various contexts (office, home, nomad) to adapt the execution of certain actions (so that they are activated only in a particular context).
"Immediate Actions" to check and control precisely what needs to be copied, deleted or modified.
Ability to make encrypted backup (password protected).
Create an unlimited number of programmed actions.
Opening of immediate actions containing the settings stored in your programmed actions.
Restoration with search of the location where the most recent backup of a particular folder was done.
Restore Time Machine backups.
History of executed actions, of copied files, etc..
Posts information on the progress of actions.
Automatically mount remote volumes.
What's New:
Version 9.0.0:
New features:
Programmed action "Copy and Organize"
Survey programmed action (to survey if the contents of a folder or volume change)
Access to see the number of versions of each file saved in Evolutive Backup
Extension filter to copy only files based on extensions (copy only image, video, audio... files)
"Add to Favorites" option to filter and launch more quicker your favorite actions
Reports the number of items excluded by filters during the execution of actions
Suspend activity option in the Before/After operations
New options to better monitor and control your Mac and your backups
Controls and information in the Scheduler menu
Screenshots:
Title:

Tri-BACKUP Pro 9.1.7

Developer:

Tri-Edre

Compatibility:

OS X 10.6 or later

Language:

English

Includes:

Serial

Size:

13.25 MB

visit official website
NitroFlare:
DOWNLOAD FILE

Previous Versions