Acorn 6.2.3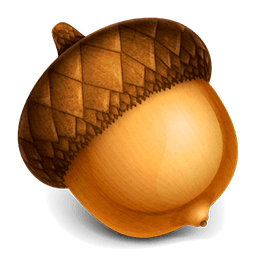 Acorn is a new image editor built with one goal in mind – simplicity. Fast, easy, and fluid, Acorn provides the options you'll need without any overhead. Acorn feels right, and won't drain your bank account.
Take screenshots using Acorn and edit them right away.
Chain together image filters to create stunning effects.
Layer based image editing, an industry standard.
Make new images and layers using your built-in iSight.
Easy image and canvas resizing, just by changing the size of your window.
Take advantage of every pixel of your monitor with full screen image editing.
Tablet sensitive for pressure strokes and using the tablet's eraser.
Vector shape and text layers.
Freeform, elliptical, rectangular, and magic wand selections.
Gradients.
Create and apply custom text styles.
Control opacity and blending modes for each layer.
Write plugins using the Python scripting language, as well as in Objective-C.
GPU powered. The same graphics card that makes your gaming experience smooth, helps Acorn fly through the toughest of graphics operations.
What's New:
Version 6.2:
The One About Dark Mode and 
MacOS Mojave
Acorn is embracing the dark side. At least if you want it to- otherwise Acorn will totally pretend that Dark Mode doesn't exist and we're all good.
A new appearance requires new icons as well. We've refreshed all the icons in the welcome window as well as in the tools palette. And everyone gets those, not just folks running Mojave.
Little New Things
New Appearance preference when running on Mojave: Pick either Dark Aqua, Aqua, or System to follow the system setting.
The Rotate shape processor now has a cumulative option.
The text palette now has a fill option right above the stroke field. Hurray- no more moving to the shape palette to turn strokes on and off!
Changes
Improvements to zooming your image in and out with the ⌘-1 through 5 shortcut keys.
Better integration when editing from Photos.app and auto-save.
If no documents are open, and you drag and drop a file into the layers palette, Acorn will now open up that image.
Turned off the behavior where the selected tool is saved as part of the image, rather than global for the app. This means switching between open images will always keep the currently selected tool.
Additional preset scale levels have been added to the Command+ and Command- shortcuts, which helps out on the lower end.
The scale buttons (next to the canvas scale slider) will now stop at a point where the image is zoomed to fit.
Acorn will now show a little warning on the canvas when you copy 100% transparent pixels to the clipboard.
Canvas notifications are now shown at the top of the canvas instead of smack dab in the middle.
Web Export uses fancier scaling, so the edges of circles that butt up against the last column of the image don't get blown out when the image is scaled down.
When auto-save is turned on, non-native images (JPEG, PNG, TIFF, basically everything other than .acorn files) will open up as unsaved new images. This is to keep from re-encoding lossy image formats, and automatically losing data in general. If you enjoyed the previous option, you can turn off auto-save in the General tab of Acorn's preferences window.
The subpixel anti-aliasing option for text boxes has been removed when Acorn is running on MacOS Mojave 10.14 (Apple has removed subpixel anti-aliasing from the system and made it impossible for Acorn to support).
When using Smart Export on single layer via the Export… button, the option to always smart export when saving is now available via the export sheet.
Super minor: The web export window will now default to save your image in the same folder the original image was opened from.
Fixes
Various MacOS Mojave 10.14 fixes.
Fixed a relatively small drawing problem with ovals.
Fixed a problem where you could make an empty selection on layer masks.
Fixed a problem where the color loupe would sometimes show up when you press the option key over a palette.
Now supporting the new drag and drop stuff from Photos on MacOS 10.14, so we can all enjoy full res images.
Fixed a problem where the Close All menu item was unlocalized.
Zoom to fit refinements for folks who have their scrollbars set to always show.
Fixed a problem where web export wouldn't remember the "Remove metadata" settings between uses.
Fixed a problem when opening certain PDFs and creating an image out of the first page.
Fixed some rounding errors when drawing selections.
Fixed flickering when selecting text.
Fixed a problem where View ▸ Draw Shape Vectors wasn't working correctly with Metal.
Fixed a bug where clicking the mouse with the control key down wouldn't bring up the contextual menu on the canvas.
Fixed a problem where the pencil cursor would go away when drawing.
Fixed a scaling issue with text boxes.
Screenshots:
Title:

Acorn 6.2.3

Developer:

Flying Meat Inc.

Compatibility:

OS X 10.8 or later, 64-bit processor

Language:

Multilangual

Includes:

K'ed by TNT

Size:

14.53 MB

visit official website
NitroFlare:
DOWNLOAD FILE
Previous Versions