Pixelmator Pro 1.8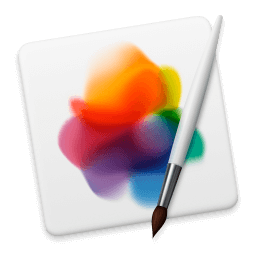 Pixelmator Pro is an incredibly powerful, beautiful, and easy to use image editor designed exclusively for Mac.
With a wide range of professional-grade, nondestructive image editing tools, Pixelmator Pro lets you bring out the best in your photos, create gorgeous compositions and designs, draw, paint, apply stunning effects, design beautiful text, and edit images in just about any way you can imagine. And thanks to its intuitive and accessible design, Pixelmator Pro is delightfully easy to use — whether you're just starting out with image editing or you're a seasoned pro.
New Interface
The modern, single-window interface is designed exclusively for working with images on a Mac
An intuitive and accessible design makes it easy for anyone to edit images — from complete beginners to design professionals
Professional Tools
Enhance your existing images and create new ones using every image editing tool you could ever need
Edit nondestructively, adjusting individual changes whenever you like
Easily move, resize, and arrange objects to create stunning compositions
Adjust the colors in images with a collection of nondestructive color adjustments
Enjoy superior support for RAW files, editing RAW images right inside Pixelmator Pro without having to preprocess them
Create digital or traditional paintings using a collection of handcrafted, fully-customizable, dual-texture brushes with full support for digital graphics tablets
Combine the built-in effects in Pixelmator Pro to create any artistic or special effects you can imagine
Nondestructively customize the look of layers in your image using layer styles
Save the adjustment, effect, and layer style combinations your create, use them in any of your images, and share them with others
Magically remove small imperfections or entire objects, seamlessly clone parts of your photos, lighten or darken precise areas, and more using a full set of retouching tools
Use the reshaping tools to easily change the shape of any object or area in your images, create striking artistic effects or make subtle changes to portrait photos
Pick out and edit precise parts of your images or copy objects from one image to another using a range of pixel-accurate selection tools
Add high-quality, customizable vector graphics designed by the Pixelmator Team
Create your own vector graphics using the Pen and Freeform Pen tools
Easily design great-looking text with a full set of typography tools
Image Editing Enhanced by Machine Learning
Automatically give descriptive names to the layers you add
Intelligently straighten images using horizon detection
Magically remove objects, recreating image areas with stunning realism
Quickly make accurate selections with ease
Compatibility
Open and edit images in all the most popular image formats, including JPEG, TIFF, PNG, PSD, PDF, GIF, BMP, TGA, JPG-2000
Open and edit Photoshop images with layers
Import HEIF images
Launch Pixelmator Pro directly from the Photos app and save edits back to the original image in your library
Share your images to the Photos app, Twitter, Facebook, Flickr, and other locations right from Pixelmator Pro
Built Exclusively for Mac
Designed exclusively for macOS, Pixelmator Pro supports almost every major macOS feature and integrates seamlessly with macOS High Sierra. Simply put, it's the ultimate Mac app. With a design that is totally and completely Mac, Pixelmator Pro feels instantly familiar from the moment you first launch the app.
Minimum System Requirements
Pixelmator Pro requires a Mac compatible with Metal 2 running macOS 10.13 High Sierra.
What's New:
Version 1.8.0
Automation with AppleScript
Pixelmator Pro 1.8 Lynx brings support for AppleScript, the powerful and easy to use Mac scripting language.
Automation with AppleScript
Pixelmator Pro is now scriptable using AppleScript with an extensive and full-featured scripting dictionary.
Write scripts using over 60 application-specific commands together with all the standard AppleScript terms.
Take advantage of automation-specific commands like 'detect face', 'detect QR code' and 'replace text' to create powerful and versatile scripts.
Check out the Pixelmator Pro dictionary in the Script Editor app and learn more about scripting with Pixelmator Pro on our Tutorials site.
Improvements and Fixes
The Repair and Clone tools now work nondestructively with RAW layers, preserving all their extended dynamic range data.
You can now reset all changes made to RAW layers with the Transform, Repair, and Clone tools using the new Reprocess RAW command, which you can find by Control-clicking a layer in the Layers sidebar.
In that same shortcut menu, you'll also find a new Export RAW command which lets you export the original RAW file directly from Pixelmator Pro.
The performance of the Repair tool has been improved — starting a Repair tool brushstroke should now be much faster and the tool should also be more responsive in large images.
The Paint tools will now start painting more quickly and responsively while the image is being scrolled, zoomed, or otherwise animated.
When using the Repair tool with Sidecar and Apple Pencil, it should now be a little less sensitive to pressure changes to make it easier to paint strokes with more consistent sizes.
Screenshots:
Title:

Pixelmator Pro 1.8

Developer:

UAB Pixelmator Team

Compatibility:

macOS 10.13 or later, 64-bit processor

Language:

English, German, Japanese

Includes:

K'ed by HCiSO

Size:

195.57 MB

View in Mac App Store
NitroFlare:
DOWNLOAD FILE

Previous Versions