Pixelmator Pro 3.0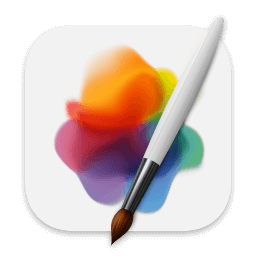 Pixelmator Pro is an incredibly powerful, beautiful, and easy to use image editor designed exclusively for Mac.
With a wide range of professional-grade, nondestructive image editing tools, Pixelmator Pro lets you bring out the best in your photos, create gorgeous compositions and designs, draw, paint, apply stunning effects, design beautiful text, and edit images in just about any way you can imagine. And thanks to its intuitive and accessible design, Pixelmator Pro is delightfully easy to use — whether you're just starting out with image editing or you're a seasoned pro.

Exceptional Design and Functionality
The modern, single-window interface of Pixelmator Pro is designed exclusively for working with images on a Mac
An intuitive and refined design makes image editing easy and accessible, even if you're a complete beginner
Native dark and light appearances adapt to the light and dark modes of macOS
A customizable interface lets you organize your creative environment just the way you want
Choose from workspace presets created for photography, design, illustration, and painting
A full-featured Photos extension lets you edit images using Pixelmator Pro without ever leaving Photos, saving layered, nondestructive edits directly to your library
Professional Tools
Enhance your existing images and create new ones using every image editing tool you could ever need
Edit nondestructively, adjusting individual changes whenever you like
Easily move, resize, and arrange objects to create stunning compositions
Adjust colors with a collection of nondestructive, machine learning-powered color adjustments
Enjoy superior support for RAW files, editing RAW images using all their extended range data
Create digital or traditional paintings using handcrafted, fully-customizable, dual-texture brushes with full support for digital graphics tablets
Combine the built-in effects to create any artistic or special effects you can imagine
Save adjustment, effect, and layer style combinations as presets, use them in any of your images, and share them with others
Speed up image editing with hundreds of presets for color adjustments, effects, layer styles, and shapes
Magically remove small imperfections or entire objects, seamlessly clone parts of your photos, and lighten or darken precise areas using a full set of retouching tools
Use the reshaping tools to easily change the shape of any object or area in your images
Add customizable vector graphics designed by the Pixelmator Team
Create your own vector graphics using the Pen tool
Easily design great-looking text with a full set of typography tools
Quickly create curved, circular, and path text
Optimize and save your images for the web, using advanced compression to shrink file sizes
Batch process images using built-in Automator actions
Effortlessly automate workflows using full-featured AppleScript support
Image Editing Enhanced by Machine Learning
Magically remove objects, recreating image areas with stunning realism using the Repair tool
Use ML Enhance to intelligently enhance photos with a machine learning algorithm trained on millions of professional photos
Zoom and enhance image resolution with the incredible ML Super Resolution
Automatically copy the look of one photo to another with ML Match Colors
Remove image noise and compression artifacts while preserving details using ML Denoise
Quickly make accurate selections with ease using the Quick Selection tool
Compatibility
Open and edit images in all the most popular image formats, including JPEG, TIFF, PNG, PSD, HEIF, SVG, PDF, GIF, BMP, TGA, WebP and JPEG-2000
Open and edit Photoshop images with layers
Open and edit SVG vector images
Share your images to Photos, Mail, AirDrop, and other locations
Built Exclusively for Mac
Designed exclusively for macOS, Pixelmator Pro supports almost every major macOS feature and integrates seamlessly with macOS Big Sur.
What's New:
Version 3.0
Pixelmator Pro 3.0 Muse introduces an all-new way to create designs with over 200 easy‑to‑use design templates, AI-powered template editing, 16 fully‑customizable mockups, document color palettes, and more.
New Features
Get inspired with over 200 easy-to-use templates designed following the best industry practices.
Showcase your designs in 16 stunning, fully-customizable mockups.
Enjoy incredibly fast template editing thanks to the machine learning-powered Smart Replace feature.
Easily transform the look of templates using built-in alternative elements — lighting, shapes, effects, and illustrations.
Use the new Document Colors feature to quickly change the colors of multiple layers in your designs.
200+ Design Templates
Find templates for a wide range of different formats, including posters, social media posts, resumes, and more.
Use brand templates to effortlessly build an eye-catching visual identity for your personal brand or business.
Quickly replace placeholder content using on-canvas controls and watch as your custom images or text fit seamlessly into pre-made designs.
Transform the look of a design in seconds using alternative elements — shapes, effects, and illustrations — designed exclusively for each template.
The template browser has been redesigned, letting you easily browse template collections, see previews of templates, and search.
You can search for specific templates by name or enter keywords to show related templates.
Use the new preset browser to more conveniently browse image size presets, manage preset collections, and change document orientation.
AI-Powered Editing
When replacing placeholder content that shouldn't have a background, it will be removed from your images automatically.
Automatically insert images with the most optimal placement and composition using Auto Fill.
Pixelmator Pro will upscale low-res images using Super Resolution if it detects that their quality is too low.
Mockups
Find 16 fully-customizable mockups for devices such as Mac, iPad, and iPhone, and print formats, including posters, book covers, and more.
Quickly adjust lighting or recolor objects in mockups to find a look that compliments your design the best.
Replace the placeholder images with designs saved in regular image formats and multilayer document formats including PXD, PSD, and SVG.
Document Colors
When working with templates or mockups, try out alternative color palettes created specifically for each template to see which one looks best for your design.
Pixelmator Pro automatically generates color palettes using the colors of elements — styles, shapes, text, and effects — in a particular design.
Quickly recolor your composition by changing, adding, or removing colors from a palette.
Easily duplicate, copy and paste palettes between documents, or remove them.
Screenshots:
Title:

Pixelmator Pro 3.0

Developer:

UAB Pixelmator Team

Compatibility:

macOS 11.0 or later

Language:

English, French, German, Italian, Japanese, Korean, Portuguese, Russian, Simplified Chinese, Spanish, Traditional Chinese

Includes:

K'ed by HCiSO

Size:

503.78 MB

View in Mac App Store
NitroFlare:
DOWNLOAD FILE
Previous Versions