Retrobatch 1.1.1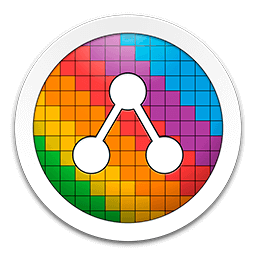 Flexible, super charged, batch image processing for your Mac. … A node based batch image processor means you can mix, match, and combine different operations together to make the perfect workflow. … Convert PSD files to HEIC, JPEG, PDF, PNG, or TIFF.
Flexible
A node based batch image processor means you can mix, match, and combine different operations together to make the perfect workflow. 
Super Charged
A node for every operation, from changing DPI to rotation to Machine Learning to custom behaviors with AppleScript. Optimize your images for fast delivery over the Internet.
Batch
Process one image or thousands of images, with support for reading and writing common file formats, creating multiple inputs and multiple outputs.
What's New:
Version 1.1:
Automator support. You can now create an Automator action which runs a workflow, passing in image paths to the workflow to run. You can even make a droplet from your Automator action.
New Instant Alpha node which removes pixels from your image based on a sampling location like the corners or center of your image.
New Auto Enhance node, which does some black magic to make your photos look better.
New preference for manual connections (control-drag to make connections between nodes).
New jаvascript node where you can sort out images, print out information on images, or apply Core Image filters. Visit the jаvascript documentation for more information.
New Dither node with Atkinson, Classic Mac, Floyd Steinberg, Gaussian Blue, and Ordered Reproducible algorithms.
New "Only scale smaller" option for the Scale node, which will only resize your images to a smaller dimension if the option is enabled.
The "Set Specific Metadata" node now allows you to use tokens for setting various values. For instance if you wanted to have the copyright notice set to the current year, you would add "Copyright (:date token here:)". Or if you wanted to pipe the image through a classification node before the metadata node, you could add the "Top Classification" node to the keywords field.
New "PDF Image Extractor" node. This doesn't turn PDF pages into bitmaps, rather it pulls out bitmaps from PDF files and writes them out either as JEPG or PNG files. A PDF page can have multiple images in it, each at different resolutions. This node grabs the raw data for it, and pulls it out.
You can now call Retrobatch from the command line, with arguments for a workflow, output folder, and images / folder to process: Retrobatch.app/Contents/MacOS/Retrobatch --workflow path/to/workflow.retrobatch --output ~/Desktop/foo/ /path/to/files.jpeg /or/folders/
Added GIF as a writable format in the write node.
The Raw Import node now has an option to adjust the tint of your image.
Added a Color Posterize node.
Added a new Pixel Depth token for the file name.
Screenshots:
Title:

Retrobatch 1.1.1

Developer:

Flying Meat Inc.

Compatibility:

macOS 10.12 or later, 64-bit processor

Language:

English

Includes:

Serial

Size:

23.11 MB

visit official website
NitroFlare:
DOWNLOAD FILE