LRTimelapse Pro 6.2.1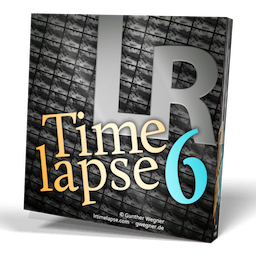 LRTimelapse 6 provides the most comprehensive solution for time lapse editing, keyframing, grading and rendering. No matter if on Windows or Mac, or which camera you use: LRTimelapse will take your time lapse results to the next level.

LRTimelapse 5 provides the most comprehensive solution for time lapse editing, keyframing, grading and rendering. No matter if on Windows or Mac, or which camera you use: LRTimelapse will take your time lapse results to the next level. LRTimelapse is being used by most known time lapse producers and many amateurs. It allows keyframing and grading of time lapse sequences in an all-raw-file-based workflow, utilizing the Adobe Camera RAW develop engine implemented in Lightroom (CC Classic, 6, 5 and 4) and Adobe Camera Raw.

Creating Day-to-Night and Night-to-Day time lapse transitions is easily and perfectly done with the "Holy-Grail-Wizard". Rendering of the final sequences can be done in professional video formats like Prores 4:4:4 and 4:2:2 and resolutions up to 8K and beyond – of course consumer formats like MP4/H.264/H.265/HEVC, MJpeg are supported as well. Time lapse movies are getting more and more popular these days. Still-photographers, filmmakers and multimedia artists are discovering this new and exciting facet of photography.

LRTimelapse is being used by those people (see some outstanding work by LRTimelapse users on the demo page), because it enables them to use their favorite photographic tools (Lightroom Classic or Adobe Camera RAW) to produce time lapses with all the advantages and power that those tools offer for image editing. It allows them to easily deal with time lapse specifics, like getting rid of the tedious flicker-effect and even helps them to achieve the so called "holy grail of time lapse photography": smooth day-to-night transitions.

Features:
Animate and Keyframe Exposure, White Balance, and any other Lightroom editing tool over the time. You can use the full potential of Lightroom / ACR for color grading and even animate Graduated-, Radial- and Paint-Brush-Filters
Make the "Holy Grail" of time lapse photography – (day to night transition) really easy – either by just manually adjusting your camera when shooting or by using a ramper like qDslrDashboard or others.
Deflicker with one click – do this based on the look of the developed images without having to leave the RAW-workflow. This gives you the best quality possible.
Seamless integration with Lightroom CC Classic, 6, 5, and 4 with the powerful LRTExport plugin.
High performance video rendering engine for high quality videos in up to 8K resolution and in MP4/H.264, ProRes (even on Windows), H.265 and MJpeg.
and many, many more…
System Requirements:
LRTimelapse supports Lightroom CC Classic, 6, 5 and 4 as well as Adobe Camera Raw, Bridge and After Effects in the corresponding versions.
What's New:
Version 6.2.1:
New features:
Added a checkbox to the render dialog which allows you to export a SRT file with subtitles containing the timestamps of the image to the video output folder. This will allow it to obtain the timestamps as separate overlay and not "baked in" to the video file and enable you to further customize the appearance of the overlay in your video editor. (Pro Feature)
Added a warning to the render dialog if a timestamp subtitle will be superimposed and additionally exported, because that might lead to a doubling by some video players.
In Settings/Gerneral Settings you can now define that the timestamp overlay should include seconds.
Timestamp overlays will now be accurate to the frame and not only to the second.
LRTimelapse will now have a black title bar if the system is set to have a dark UI.
Fixes:
Disable the editor while the Visual Preview is being regenerated. This will prevent the values in the editor to be async with the developed preview if the user changes the sliders while the preview is being generated.
 In some cases the Render task was not correctly being taken over from the Lightroom Export into the LRTimelapse Render dialog.
If you had set LRTimelapse to render in original resolution and then chose to skip the render dialog ("Last LRT Render Settings" in LRTExport) the render would fail.
Composition dialog: the layout would break if a folder with a very long path would have loaded.
Composition dialog: Trying to load an empty folder would not be properly caught.
ExifTool error when the first thing after clearing settings or launching LRT the very first time was trying to take over a render task from LrC.
Force Aspect Ratio Label in Render Dialog not Localized.
Render Warning about rendered video exceeding the source resolution was not localized.
Screenshots:
Title:

LRTimelapse Pro 6.2.1

Developer:

Gunther Wegner

Compatibility:

macOS 10.10 or later

Language:

English

Includes:

K

Size:

197.43 MB

visit official website
NitroFlare:
DOWNLOAD FILE

Previous Versions

Installation: