DSLR Assistant 3.9.1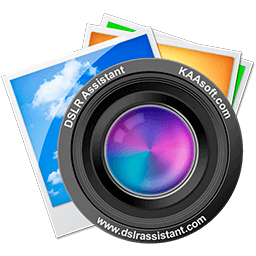 Operate a Canon camera tethered to a Mac, efficiently capture digital images, automatically perform various photo tasks and maintain the high quality of images throughout your workflow.

WHY SHOOT TETHERED?
Save Time. Perform you photo tasks faster, better and more easily. Reduce the amount of post processing workflow.
Enhance Image Quality. Make sure that focus, exposure, lighting, and of course composition are all the way you want them.
Get immediate feedback from the client and/or model. Make on-the-spot decisions which would benefit both of you.
Automate Common Tasks. Easily capture sequences of photos for HDR, macro and time-lapse photography.
FEATURES:
TETHERED SHOOTING
Control practically all camera parameters, key settings and shooting functions remotely. With only a few clicks you may change aperture, shutter speed, ISO, image size and quality, control lens focus and more. While it is still possible to set all options in the camera, it often makes more sense to make the changes remotely.
Release the shutter by pressing the release button on a camera body or remotely from the app.
Automatically transfer all captured images to your Mac.
See a live view from a camera on a large screen while shooting.
Adjust lens focus precisely when shooting at a shallow depth of field.
Record high quality native video stream into a file.
IMAGE LIBRARY
Automatically organise captured images.
Support for tokens in file and folder names.
Rate images from within the app.
INSTANT IMAGE PREVIEW
Preview captured images instantly on a large screen while shooting.
Image histogram with red, green and blue channels.
Identify overexposed and underexposed areas of the image.
Review the focus points used by the camera when recording the picture.
Examine EXIF information describing different parameters digital camera used while taking a shot.

LIVE VIEW
Frame the shot without the need to look through the camera's viewfinder, you may use the Mac screen instead.
Precisely adjust lens focus.
Zoom LiveView image in and out.
Flip live preview image horizontally.
Record LiveView video stream into a file.
NIGHT MODE
Dim the screen to preserve your eyesight in a darkened environment.
Make your screen red to preserve your night vision even better.

INTERVAL SHOOTING
Arbitrary number of shots in the sequence.
User-defined time interval between shots.
Start and finish shooting at the predefined time.
Shooting on certain weekdays.
FOCUS BRACKETING
Automatically capture images with different positions of the focal plane to increase depth of field in your macro shots.
User-defined number of shots and focus step between sequential shots.

EXPOSURE BRACKETING
Automatic capture of bracketed series of images for high dynamic range photography.
Arbitrary number of shots in the sequence.
Far greater dynamic range.
User-defined bracketing step.
BULB MODE
Set your shutter speed for longer than 30 seconds.
SUPPORTED CANON EOS CAMERAS
40D, 50D, 60D, 70D, 77D, 80D, 100D, 200D, 450D, 500D, 550D, 600D, 650D, 700D, 750D, 760D, 800D, 1000D, 1100D, 1200D, 1300D, 2000D, R, RP, 1D Mark III, 1Ds Mark III, 1D Mark IV, 1D X, 1D X Mark II, 5D Mark II, 5D Mark III, 5D Mark IV, 5DS, 6D, 6D Mark II, 7D, 7D Mark II
Rebel XSi, T1i, T2i, T3i, T4i, T5i, T6i, T6s, T7i, SL1, SL2, XS, T3, T5, T6, T7
Kiss X2, X3, X4, X5, X6i, X7, X7i, X9, X9i, F, X50, X70
What's New:
Version 3.9.1
stability improvements and minor bug fixes
Screenshots:
Title:

DSLR Assistant 3.9.1

Developer:

KAAsoft

Compatibility:

macOS 10.12 or later

Language:

English

Includes:

K'ed by TNT

Size:

14.05 MB

View in Mac App Store
NitroFlare:
DOWNLOAD FILE