Autodesk Mudbox 2018.2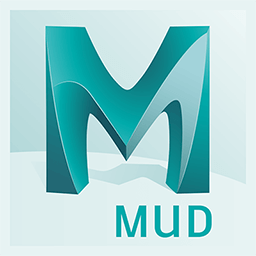 Autodesk Inc., a world leader in 3D design software for entertainment, natural resources, manufacturing, engineering, construction, and civil infrastructure, announced the release of Mudbox 2018, is a cost-effective digital sculpting and painting solution. Mudbox provides 3D artists with an intuitive and tactile toolset for creating and modifying high-quality 3D geometry and textures.
The latest release of Mudbox, Mudbox 2018, introduces new sculpting tools, including Volume and Surface Falloff options, the Relax Brush for smoothing surfaces while trying to preserve the shape of a mesh, and a Twist feature in the Grab Brush for creating swirl-like effects on a mesh.
About Autodesk Mudbox.
Mudbox is one of the best digital sculpting and 2D/3D painting solutions on the market today. Each release since Autodesk acquired Mudbox in 2007 has introduced important performance improvements and new toolsets and workflows.
In 3D CG retopology is the process of producing a new 3D model based on the topology of a source 3D model: topology refers to a model's polygonal mesh. Retopology has become necessary in CG practice and workflows because dense polygonal details like wrinkles, folds, and textures are common in sculpted and scanned 3D models.
While these dense details look great, the millions of polygons necessary to produce that level of detail makes the 3D model impossible to animate or sometimes even render. Retopology tools allow you to transform a dense 3D model features into one that has fewer polygons and edge flows – and that is practically useful for animation and rendering. The high details are reproduced using normal, displacement and vector displacement maps.
Mudbox features two primary retopology workflows, Computed Retopology and Guided Retopology. In Computed Retopology, the retopology operation is largely automatic – though some initial parameters may be set.
In Guided Retopology, the artist draws curves and edge loops on the model – in addition to setting parameters to guide the retopology operation. Guided Retopology uses two types of curves as guides. Soft Constraint Curves which [suggest polygon flows]. Hard Constraint Curves tell Mudbox exactly where to place edges during the retopology operation.
About Autodesk. Autodesk helps people imagine, design and create a better world. Everyone—from design professionals, engineers and architects to digital artists, students and hobbyists—uses Autodesk software to unlock their creativity and solve important challenges.
What's New:
Mudbox 2018.2

Release Notes:
Screenshots:
Title:

Autodesk Mudbox 2018.2

Developer:

Autodesk

Compatibility:

macOS 10.10 or later, 64-bit processor

Language:

English

Includes:

K

Size:

808.86 MB

visit official website
NitroFlare:
DOWNLOAD FILE