Little Snitch 4.5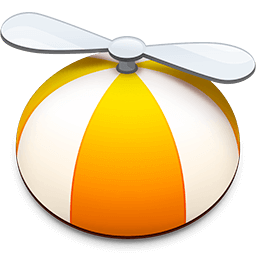 A powerful and versatile application that enables you to monitor the network traffic and intercept unwanted connection attempts.
Track background activity
As soon as your computer connects to the Internet, applications often have permission to send any information wherever they need to. Little Snitch takes note of this activity and allows you to decide for yourself what happens with this data.
Control your network
Choose to allow or deny connections, or define a rule how to handle similar, future connection attempts. Little Snitch runs inconspicuously in the background and it can even detect network-related activity of viruses, trojans, and other malware.
Filter connections and monitor your network traffic with ease
The Little Snitch Network Monitor utility features a well-designed interface and provide easy-to-read animated and informative diagrams created based on real time traffic information. Hence, you can analyze bandwidth, connectivity status, traffic totals, detailed traffic history for the past hour and more.
You can filter the displayed data based on the process name or server port and group them according to your needs. Little Snitch helps you view traffic peaks, check the average bandwidth and save snapshots for further analysis.

Enable the Silent Mode for a distraction free working environment
The network traffic can be easily captured in the PCAP format while the network activity is displayed along various system events in order to provide a context. There is also a Silent Mode that allows you to get on with your work without being interrupted by any network related notifications. However, you can review the Silent Mode Log to create rules for connection attempts that took place during this period.
On top of that, you can group your rules in different profiles and enable them only when a particular profile is active. Thanks to Little Snitch's status bar menu, you can choose the desired profile with just a few mouse clicks.
Enjoy the versatility of the Automatic Profile Switching function
At the same time, you can take advantage of the Automatic Profile Switching feature and associate different networks with certain profiles. Once the network is detected, the associate profile is automatically enabled. For example, you can use a set of filters when you are at home and more restrictive ruleset when you access the web from an Internet Cafe.
What is more, Little Snitch features a flexible temporary rule system that offers a number of options for rules that are effective only for a limited period of time. Furthermore, Little Snitch automatically analyzes your ruleset and indicates the presence of overlapping, redundant or invalid rules that you might want to delete.
What's New:
Version 4.5 (5462):
This release brings new features and improvements requested by users, after a few months of focussing on compatibility with macOS Catalina. In particular:
Redesigned Research Assistant in Connection Alert
Since our Internet Access Policy initiative (IAP) gains popularity and support by more and more third party developers, the IAP has been made the main focus of the Research Assistant. It provides you with first hand information directly from the app developer.
The information from our Research Assistant online database now comes bundled with Little Snitch to supplement processes which don't have an IAP of their own. It's therefore no longer necessary for Little Snitch to connect to the online database to retrieve this information.
Along with connection details and possible warnings regarding code identity checks all this information is now presented in a redesigned interface, in a clear and consistent manner.
Other improvements in the Connection Alert
The connection alert now offers a wider range of options for the lifetime of temporary rules, ranging from 1 minute up to 30 days.
When a code identity check fails, it's now always possible to "accept the modification" and update the identity check, using the executable's cryptographic hash if nothing else is suitable.
When no server name can be derived and only the IP Address of a remote computer is shown, it's now possible to create rules for the entire subnet, not just the particular IP Address.
Improvements in Network Monitor
Network Monitor now shows accesses to the Berkeley Packet Filter (BPF), and rules for this kind of access can now be managed from within Network Monitor as well.
Since BPF access can now be managed in Network Monitor, BPF related connection alerts no longer appear in Silent Mode.
All server names ending in .local are now grouped in one single "local" domain.
Improved rule creation from within Network Monitor. If a similar but currently disabled rule already exists, it is replaced by the newly created rule.
The context menu for a connection now offers an "Until Logout" option when the Shift key is held.
Fixed an issue where Network Monitor stopped showing connections.
Fixed an issue where macOS would change Spaces when a full screen app is active and Network Monitor is brought to front.
Fixed: When there are no rules matching a connection, buttons for rule creation are only shown when the mouse is at the prospective button location. This prospective location was sometimes off by half a button width, making it hard to create an allow-rule. This issue has been fixed.
Fixed an issue where geographic labels on the map could be off by half a map width.
Improvements in Little Snitch Configuration
Improved editing of a selection of multiple rules.
In order to derive code identity information, Little Snitch Configuration must read the executable files of processes. If an executable cannot be read due to file permissions, we now derive code identity information via a privileged component.
General improvements and fixes
Improved the selection of suitable sections from the Internet Access Policy of a process.
Little Snitch now ships with built-in Internet Access Policy information for further macOS system components.
Improved selection of relevant information from Internet Access Policy in Network Monitor.
Updated Welcome Window in Little Snitch Configuration to reflect the new design of the connection alert.
After a fresh installation Little Snitch Configuration no longer shows factory rules in the "Last 24 Hours" section.
Preventing the simultaneous display of modal alert windows, possibly covering each other. They are now displayed one after the other.
Fixed detection of remote endpoint name for Viscosity VPN.
Fixed a crash of Little Snitch when other programs write garbage to the System Configuration. This crash occurred with a Microsoft Active Directory client for macOS.
Numerous other bug fixes and improvements.
Screenshots:
Title:

Little Snitch 4.5

Developer:

Objective Development Software GmbH

Compatibility:

macOS 10.10 or later, 64-bit processor

Language:

English

Includes:

Serial

Size:

40.33 MB

visit official website
NitroFlare:
DOWNLOAD FILE
Previous Versions