Things 3.17.7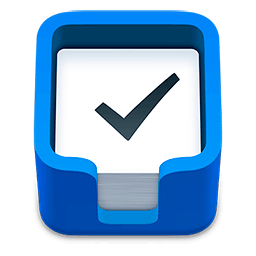 Things is a task management solution that helps to organize your tasks in an elegant and intuitive way. Things combines powerful features with simplicity through the use of tags and its intelligent filter bar. A Leopard style source list allows for quick and easy focusing. Together with a beautiful user interface, Things aims at the seemingly impossible: making task management both easy and fun.


Our screencast is a great introduction.
The big picture. A Leopard-style source list lets you easily focus without ever switching view modes or wrapping your head around filter criteria.
A magical tag bar automatically appears when needed and adapts to the currently displayed list. It lets you drill down even the longest list of To-Dos. Hierarchical tags? We got you covered!
Teamwork. Things offers convenient collaboration features. Easily delegate tasks to members of your team. (This is work in progress.)
No columns! Whether it's multiple tags, dates or notes, To-Do items display their information on an as needed basis. No more space wasted by empty or irrelevant column cells!
Out of your head, out of your way. A quick entry HUD lets you enter any idea the moment it hits you. Never let the thought of an unfinished business distract you again.
Yours forever. We won't lock you in. Things will use an open XML file format to store your data. (Not yet activated.)
Things even supports GTD, so if you're familiar and comfortable with GTD concepts, you'll feel right at home.
What's New:
Version 3.17
Things 3.17 vastly enhances Things' integration with Apple Shortcuts on Mac, iPad, and iPhone.
Nine brand-new actions make it possible to quickly search through your data, edit your to-dos, create new items – even full-blown projects! – and much more.
​We've created a Shortcuts Gallery with some useful shortcuts for you. To try them out, check the latest blog post on our website: things.app
If you're technically inclined and want to build your own shortcuts, you'll also find an in-depth technical document that explains how it all works. You'll be amazed by the things you can do!
​This feature requires macOS 13 Ventura, iPadOS 16, or iOS 16.
THINGS' NEW ACTIONS
​Here are all of Things' actions for Apple Shortcuts:
​Create To-Do
Create To-Do with Quick Entry — NEW
Create Project — NEW
Create Heading — NEW
Find Items — NEW
Get Items — NEW
Get Selected Items — NEW
Edit Items — NEW
Duplicate Items — NEW
Delete Items — NEW
Open List
Show Items
Run Things URL
​OTHER IMPROVEMENTS
​Added a "New To-Do" command when right-clicking the app icon in the dock.
Improved support for dragging and pasting third-party content (emails, files, website links) into a to-do's checklist items.
Set a 50 pt max width limit for a collapsed to-do's "When" button.
Disabled the "Convert to Project" command in a repeating to-do's ••• menu.
Fixed several minor issues when setting hotkeys for tags in the Tag management window.
Fixed a bug where, when archiving a heading, the app would erroneously ask whether to complete an already-completed-but-still-expanded to-do.
Fixed a bug where, when necessary for to-do insertion, the "# more items" section in Anytime would not expand.
Fixed a bug where, when clicking a link to a completed to-do, a project's logged items section would not expand to reveal it.
Fixed a crash that would occur when adding a tag via the autocomplete menu and then pressing the Up/Down arrow key.
Improved how AppleScript handles the selected to-dos property when queried inside a project: if no to-dos are selected/present the project itself is returned.
Updated the German localizations related to sharing content out of Things.
Screenshots:
Title:

Things 3.17.7

Developer:

Cultured Code GmbH & Co. KG

Compatibility:

macOS 10.13.0 or later

Language:

Multilangual

Includes:

K'ed by TNT

Size:

37.72 MB

View in Mac App Store
NitroFlare:
DOWNLOAD FILE
Previous Versions