Outline 3.2103.4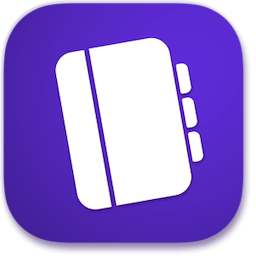 Notes with more creative freedom, better organization, and PDF export options. OneNote compatible & Office 365 powered. Take your OneNote to the cloud you like best or even local.
Capture notes at any spot on a page and draggable around. Organize notes in the world's most natural hierarchy. Store notes in your local file system, and synced across devices with your favorite cloud.
Powered with import from Evernote and Circus Ponies.
ONENOTE'S BEST FRIEND
Give your OneNote notes a new start beyond OneDrive or SharePoint
Export to OneNote, just in case
Go beyond import/export and do a real time collaboration on notes with colleagues who use OneNote (your Mac and their PCs)
STORAGE
Choose where you want to store your notes: Dropbox, iCloud, WebDAV, Box, or OneDrive
Consider a no-cloud option too: some notes need offline and cloud-free privacy
Mind the coming-soon: SharePoint, OneDrive for Business / Office 365
UI
Find everything a note needs by the hand: text, lists, tables, images, checkboxes, hyperlinks, and more
Put that stuff anywhere in a note and then move around / re-size / edit it all, the way you like
Keep notes structured in a natural hierarchy of pages, sections, and notebooks
Access a note fast via recents, search, and note links
Manage font size and color, apply styles and highlighting
Attach files and insert printouts, to collect documents in one place
IMPORT
From OneNote
From Circus Ponies
From Evernote
What's New:
Version 3.2103.4
This release contains several bugfixes that improve stability of the app.
Version 3.2103
Editor Improvements
Improved accuracy of the cursor positioning in text when you move up/down.
Cursor sticks to a line beginning/end when moving up/down in text, if it has been set using mouse or home/end key.
LOT of improvements in selection from keyboard logic (shift + arrows). Lots of bugs has been fixed and logic has been reworked.
Selection makes a stop in the beginning and the end of outline/table cell.
Move up/down after selection should position cursor at the x coordinates of active selection edge.
It is possible now to discard selection by Esc key.
Cell content selection state is restored after discarding cell selection with Esc (usefull when you accidentally selected whole cell with shift+down).
It is possible to select images and attachments from keybord now.
Unified cursor look with iOS version. It is blue and a bit thicker now for better contrast/visibility.
Added keyboard shortcuts to move in the beginning and end of paragraph (alt+arrow up/down).
Logic to move cursor to the end/begining of a word has been improved.
Page is scrolled now when you continue selection from keyboard and it gets out of visible page area.
Page title in page list is now determined based on attachment name if there is no other content
Fixed handling of hyperlinks (has been incorrectly encoded in some situations)
It is now possible to insert space after image or table (if it is last in outline) by using Enter key. Also works if such an object is first in outline.
Table Improvements
Improved table rendering accuracy. All visible borders are always 1px thick now.
Focused cell border is thicker now for better contrast/visibility.
Home/End handing in a table. Changes focused cell if needed.
General Improvements
Apple Silicon support.
Fixed sidecar integration that allows adding photos and scetches from iOS devices.
Dropbox SDK has been updated.
Tables pasted from excel should always have visible borders.
Removed ".one" label from notebook's cover.
Text parts separated by "." should be selected as separate words.
General Bug Fixes
Fixed some problems with Box integration.
PDF print-out has been blurry is rare cases (when using external monitor with specific scaling).
Import PDF printout as split pages worked incorrectly.
Incorrect Emoji selection in some cases (selected half of Emoji).
Undo of line break in page title worked incorrectly.
Do not copy indent of first line to clipboard if selection starts not from beginning.
Many other smaller bugs fixed here and there.
Screenshots:
Title:

Outline 3.2103.4

Developer:

GORILLIZED CORPORATION

Compatibility:

OS X 10.10 or later, 64-bit processor

Language:

English

Includes:

K'ed by TNT

Size:

64.08 MB

View in Mac App Store
NitroFlare:
DOWNLOAD FILE

Previous Versions