Arturia V Collection 5 2017.07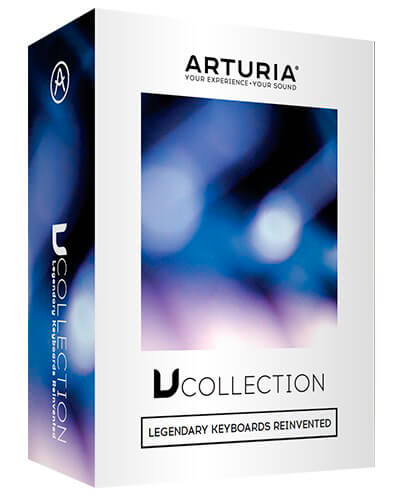 Arturia V Collection 5
Legendary Keyboards Reinvented
17 authentic recreations of the legendary synths, organs, electric pianos and more that made music history—enhanced to help you make tomorrow's music.
All-star keyboard lineup
V Collection 5 gives you every classic keyboard you've ever dreamed of owning.
Do you prefer a Stage 73 or a Wurli? Did that classic song have a B3, Continental or Farfisa? Would a Mini, 2600, Modular or Matrix sit better in this track? Now you don't have to choose, because V Collection 5 puts every major keyboard you've ever lusted after right at your fingertips, all with faithful realism. Each one of them has inspired countless hits—and we can't wait to see what you do with 17 of them.
Uncompromising authenticity
Get history's most coveted keyboards and make some history of your own.
The proprietary TAE® algorithmic modeling at the heart of our V Collection instruments goes beyond reproducing the sound of classic instruments to capturing their actual soul and feel. No sampling here. Grab a knob or flip a switch and you get exactly the same response as the original. The beautiful graphic reproductions of each instrument make the experience even more realistic.
We even worked with some of the original inventors like Cameron Jones of Synclavier fame and industry godfather Bob Moog to ensure that our recreations and enhancements alike were faithful to their visions. It doesn't get more authentic than that.
Enhancements galore
With every V Collection instrument, we've made a good thing even better to give you more creative flexibility.
Even though the landmark instrument designs that inspired the V Collection have survived the test of time and are still in use today, why stop there? We've kept the control panel of each virtual instrument extremely authentic, yet a single click opens a whole new similarly styled panel containing new features and enhancements you've always wished for—and many that will surprise you.
V Collection adds modern features to classic instruments to bring the best of all worlds to your music.
This release Includes:
Analog Lab 2 v2.1.2.80

ARP 2600 V3 v3.1.0.205

B-3 V v1.1.0.205

CS-80 V3 v3.1.0.205

Farfisa V v1.1.0.207

Jup-8 V3 v3.1.0.205

Matrix-12 V2 v2.0.4.1073

Mini V3 v3.1.0.205

Modular V3 v3.1.0.205

Piano V v1.1.0.205

Prophet V3 v3.1.0.205

SEM V2 v2.1.0.205

Solina V2 v2.1.0.205

Stage-73 V v1.1.0.205

Synclavier V v1.1.0.205

VOX Continental V2 v2.1.0.205

Wurli V2 v2.1.0.205

SCREENSHOTS
Title:

Arturia V Collection 5 2017.07

Developer:

Arturia

Compatibility:

OS X 10.6 or later, 64-bit processor

Language:

English

Includes:

K

Size:

6.17 GB

visit official website
NitroFlare:
DOWNLOAD FILE