SpamSieve 2.9.36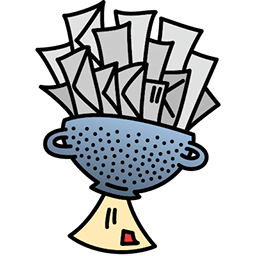 SpamSieve is a robust spam filter for major email clients that uses powerful Bayesian spam filtering.
SpamSieve understands what your spam looks like in order to block it all, but also learns what your legitimate messages look like to avoid confusion. SpamSieve only marks spam in your email client so you never lose any mail.
Works with:
Apple Mail
Airmail
Emailer
Entourage
Outlook 2011
Outlook Express
Eudora 5.2 or 6.x (Sponsored or Paid)
MailForge
MailMate
Mailsmith
GyazMail
Postbox
PowerMail
What's New:
Version 2.9.36:
Made various changes to improve SpamSieve's filtering accuracy.
When using Outlook 365, you can now use Outlook rules to organize messages into folders, and SpamSieve will filter them (rather than just the messages in the inbox). The details for how to set this up are in Filtering Other Folders in the Setting Up Outlook 365 section of the manual. (This has always worked automatically, with no special setup, in previous versions of Outlook and in Apple Mail.)
After you manually refilter messages in Outlook, SpamSieve now clears the selection to prevent accidental bulk training when correcting a spam message that remains.
Fixed a problem where some Apple Mail messages that were colored as spam still displayed with white text in Dark Mode, which was difficult to read.
Improved the following sections of the manual:
If SpamSieve encounters an error because your Mac's storage is full, it now displays information about the free space available and recommends Apple's guide to freeing up storage space.
SpamSieve reports a more useful error message if it determines that the reason its application package is damaged is because it's running from a Carbon Copy Cloner safety net.
Improved the error message when uninstalling the Apple Mail plug-in if SpamSieve hasn't been granted Full Disk Access.
Improved the error message when SpamSieve doesn't have access to your Contacts.
Worked around a problem where asking Apple Mail for the list of mailboxes could cause it to hang at launch.
When training a good message in Apple Mail, if SpamSieve can't find the proper inbox it logs more information to help figure out what happened.
Fixed a bug displaying the number of licenses in the Purchase window.
Fixed a bug where debug logging of messages that caused parser crashes wasn't working with Apple Mail.
The diagnostic report now includes information about when the privacy database was last reset.
Diagnostic reports now work better when SpamSieve lacks Full Disk Access.
Updated to Xcode 10.2.
Screenshots:
Title:

SpamSieve 2.9.36

Developer:

C-Command Software

Compatibility:

OS X 10.7 or later, 64-bit processor

Language:

English

Includes:

K'ed by TNT

Size:

16.61 MB

visit official website
NitroFlare:
DOWNLOAD FILE

Previous Versions