Imperator Rome Heirs Of Alexander (2021)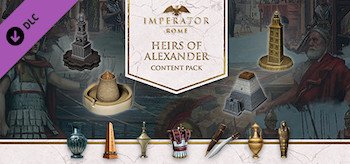 Imperator: Rome is the newest grand strategy title from Paradox Development Studio. Set in the tumultuous centuries from Alexander's Successor Empires in the East to the foundation of the Roman Empire, Imperator: Rome invites you to relive the pageantry and challenges of empire building in the classical era. Manage your population, keep an eye out for treachery, and keep faith with your gods.
The Hellenistic kingdoms of the Eastern Mediterranean and Asia take center stage in this Content Pack for Imperator: Rome. Heirs of Alexander add additional context and flavor to this rich and varied landscape, as the great conqueror's former generals and their descendants try to claim the mantle of the ancient world's most legendary ruler.
Features of Imperator: Rome Heirs of Alexander include:
Unique Missions Trees: New special mission objectives for the Antigonid Empire in Anatolia, Seleucid Empire in Asia, Ptolemaic Empire in Egypt, Macedonia and Thrace.
Shared Mission Tree: Diadochi-themed mission objectives available to all of the Successor Kingdoms.
Wonder Designer: New tool that allows players to build their own custom monuments, adding bonuses to their location or to the entire empire.
New Events: Various Dynamic Historical Events based on the legacy of Alexander's followers.
New Deities: Regional gods and goddesses from the Hellenistic kingdoms.
New Treasures: Distinctive artifacts from around the Greek world.
New Music: Three new music tracks to inspire your Successor Kingdom.
Screenshots:
Title:

Imperator Rome Heirs Of Alexander

Release Date:

16 Feb, 2021

Genre:

Simulation, Strategy

Developer:

Paradox Development Studio

Compatibility:

macOS 10.14 or later

Language:

Multilingual

Size:

2.6 GB

visit official website
NitroFlare:
DOWNLOAD FILE