Oddworld: New 'n' Tasty v.2.0.0.2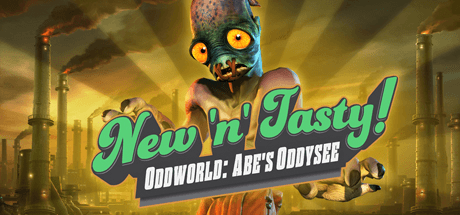 Built from scratch from the ground up, enjoy breathtaking visuals, enhanced audio and improved, deeper gameplay as New 'n' Tasty reignites the original Oddworld: Abe's Oddysee using the latest next-generation technology.
Once a happy floor waxer in Oddworld's biggest meat processing plant, Abe stumbles across his boss's secret plan to turn the factory's slave labor force into the latest in the RuptureFarms Tasty Treats line of novelty meat snacks. Abe now has to save his own skin from the grinders, but simply escaping the flesh farm is only the start of his Oddysee - for many dangers await Abe on his journey to discover his destiny.
WHAT'S NEW
A timeless classic rebuilt from the ground up for a new generation to enjoy.

Old school controls will be familiar to purists but all new analogue controls open up new avenues for sneaky exploration and imaginative speed-running.

New areas and secrets to discover amid a stunning range of locations from the grimy murk of RuptureFarms, through the native habitats of Monsaic Lines and the vast temples of Scrabania and Paramonia.

Screenshots
Title:

Oddworld: New 'n' Tasty

Release Date:

February 25, 2015

Genre:

Adventure, Indie

Developer:

Just Add Water (Developments), Ltd.

Compatibility:

Mac OS X 10.8.5+

Language:

English, Deutsch, español, français, italiano, polski, português, русский, Türkçe

Includes:

Only app/game

Size:

3,41 GB

visit official website
NitroFlare:
DOWNLOAD FILE