Mac OS X Yosemite Tips and Tricks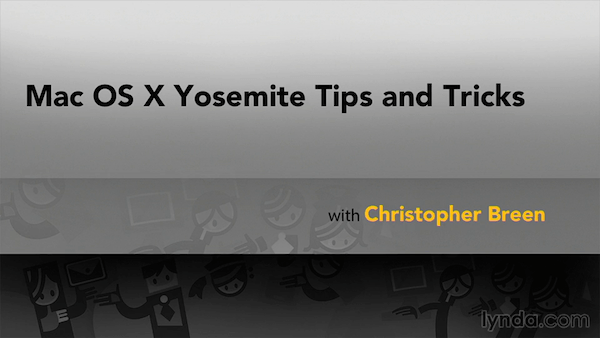 Get the most from your Mac with these fun productivity-enhancing tips and tricks for Yosemite, the latest version of Mac OS X, which works some of its most impressive magic with the assistance of iOS and iCloud. Macworld senior editor Chris Breen reveals great tips for streamlining the interface and clearing SSD space, as well as neat Spotlight tricks for performing simple math and exploring the world beyond your hard drive.
The course also covers automating repetitive tasks with Automator and recording your Mac or iOS device's screen with QuickTime. Need help with basic housekeeping tasks? Chris dives into the utilities that help you resize disk partitions, create encrypted images, recover passwords, and more. The course concludes with great tips on efficiently using email and iCloud.
Topics include:
Cleaning up the Mac OS X interface

Using AirDrop to move files between your Mac and iOS device

Extending Spotlight's reach

Converting imported images with Automator

Controlling your Mac with your voice

Capturing screenshots and recording your screen with QuickTime

Creating encrypted images

Recovering passwords

Archiving email

Sending large email attachments with Mail Drop

Working with iCloud

Screenshots
Title:

Mac OS X Yosemite Tips and Tricks

Author:

Christopher Breen

Subject:

Mac OS X

Format:

MP4

Duration:

1h 18m

Size:

115.94 MB

visit official website
NitroFlare:
DOWNLOAD FILE