Gemini 2: The Duplicate Finder 2.2.2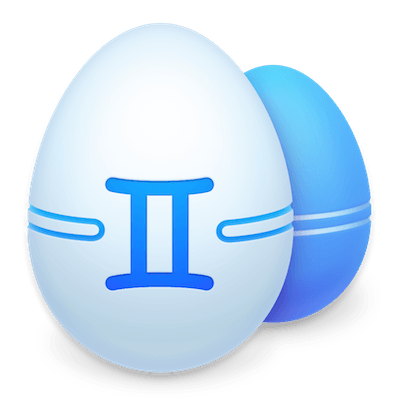 Gemini 2: The Duplicate Finder 2.2.2 [MAS]
Duplicate files can run — But they can't hide.
Gemini 2 helps you find duplicate files and wipe them away. It's smart, laser-accurate, and recovers tons of space on your Mac.
Stop wasting space on duplicates. Gemini finds duplicates on your Mac and removes them. It's quick, easy, and saves you hard drive space.
Compatible and optimized for OS X Yosemite!
Powerful
Fast and accurate scanning algorithms

Cleans iTunes and iPhoto libraries

Works with external drives and network volumes

Removes duplicate folders too!

Intelligent
Auto Select all duplicates with one click

Originals remain untouched

An array of one-click, filter selection buttons

Advanced contextual menu for power users

Gorgeous
Beautifully crafted, Retina-compatible design

Drag and drop files, folders, or entire drives

Data chart shows you what needs cleaning

Watch your duplicates technically shred to pieces

Flexible
Sorting filters make scanning simple

Control-click in Finder to select and scan

Send duplicates to Trash or erase them completely

Customizable select and ignore lists

Built-in file preview mode makes selection easy

WHAT'S NEW
Version 2.2.2:
Introduced full support of macOS 10.12 Sierra with proper iCloud files processing

Added an ability to expand or collapse groups from Gemini's menu

Tuned file paths to behave more predictably under atmosphere pressure

Added some helpful labels to help you discern duplicates better

Improved your experience in managing hard linked duplicates

Significantly improved search and now it is dynamic

Added a context menu for filters

Tuned interface animations and some visuals

Eliminated the space debris they call bugs here on land

Screenshots