KeyKey 2.7.9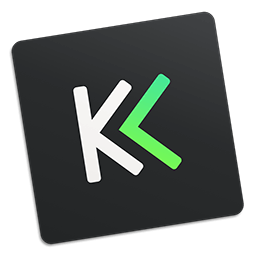 KeyKey is a manageable typing tutor that learns your level as you practice. All you do is commit to a 15-minute session every day. The app takes care of the rest. There are no lessons, no tests, and no strange minigames. Instead, you get a beautiful minimalist interface and a boost to your WPM. The app records your errors and adapts the practice wordlist as you go, giving you extra practice for the letter combinations that trip you up.
Responsive Learning
The app helps users who want to improve their typing on QWERTY or DVORAK keyboards. Lessons appear as a continuous line of words to type. The more errors you make, the easier the words get; as you improve, the words become more complex. You can also see your errors, completed words, and elapsed time as you type.
Keyboard Trainer
A big part of typing faster is using the proper finger placement. The app makes this easy with its built-in virtual keyboard. This keyboard models proper hand placement in real time and shows you which finger to use for optimally typing each letter. The more you learn to adapt your hand motions, the easier typing will be.
Real World, Real Words
To generate both its English and Cyrillic practice, the app digested over 3,000 books and articles. The wordlists for the app's lessons are derived from these materials, and ranked from common to uncommon. Whether you're trying to improve speed in your native language or trying to type faster in a new one, you'll get typing practice with the phrases people actually use.
Expert Mode
With a few weeks of daily practice, you should be able to type around 60 words a minute in your chosen keyboard format. But the fun doesn't stop there. The app includes an "expert mode" that can push your speeds even higher with even more complicated and challenging words and phrases.
Stop hitting backspace every couple seconds
There's no point in typing quickly if you're constantly making mistakes. WIth KeyKey, you can type confidently and precisely. That's a skill all of us could improve on.
What's New:
Version 2.7.9
In this version we've added lessons in Portuguese (Brazilian), corrected a couple of mistakes in layouts and integrated a profanity filter.
• Lessons in Portuguese
There are four keyboard layouts in Portuguese language: Brazilian, Brazilian — ABNT2, Brazilian — Pro and Portuguese.
• Profanity filter for English
When making a lesson, we use words from modern literature. Apparently, some swear words and obscene expressions made their way into there. That's why we've built-in a filter to get rid of such language.
• Improved Italian localisation
In the previous update we added localisation for Italian language. There seem to have been some translation inaccuracies. Now corrected.
• Error correction in Colemak layout
The "colon" symbol has been moved to its correct keyboard shortcut "Shift+;" from "Shift+O" where it used to be.
• Error correction in French: letter "ê"
With some users, an error occurred when typing the letter "ê". We've finally managed to locate this bug and fixed it.
• A really rare iCloud sync crash has been fixed.
Screenshots:
Title:

KeyKey 2.7.9

Developer:

Sergiy Vynnychenko

Compatibility:

OS X 10.10 or later, 64-bit processor

Language:

English, French, German, Portuguese, Russian, Spanish, Ukrainian

Includes:

K'ed by TNT

Size:

34.58 MB

View in Mac App Store
NitroFlare:
DOWNLOAD FILE