start 5.7.1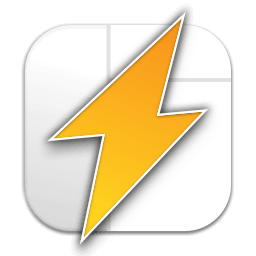 innovative::bytes start is an unique launcher for macOS that allows you to open applications, documents, URLs or folders quickly and easily. Create tidiness in your Dock and start items with the smart launcher app start instead.

start supports you and your workflow with a well planned organizational system for your items and a quick access to what you need.

It's incredibly easy to use: start automatically collects all applications available with Spotlight. Further You also can add files and folders manually according to your wishes.

Start your Applications with a simple mouse click or even faster and more convenient: with a hotkey! Also use tags, colors and notes to keep track of your Applications. Enjoy the simple operation and the comfortable features of start!

Features
TAGS
Tag it and love it! Use tags to create collections for your applications, frequently used folders, scripts or any other file. It has never been so easy to organize and sort items on macOS. Save a lot of time - searching was yesterday!

COMMENTS
Comments and notes! Add comments and small notes to your items to describe them in more detail. The comments will remind you what the items can do for you. Small notes with big effect - so you always keep track!

COLORS
Highlight your items as you like! With just a few clicks you can highlight your items with colors and find them even faster. Choose colors for more clarity and organization - effective and visually appealing!

HOTKEYS
Start with a simple keystroke! Assign a key combination to your individual items and open them immediately from anywhere with a customizable keyboard shortcut. Your workflow is no longer disturbed - you'll love the hotkeys!

Requirements 
start was developed for macOS 10.13 (and newer) and uses Spotlight internally to search for applications. For start to work, Spotlight must be enabled and also capture applications (this is the normal setting of macOS)
What's New:
Version 5.7.0
In light mode, the search text for entries in the main window was not always underlined in the correct color.
The recording of recently used applications was not always reliable and sometimes significantly more entries were displayed.
In rare cases it could happen that Start performed several updates at the same time and crashed.
The optional display of categories of files, folders, URLs and shortcuts is now done automatically when adding/removing the corresponding items to the currently selected tag. Previously, these categories were only updated when the main window was redisplayed and then shown or hidden accordingly.
When the input focus was set to the search field, the display of entries in Start was not always correctly focused at the same time.
The indicator for currently active applications now visually adapts better to the current state (selected, ...) of the entry.
When searching via the search field, the result was not always in the correct order.
A change of the tag icon via the popup menu was not displayed immediately in every case.
Start now also supports a double tap of the keys Command, Option or Control as hotkey.
You can display an overview of the hotkeys you have stored in Start in the menu.
Screenshots:
Title:

start 5.7.1

Developer:

Gerald Koeder

Compatibility:

macOS 10.15 or later

Language:

English, German

Includes:

K'ed by HCiSO

Size:

13.78 MB

View in Mac App Store
NitroFlare:
DOWNLOAD FILE
Previous Versions