Pixologic ZBrush 2018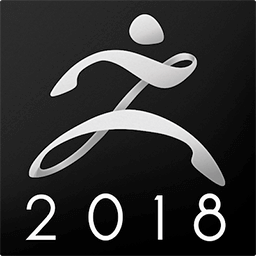 ZBrush 2018 brings the concept art and creative sculpting to a new level with the integration of a new technology: Tessimation which is able to add and remove polygons on the fly and combined with brushes, it becomes Sculptris Pro. Discover a new freedom of sculpting where you can add large or tiny details to anymesh without focusing on the underlying topology.
New deformers have been added which will complete your arsenal of utilities for applying simple to complex deofrmation to your model or simply using them as a full creation tool with the new Project Primitive.
And in addition to the other additions, you will find the new PolyGroupIt plugin which makes the PolyGroups creation fast and easy, especially on hard surfaces models. Don't forget that PolyGroups are everywhere in ZBrush, from manipulation, visibility and base structure for creation tools.
New Sculptris mode with new associated brushes, new deformers, multiple copy through the Gizmo3D, PolyGroupIt, new curve stroke mode as well as updated in Deci­mation Master and 3D Print Hub and many other enhancements combine to speed up your workflow, making it a joy to create whatever you might imagine.
About Pixologic, Inc. Pixologic, Inc. develops, markets, and supports software tools for film and video, games, graphic design, and illustration markets. The company offers ZBrush, a graphic application aimed at simplifying the science behind generating computer graphics by providing tools that give digital artists intuitive and visual control over the digital images they create. Its application synthesizes 2D and 3D capabilities in a single stand-alone tool, which enables users to sculpt and paint with various polygons. The company sells its solution through authorized resellers, as well as online for Windows and Mac platforms. Its solution is used in movies and VFX, games, illustration, advertising, 3D printing.
What's New:
New features highlights:
Sculptris Pro
Project Primitive
PolygroupIt
Elastic Option for Curve Mode
Liquid Option for Curve Mode
Equidistant Gizmo Mesh Duplication
Remember Draw Size
Remember Dynamic Mode for Draw Size
Tessimate Geometry
New PolyGroup by Normals Algorithm
Added Draw Transformation Border option to hide transformation border
Increased OBJ Import file size capacity
Increased Output Size for 3D Print Hub
New Snake Hook Brushes for Scultpris Pro
Option to Save Startup Default Material
QuickSaves Can Now be Saved to Any Hard Drive
New Activation and License Management System with Unique Login Support
Create Displacement Maps from the highest subdiv level if HD geometry levels are present
OBJ Import will not accept Color Vertex information
Presets added to Decimation Master
Screenshots:
Title:

Pixologic ZBrush 2018

Developer:

Pxologic

Compatibility:

OS X 10.9 or later, 64-bit processor

Language:

Multilangual

Includes:

K

Size:

1.25 GB

visit official website
NitroFlare:
DOWNLOAD FILE

Installation