Sync Folders Pro 4.6.2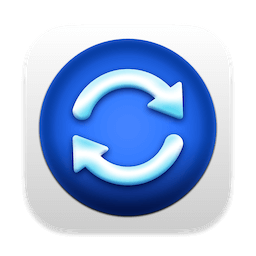 Sync Folders Pro synchronizes any number of local folders on-the-fly whenever there are changes, or on external drives either manually or at a set time (when connected). It synchronizes folders with or without filter for folder names and / or file names. Sync Folders Pro is perfect for backup to USB, memory cards, disks on remote computers on your network, or folders on Cloud services (Dropbox, etc.). It's compatible with OS X 10.9 and Retina displays.

Try it for free with the free version, which is available on the website, and compare the sync speed and stability versus similar apps (for more than 50,000 files). The comparison of two folders (6.24 GB and 92 470 files in each folder) is one minute.

Features
Sync any number of folders same time.
6 modes of synchronizing.
Tracking deletions in synchronized folders, real 2-way sync.
Automatic synchronization on the fly, when there are changes.
Schedule your synchronization for any time.
Synchronize Macs across a network.
Synchronize external drives (USB, memory cards, etc.) with your Mac, and vice versa.
Synchronize between local folders Mac and folders on Cloud services (Dropbox, etc.)
Powerful filter for files and/or folders on the entry and/or exclusion.
View the latest changes in synchronized folders. Quick view last changes and Finder integration.
Saving the synchronized files in a specific location («Del folders»). Using this mode you are insured against accidental deletion of files, and can always return all the files even if you are re-sync a few times. Structure of folders and subfolders stored in the «Del Folder».
Each sync task has the status showing when it was done last time.
Run as menu-bar app.
Work in the background.
Save / Load the settings to the file.
Logging of the synchronization process.
Localization of the application in multiple languages (Český, Dansk, Deutsch, English, Español, Français, Italiano, Nederlands, Norsk, Polski, Português, Slovenski, Suomi, Svenska, Ελληνικά, Pусский, العربية, 한국어를 지원합니다, 中国的, 日本人).
The ability to create your own localization based on available localization (user's localization).
Save / Load the version of the localization to / from the file.
What's New:
Version 4.6.2
Improved "Execute operation" in the preview table.
v.4.0
Improved synchronization for files that have special language characters in the file name.
New app engine
Added Preview mode. 
Ability to set the operation type for the selected items before synchronization.
Ability to copy selected files to a third folder (folder C).
Improved file / folder filter
Improved sync folders connection.
Screenshots:
Title:

Sync Folders Pro 4.6.2

Developer:

VADIM ZYBIN © GreenWorldSoft

Compatibility:

macOS 10.8 or later

Language:

Multilingual

Includes:

K'ed by HCiSO

Size:

9.2 MB

View in Mac App Store
NitroFlare:
DOWNLOAD FILE
Previous Versions