Business Card Shop 8.0.1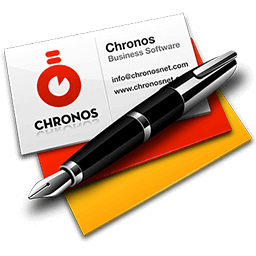 Chronos Business Card Shop - Make a great first impression — in business and life. Business Card Shop is the #1 best-selling business card software for Macintosh. It includes everything you need to start making a great first impression.
700+ Stocks
Built-in support for popular stocks from Avery®, NEATO®, PaperDirect®, and more
Designer Stocks
Works with designer stocks supported by your printer including double-sided, clean-edge (no perforations), glossy finish, matte, finish, linen texture, etc.
Online Commercial Printers
Export your cards for submission to any online commercial printer
Full Bleed Support
Supports card stocks where your design can "bleed" pas the edge of the card for a "print-to-the-edge" look
Crop Marks
Supports crop marks for full bleed designs to assist commercial printers in cutting your cards
Efficient
Only print cards when you need them to eliminate costly printing re-runs when contact changes occur
Convenient
Print special cards for trade shows and other events where may want to limit the information shared on your card
30+ Photo Effects
Sepia, blurs, sparkle, motion, lenticular halo, and more
100+ Photo Masks
Create specials effects on your photos like vignettes
Group Objects
Group multiple objects for easy moving and resizing
Exporting
Export cards as single cards or a page full of cards in popular graphic formats (JPEG, PDF, etc.)
Alignment Guides
Real-time alignment guides automatically appear and help you position objects
Transparency
Adjust the transparency of text, images, and shapes
Bezier Shapes
Create custom shapes with custom curves using Bezier controls for logos and design elements
Drop Shadows
Add drop shadows and control height, blur, color, opacity
Gradients
Fill shapes with linear & circular gradients for sophistication and realism
Snap-to-Grid
Snap-To-Grid ensures objects are aligned
Alignment
Align multiple selected objects simultaneously
Distribution
Distribute multiple selected objects evenly
Calibration
Calibrate your printer for perfect stock alignment
Typography
Advanced typography: kerning, line spacing, and more
Trim-to-Page
Hide objects outside the page boundaries to see how full-bleed cards will look
Photo Enhance
Fine-tune photos: brightness, contrast, sharpness, etc.
Contacts App Integration
Place information on your card directly from the macOS Contacts app using 350+ fields
What's New:
Version 8.0
Create and reuse an unlimited number of color schemes
Photo analyzer figures out dominant colors in a photo
Color wheel with 11 built-in color combinations for choosing great colors
Color combinations include complementary, analogous, triadic, and more
Built-in color theory tips educate about color use
Color wheel supports artistic primary colors (RYB: red, yellow, blue)
Color wheel supports modern primary colors (RGB: red, green, blue)
Color blender creates blends between two colors
Built-in color scheme access throughout the software
Eyedropper retrieves the color of any pixel on the screen
Warm/cool indicator for the color wheel
Color blender also supports tints, shades, and tones
Built-in sliders for adjusting the base color
Built-in hex field for copying/pasting colors with other apps
Screenshots:
Title:

Business Card Shop 8.0.1

Developer:

Chronos Inc.

Compatibility:

macOS 10.12+

Language:

English

Includes:

Serial

Size:

335.98 MB

visit official website
NitroFlare:
DOWNLOAD FILE