ToothFairy 2.8.3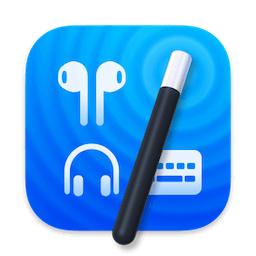 Connect AirPods (or other Bluetooth headphones) to your Mac with a single click or keypress.
AirPods are great, but they don't work quite as smoothly with Macs as they do iPhones. You can't tell at a glance whether audio will play from the AirPods or your Mac's built-in speaker, you have to dig into a Bluetooth submenu to connect, and then you have to go back to the menu to see when the AirPods are ready for use. ToothFairy streamlines this: just click an icon in the menu bar (or press a hotkey) to switch to the AirPods, and the icon always shows whether they're connected.
Works with AirPods, as well as any Bluetooth headphones, speakers, or headset that you can connect to your Mac.
Click the hollow AirPods icon in the menu bar to switch to AirPods. It fills in to show they are connected and also displays a battery indicator.
Supports multiple Bluetooth audio devices; you can choose a different icon and hotkey for each.
Get the best audio quality. macOS will normally use the SCO codec if it thinks you're going to use the microphone. ToothFairy can ensure that it uses the higher quality AAC codec when you only care about audio output: listening to music or video or playing a game.
Disconnect a Bluetooth device by clicking the icon (or pressing the hotkey) again, so that you can switch back to your phone. AirPods and Beats devices with an Apple W1 chip do not need to be manually disconnected, and you can set them to "Connection only mode" to avoid accidental disconnetions when pressing the hotkey multiple times.
ToothFairy automatically launches at login, so it's always there when you need it.
Optionally hide the Dock icon so it only appears in the menu bar. With the Dock icon hidden, you can right-click (or Control-click) the menu bar icon to access the settings.
Run a shell script when the AirPods are connected or disconnected.
Note: ToothFairy works with devices that can be connected via the macOS Bluetooth menu. Please make sure the devices you want to connect have been paired to the system correctly before using them with ToothFairy.
What's New:
Version 2.8.3
Made various improvements to the workaround for the macOS issue that could prevent the sound output from being set when connecting a device. The workaround is successful more often, avoids unnecessary disconnections when the sound output spontaneously fixes itself, and it better handles devices that have been put away or manually disconnected.
The menu bar icon now shows when ToothFairy is fixing the sound output. An arrow in a solid circle indicates that the device is currently connected but in the process of disconnecting. An arrow with no circle indicates that the device is waiting to reconnect.
ToothFairy no longer reports that the sound output is not set when the device isn't connected, anyway.
Fixed a problem where the progress spinner could stay visible forever, even after the device disconnected.
Fixed a problem where ToothFairy could show a Bluetooth connection failure error message for connections that the user did not initiate.
Screenshots:
Title:

ToothFairy 2.8.3

Developer:

Lu Yibin

Compatibility:

macOS 10.11 or later

Language:

English, German, Italian, Japanese, Simplified Chinese

Includes:

K'ed by TNT

Size:

11.63 MB

View in Mac App Store
NitroFlare:
DOWNLOAD FILE
Previous Versions