Converters 1.2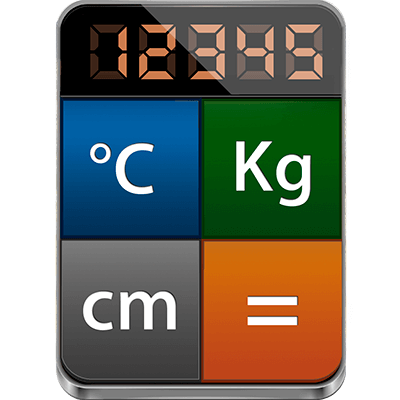 Converters is the application that brings a new idea of functionality.
Calculate faster than ever.
Not just a conversion, but categories of conversion with lots of units to convert always at hand.
A valuable tool for professionals, students but also to solve everyday problems.
FEATURES
Convert over 25 units divided into 6 categories.

Convert multiple units simultaneously.

Possibility to expand extra 10 categories with more than 60 units.

Dedicated keyboard for each category.

Copy and paste the result.

Intuitive and easy to use.

CONVERSIONS
Choose the category that interests you:
Area (mm², cm², m², km²)

Acceleration (m/h², mile/h², ft/h², km/h²)

Circle (D, R, C, A)

Density (g/cm³, g/l, kg/m³, lb/ft³, lb/in³)

Frequency (Hz, kHz, MHz, GHz)

Force (kN, mN, MN, N)

Expandable package include:
Angle (gra, quad, rad, deg)

Computer Data (kB, mb, mB, gb, gB, tb, tB, pb, pB)

Energy - Work (cal, J, kJ, kcal)

Length - Distance (m, cm, mm, yard, ft, in, km, mile)

Power (hp, kW, W)

Pressure (atm, bar, MPa, psi)

Temperature (°C, °F, °K )

Velocity - Speed (km/h, m/h, m/s, mm/s, knot)

Volume - Capacity (l, ml, US gal, US fl oz, UK gal, UK flo oz)

Weight - Mass (Kg, g, lb, oz)

WHAT'S NEW
Version 1.2
Added new languages: Chinese, Japanese, Danish, Finish, Norwegian, Swedish, Polish

Optimized the German language

Fixed minor issues

SCREENSHOTS
Top In-App Purchases : 1. Full Pack. ✔️
Title:

Converters 1.2

Developer:

Elton Nallbati

Compatibility:

OS X 10.9 or later, 64-bit processor

Language:

Multilangual

Includes:

Pre-K'ed

Size:

Converters 1.2 MAS [TNT].dmg 3.71 MB

View in Mac App Store
NitroFlare:
DOWNLOAD FILE