One Chat - All In One Messenger 2.4.0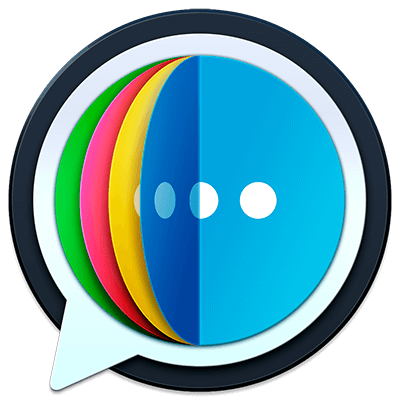 One Chat combines chat and messaging services into one simple Mac application. WhatsApp, Facebook Messenger, Telegram, Skype and Slack. One App for all messaging services.
Use it for the following messenger and chat like a boss:
WhatsApp, Facebook Messenger, Hangouts, Telegram, Skype, Slack, WeChat and HipChat.
Features:
Send and receive Photos, Videos, doc, PDF..etc directly from your PC.

Use two parallel accounts of any service(multi account support coming in next version)

Password Protection for privacy

Get respective Notifications alerts and reply from the same.

Customise notification as per your requirement.

Check if there are any unread messages, right in the menu bar.

Go Full-screen! Chat with your friends distraction free on the full screen mode.

Light weight which consumes minimum system memory about 70% low.

80% Low battery consumption.

One app for all messengers.

Dark mode support

Retina Display enabled icons

Easy to use interface

Best in the market

Upcoming update:
More chat services.

Using multiple chat accounts for same service.

Password Protection.

And much more.

Privacy & Security
One Chat does not read anything you type, send or receive! It does not even store any of your login credentials anywhere. Each messenger lives in its own tab, which can not be accessed by other messengers.

Overall, using One Chat does provide a couple of advantages when it comes to security.

Disclaimer:
One Chat is a third party App. The developer of this software is not affiliated with Whatsapp Inc. Facebook inc. Telegram Inc. Slack Inc. Skype Inc. Google Inc. Atlassian Inc. Tencent Inc. in any way.
WHAT'S NEW
Version 2.4
Rearrange messaging services in the menu.

Fixed shortcuts keys.

Added indicator for file download.

Fixed network connection status.

Take video and selfie from WhatsApp.

Notifications optimised.

Improved performance by 30%

And minor bug fixes.

Improvements in Previous versions:
Notification Badges for individual chats services.

Added Twitter service

Loading issue resolved

Fixed Hangouts and Skype calling.

Fixed upload of media, docs and other files from folder.

Added more services, Google Hangouts, HipChat, WeChat

Supports New macOS Sierra Version: 10.12

Password Protection for privacy

Now use two different accounts of every service(messenger)

Add/Remove services from left menu, as per the requirement.

Customize Notifications as per different accounts.

Fixed Media(Picture, Video or music) upload and download issue.

Fixed URL click issue in Facebook messenger.

Under the hood improvements:
Avg. CPU reduced from 2% to 0%

Avg. Energy consumption reduced from Low to Zero

Features in next version:
More messaging services.

Unlimited messaging services support.

And much more.

SCREENSHOTS