BetterZip 4.2.3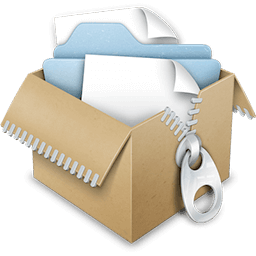 BetterZip lets you quickly inspect archives without first extracting their contents.
Extract Only Files You Really Need: If you only need a few files or folders from a larger archive, you don't have to extract the whole thing. Simply drag the files you need from the BetterZip window to any Finder window or the desktop.
Open Archives Without Extracting: Not only can BetterZip open archives without first extracting them but you can also search for a file using the iTunes-like interface. BetterZip can open and extract archives with the most common formats: ZIP, SIT, TAR, XAR, GZip, BZip2, RAR, 7-Zip, CPIO, ARJ, LZH/LHA, JAR, WAR, CAB, ISO, CHM, RPM, DEB, NSIS, BIN, HQX.
Create Archives: Simply drag files and folders from your hard drives, disks, or network places into your new zip file. You no longer have to copy all the files into a temporary folder first. The supported formats are ZIP, TAR, GZip and BZip2 compressed TAR, XAR, 7-ZIP, and RAR (using the external RAR commandline tool). Large archives can also be split.
Protect Your dаta: BetterZip can protect your data with a password and create WinZip compatible AES-256 encrypted archives. 7-zip and rar archives can also be protected.
Update Archives: Add new or updated files to existing archives. Remove any file or folder from an archive, or even move files around inside the archive as if it were a normal folder.
Make Archives Compatible: Strip Mac specific files and resource forks from archives for best compatibility with systems like Windows or Linux.
What's New:
Version 4.2 (for macOS 10.10 and later)
New Features
Added support for macOS 10.14 Mojave's Dark Mode.
BetterZip now has a menu bar icon onto which you can drag items and that has a shortcut menu with the most important functions. Activate the menu bar icon in the BetterZip preferences on the tab "General".
You can now specify in extraction presets what BetterZip should do, if there are conflicts with already existing files or folders.
BetterZip now supports zipx files that use xz compression as well as WinZip split files (z01, z02, …)
Added an option to not "show folders" when in flat list view. Toggle this option via the View menu.
Added a Polish translation. Thank you, Bartosz!
Enhancements
Filenames containing numbers are now sorted numerically like in Finder.
The "Replace File" dialog shows more clearly which file or folder is older and which is newer.
Changed the logic of the option "Quit after last window closed": only archive windows will trigger the quitting, not the preferences, transcript, or queue windows.
Show combined progress of all windows (not only queue) in Dock tile (and menubar item).
Added a button for testing the archive in the warning message window when an error occurs during opening.
Added an AppleScript command to get the selected item paths in an archive window.
The Drop Bar is now forced to the front when dragging files over it.
Add a setting to not show the queue window when queue operations are started. Turn it on in BetterZip > Preferences > Advanced.
The encoding of text files is now automatically detected when previewing text files in the preview sidebar.
You can now select multiple files in the File > Open panel.
Bug Fixes
Dropping files (especially a mix of supported archives and non-archive file types) onto the BetterZip Dock icon did not work reliably.
When switching view mode without a sorting column selected in the table, BetterZip could crash.
BetterZip will no longer allow to extract zip files outside of the destination folder. (Thanks, Meituan Financial Security Team!)
Fixed the opening and extraction of plain xz archives.
For some users the BetterZip Finder button did not work.
Extracting multi-part, password protected rar archives with CRC errors could lead to an endless password entry loop.
When editing a file type in Preferences > Files and clicking Ok without making any changes in the window, the type disappeared from the list.
PDF files showed only the first page in the preview sidebar.
Compressing a folder with a space character at the end of the name didn't work.
Screenshots:
Title:

BetterZip 4.2.3.1456

Developer:

MacItBetter, Robert Rezabek

Compatibility:

OS X 10.10 or later, 64-bit processor

Language:

Multilangual

Includes:

K'ed by TNT

Size:

13.45 MB

visit official website
NitroFlare:
DOWNLOAD FILE
Previous Versions
If Crashes when opening.