Charrua Soccer 8.45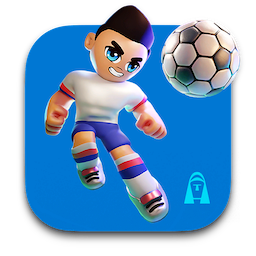 With a lot of action and adrenaline, we bring you only the most fun part of arcade soccer!
You can play in single-player mode (player VS. computer), two players (player VS. player), tournaments, and party mode to share with friends.
Play modes:
Friendly match and penalty shootouts
Tournaments - play the most important competitions!
Career Mode! - create your team from scratch and lead it to glory!
Themed Events - crazy game modes with amazing characters.
Party tournaments - have fun with friends and family!
Available tournaments:
Charrua Tournament and Charrua A and B Leagues
European, American Cups
Olymcharrua Cups (male and female)
Global Cup (male and female)
Global Cup 1930 (evoking the first international cup with a retro touch)
USA Leagues (male and female)
Eurochamp League and Liberty Cup
Characteristics:
Simplified controls for casual players, with the possibility to connect a wireless compatible controller of your choice.
Easy to learn and enjoy, with clean and challenging gameplay.
Configurable assisted mode, to help you in the actions you prefer or disable it to increase the challenge.
Retro-style 3D art resembling old games and evoking nostalgia.
Party modes: play with your friends in different game modes.
Fouls, free kicks, yellow and red cards, injuries, and penalties!
Women's, men's, and mixed soccer.
Deep gameplay: short pass, long pass, directional shot, controlled shot or lob shot, player skills, and much more.
Lots of Animations (overhead kick, scorpion kick, scissors kick, diving header, etc.)
Challenging AI. Teams with very different game playing styles (for example, Catenaccio from Italy or Tiki-taka like Brasil).
Manage team formation and strategy, player changes and much more.
Screenshots:
Title:

Charrua Soccer 8.45

Genre:

sports, simulation

Developer:

ODT S.A.

Compatibility:

macOS 10.15 or later

Language:

English, Arabic, Dutch, French, German, Italian, Japanese, Korean, Portuguese, Russian, Simplified Chinese, Spanish, Turkish

Size:

728.05 MB

visit official website
NitroFlare:
DOWNLOAD FILE