Zniw Adventure 1.3.4.1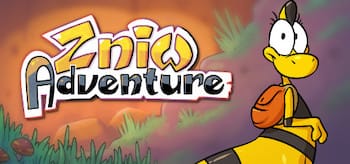 Inspired by adventure games and edutainment titles from the 90's, Zniw Adventure is a 2D point and click title full of cartoon dinosaurs. It features a comic book-esque art style, frame-by-frame animation, and unlockable goodies like concept art and minigames. The in-game encyclopedia fills as you encounter prehistoric creatures allowing you to read more about them. Enjoy the prehistoric world in an unique cartoony style!
Story
Her mother's hatchday is just around the corner and Zniw is trying to find the ultimate gift. This young yellow female dinosaur is armed with a sharp tongue but lacking in navigational skills. As unfortunate events unfold, Zniw ends up far from her hometown of Wajapulka. While desperately trying to find her way back she stumbles in on a major problem in the neighboring village.
Will you help Zniw on her journey?
Features
Oldschool 4:3 cartoon visuals, featuring hand-drawn backgrounds and frame-by-frame animation.
More than 5 minutes of cartoon cutscenes.
In-game encyclopaedia, with descriptions of encountered prehistoric creatures, items, locations, and more.
More than 20 different dinosaurs and other prehistoric creatures to meet along the way.
No gore, blood, bad language, or anything like that. Fun for the entire family!
Several locations to explore, including forests, jungles, caves, and more.
Unlockable rewards that include concept artworks and minigames.
A pleasant, acoustic soundtrack, with over 15 different tracks.
Screenshots:
Title:

Zniw Adventure 1.3.4.1

Release Date:

6 Nov, 2020

Genre:

Adventure, Indie

Developer:

Azure Mountain

Compatibility:

macOS 10.13 or later

Language:

English, Polish

Size:

1.99 GB

visit official website
NitroFlare:
DOWNLOAD FILE