Hot Lava 1.3.0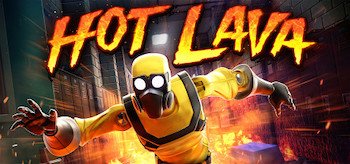 The Floor is Hot Lava!
Hot Lava transports you back to your childhood imagination. Relive those moments of excitement, joy, and chaos. Run, jump, climb, and surf in first person across nostalgia-packed environments flooded with hot molten lava. Explore alone, or join your friends. This is a game of dexterity and ingenuity, you will have to use all your skills to complete the treacherous obstacles that await. 

And whatever you do… Don't Touch The Floor


Features
Together: Conquer challenging worlds with up to eight friends with drop in-drop out multiplayer. 
Traverse: Run, jump, climb, swing, boost, and surf in first person across lava filled worlds. Mastering execution will take dedication and skill.
Explore: Detailed environments jam packed with childhood nostalgia. 
Compete: To find the fastest route using shortcuts and expert execution on the friends leaderboard.
Avoid: lava, toxic waste, bottomless pits, and crushers. Danger is around every corner.
Create: Hot Lava comes with a level construction kit for Unity. Share your creations on the Steam Workshop.
What's New:
Version 1.3.0
*NEW! T.O.X.I.C. Team-up*
A brand new update brings two brand new members to the T.O.X.I.C. roster: Poizone's robotic army, the Infected Infantry! And Lord Sludge's molten magma monster form, the Megamortabeast!
*NEW! Vault Jump Ability*
Along with these hot new characters comes one cool new move, the Vault Jump! Give yourself an extra boost to reach those platforms that are just a *little* too far away. And if you're bummed you can't test out this new move with your favorite characters...well we've got some news for you!
*NEW! Choice*
We've decoupled abilities from their characters so you can now use any character you want with any ability: Sue Nami with Double Jump; Poizone with Boost; Hazard with Slide Jump - go ahead and mix it up!

You also might notice some slick new UI in the game designed to make your lava jumping experience all the more pleasant.
*NEW! Items*
Every character's progression levels have been bumped up to 60 possible levels. So get in there and jump around to unlock some new stickers, action files, emotes, and new skins. As an added bonus we're also giving everyone free Sea Stealth G.A.T. skins for this Spring update, just because we love you all so much.

If you can't get enough of all things G.A.T., there are all new G.A.T. lore descriptions for Head, Back, and Trinket accessories. Read through them all to learn about the exploits of all your favorite characters.
*NEW! Controls*
We've added support for Apple's Game Controller remapping system so you can make any button any other button... anywhere! For those who like to keep their device close, we've added a toggle to the pause menu to switch between touch and gyro controls. We've also replaced our orientation wheel with full 360 degree movement for adjusting your look direction and neutral tilt.
Screenshots:
Title:

Hot Lava 1.3.0

Release Date:

19 Sep, 2019

Genre:

Action, Adventure, Indie, Racing

Developer:

Klei Entertainment

Compatibility:

macOS 10.13 or later

Language:

Multilingual

Size:

4.65 GB

visit official website
NitroFlare:
DOWNLOAD FILE