Factorio (2016)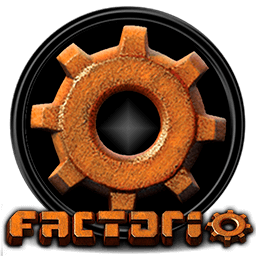 Factorio is a game in which you build and maintain factories. You will be mining resources, researching technologies, building infrastructure, automating production and fighting enemies. In the beginning you will find yourself chopping trees, mining ores and crafting mechanical arms and transport belts by hand, but in short time you can become an industrial powerhouse, with huge solar fields, oil refining and cracking, manufacture and deployment of construction and logistic robots, all for your resource needs. However this heavy exploitation of the planet's resources does not sit nicely with the locals, so you will have to be prepared to defend yourself and your machine empire.
Join forces with other players in cooperative Multiplayer, create huge factories, collaborate and delegate tasks between you and your friends. Add mods to increase your enjoyment, from small tweak and helper mods to complete game overhauls, Factorio's ground-up Modding support has allowed content creators from around the world to design interesting and innovative features. While the core gameplay is in the form of the freeplay scenario, there are a range of interesting challenges in the form of Scenarios. If you don't find any maps or scenarios you enjoy, you can create your own with the in-game Map Editor, place down entities, enemies, and terrain in any way you like, and even add your own custom script to make for interesting gameplay.
Discount Disclaimer:
We don't have any plans to take part in a sale or to reduce the price for the foreseeable future.
What people say about Factorio
No other game in the history of gaming handles the logistics side of management simulator so perfectly. - Reddit
I see conveyor belts when I close my eyes. I may have been binging Factorio lately. - Notch, Mojang
Factorio is a super duper awesome game where we use conveyor belts to shoot aliens. - Zisteau, Youtube
What's New:
Version 0.17.66
ChangesBugfixes
Fixed crash when using the close button while the client is saving the map for desync report.
Fixed a crash related to settings copy/paste of some modded assemblers.
Correctly highlighting blocked connections of modded underground pipes.
Fixed a case of disappearing fluid in a special fluid furnace configuration.
Fixed programmable speaker caused crash when using --disable-audio command line option.
Fixed that an underground pipe ghost did not split fluid systems.
Fixed that an underground pipe ghost did not split blocked connection.
Fixed that fluids in assembling machines and furnaces would get voided any time mods changed.
Prevented construction of underground pipe that could crash the game due to blocked pipe connection.
Scripting
Added LuaEntityPrototype::terrain_friction_modifier read.
Screenshots:
Title:

0.17.66

Release Date:

25 Feb, 2016

Genre:

Casual, Indie, Simulation, Strategy, Early Access

Developer:

Wube Software LTD.

Compatibility:

OS X 10.9 or later, 64-bit processor

Language:

Multilangual

Size:

1.19 GB

visit official website
NitroFlare:
DOWNLOAD FILE